Source: DAVID HAWKINS
Yahoo Group
28 April 2010—Hawks CAFE alleges that Peter Dunscombe set up a 'Carbon Carousel' (see below) money laundering instrument for the BBC Pension Trust, the Institutional Investors Group on Climate Change (IIGCC), and political families at the top of the three parties in the current UK election campaign.
Deutsche Bank, RWE Raided in German Probe of CO2 Tax
Source: MATHEW CARR & KARIN MATUSSEK
businessweek.com/
28 April 2010—German prosecutors searched Deutsche Bank AG and RWE AG in a raid on 230 offices and homes nationwide to investigate 180 million euros ($238 million) of tax evasion linked to emissions trading. The Frankfurt Chief Prosecutor's Office said it targeted 150 suspects at 50 companies and has frozen assets.
The U.K., France, Netherlands are among nations that started investigations last year of "carousel fraud," where carbon traders collect tax and disappear before turning it in to authorities. Today's raid was the biggest related to a fraud that may have tainted an estimated 7 percent of carbon trades in last year's $125 billion market.
Peter Dunscomb/BBC Pensions/IIGCC
Source:
terrapinn.com
Peter Dunscombe, Chair, IIGCC & Head of Pensions Investment, BBC After university Peter joined a major firm of stockbrokers in the City to carry out company and economic research. However most of his career was spent with Imperial Investments the in-house investment management operation of Imperial Group/ Hanson plc and for the last ten years was joint managing director of the operation. In the summer of 1999 he left the company and took six months off to "do all the things he had wanted to do if only he had the time"—this included a trip to Everest base camp. In 2000 he joined the BBC Pension Scheme as Head of Pensions – Investments and he is also an adviser to one other large scheme. At the start of 2007 he took over the role of Chair of the Institutional Investors Group on Climate Change.
Gordon Brown & his wife
Source:
oldholborn.net
[Labour leader Gordon Brown as Chancellor appointed Dunscombe to these positions.] The man responsible for looking after the fat pensions of the boys and girls at the BBC is a climate change fanatic, and he is part of an international group of investment managers who bust a gut to invest in 'climate change' schemes. He's called
Peter Dunscombe
, and he runs the £8.2bn corporation pension fund, advising trustees on a day-to-day basis about their investments. Mr Dunscombe, who addresses conferences about 'ethical investments', is also chairman of the
Institutional Investment Group on Climate Change
(IIGCC), which has 47 members and manages four trillion euros' worth of investments; yes, four trillion. Their goal is to find as many 'climate change' investment opportunities as possible.
Miriam González Durántez
Miriam González Durántez &
Nick Clegg
Source:
wikipedia.org
[Liberal Democrat] Miriam González Durántez (born May 1968) is a partner of international legal practice
DLA Piper
and the wife of UK
Liberal Democrat
party leader
Nick Clegg
. She was born in
Spain
and has Spanish nationality, but lives and works in the United Kingdom with her husband and children. Having previously worked as an advisor on trade law, economic relations and the
Middle East
to both the
European Union
and the British Government, González Durántez now works as a partner of
DLA Piper
. She is the head of International Trade Law.
DLA Piper International Trade
Source:
dlapiper.com
DLA Piper's International Trade practice draws on an in-depth knowledge of both the law and the political landscape across multiple jurisdictions to provide effective global strategies for those engaged in international trade and investment. On our team are more than 40 international trade lawyers and specialists in the United States, Europe, China, Russia and elsewhere throughout the world. We have an outstanding record of successfully advising companies, trade associations and governments on the full range of trade issues, including:
Anti-money laundering, Bank Secrecy Act, OFAC and PATRIOT ACT compliance
Foreign investment review proceedings, including CFIUS and EU member state processes
EU internal market regulations and infringement proceedings
David Cameron
Source:
wikipedia.org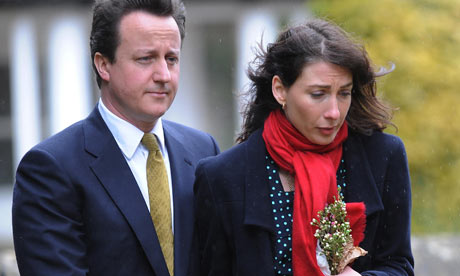 David Cameron & his wife
[Conservative] David Cameron studied
Philosophy, Politics and Economics
at
Oxford
, gaining a
first class honours
degree. He then joined the
Conservative Research Department
and became
Special Adviser
to
Norman Lamont
, and then to
Michael Howard
.
Norman Stewart Hughson Lamont
Source:
wikipedia.org
Norman Stewart Hughson Lamont, Baron Lamont of Lerwick,
PC
(born 8 May 1942) is a
British
politician and former
Conservative
MP
for
Kingston-upon-Thames
. He is best-known for his period serving as
Chancellor of the Exchequer
, from 1990 until 1993. He was created a
life peer
in 1998. Before entering Parliament he worked for
N M Rothschild & Sons
, the investment bank, and became director of Rothschild Asset Management.
Michael Howard and spooks on brink of Rothschild funding deal
Source:
independent.co.uk
Michael Howard
18 February 2007—Diligence, the corporate intelligence firm founded by former spies and chaired by the one-time Conservative leader Michael Howard, is close to striking a major
investment
deal with a member of the Rothschild banking dynasty. The company, thought to be valued at around £30m, is understood to be in talks with an investment
business
called JNR, run by Nathaniel Rothschild, son of Lord Jacob Rothschild.
It is also thought that group chairman Richard Burt, the former US Assistant Secretary of State and chief arms control negotiator in the first Bush administration, will sell his 12 per cent holding and then leave the company. Mr Howard is European chairman.
Diligence was founded in 2000 by Nick Day, a former MI5 spy who also served in the Special Boat Service, and ex-CIA agent Mike Baker, who no longer works for the company. Mr Howard joined on a part-time basis last year. He also sits on Diligence's advisory board beside Judge William Webster, a former director of the CIA and FBI, and Edward Mathias, a managing director of
private equity group
Carlyle, among others.
Diligence describes itself as an "intelligence gathering and risk management" firm. Like its larger rival Kroll, it has built a reputation advising clients on a range of sensitive issues, such as investigating fraud and money laundering, vetting potential overseas partners and providing security. The business has grown rapidly since its inception, and now boasts offices around the world, including London, Washington, Moscow and Hong Kong .. Diligence settled a dispute with accountancy giant
KPMG
out of court last year. The legal row centred on claims that Diligence staff had impersonated MI6 officers in order to steal information.