Source:
rumormillnewsradio.com
,
hawkscafe
,
captainsherlock.com
28 Apr 2010—Listen—
Part 1
,
Part 2
,
Part 3
21 Apr 2010—Listen—
Part 1
,
Part 2
,
Part 3
14 Apr 2010—Listen—
Part 1
,
Part 2
,
Part 3
13 Apr 2010—Listen—
Jack Stockwell
7 Apr 2010—Listen—
Part 1
,
Part 2
,
Part 3
---
Topic for 28 April 2010
Mrs. Nick Clegg—DLA Piper—Carbon Carousel Fraud
---


SCRAP Merchant
S
erco (RCA, BBC, Met Office, MOD, Virtual Floating Matrix)
C
ameron (HSBC, Bullingdon—$70 trillion CDP, IIGCC, Serco)
R
othschild (RSA, Carbon Ring, 9/11, $4 billion Insurance Fraud)
A
viva (Lord Sharman, KPMG, Sidley Austin, Commercial Union)
P
atent Office (Marconi, Clinton, FDNY, Thales,
QRS11
,
Smacsonic
)
Magic Circle law firms, led by
Linklaters
and a 'SCRAP Merchant' client organization, structured cat bonds to be triggered by hired saboteurs on 9/11 to enrich crony SCRAP sponsors, including the BBC Pension Trust, with combined assets of $70 in the trillion Carbon Disclosure Project and the
Institutional Investors Group on Climate Change (IIGCC)
.
The SCRAP Merchant used patented devices embedded in the QRS-11 and SMACSONIC products to guide hijacked aircraft and vaporize evidence of insurance frauds at the crimes scenes associated with the attacks of 9/11.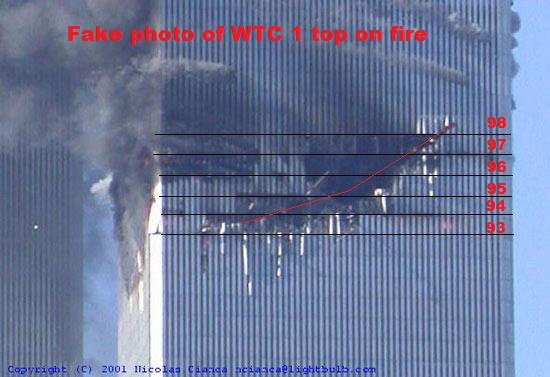 South face of south tower of WTC on 9/11
Deutsche Bank, RWE Raided in German Probe of CO2 Tax
Source: MATHEW CARR & KARIN MATUSSEK
businessweek.com
28 April 2010—German prosecutors searched Deutsche Bank AG and RWE AG in a raid on 230 offices and homes nationwide to investigate 180 million euros ($238 million) of tax evasion linked to emissions trading.
The U.K., France, Netherlands are among nations that started investigations last year of "carousel fraud," where carbon traders collect tax and disappear before turning it in to authorities. Today's raid was the biggest related to a fraud that may have tainted an estimated 7 percent of carbon trades in last year's $125 billion market.
"We are glad to see that German authorities are taking the necessary steps to deal with a fraud that has affected, however unfairly, foreign perceptions of the EU emission trading system," Henry Derwent, chief executive officer of the Geneva- based International Emissions Trading Association, said in a phone interview. The lobby group speaks for CO2 trading firms.
Europe lost about 5 billion euros in revenue for the 18 months ending in 2009 because of value-added tax fraud in the CO2 market, according to Europol, the law enforcement agency.
"We're supporting similar investigations in other EU member states," said Soren Pedersen, spokesman for Europol in the Hague. He declined to elaborate.
continue reading »
Carbon Credit fraud causes more than 5 billion euros damage for European Taxpayer
Mrs. Nick Clegg's (Miriam González Durántez) law firm,
DLA Piper
, appears to be hiring radical gays and lesbians to ambush (?) its clients into riding the
Carbon Carousel
, an EU money laundering machine launched by Peter Dunscombe's BBC Pension Trust and IIGCC in 2001.
Mrs. Clegg and DLA Piper appear to have set up what the RCMP calls a 'Virtual Floating Matrix' of organized crime where lesbian, gay, bisexual, and transgender personnel and their allies, can be rapidly assembled and disassembled for an online project such as the disruption to Boeing on 9/11 with the extorted move to Chicago.
Leadership Alliance for Women (LAW) DLA Piper's women's affinity group works to advance our global competitive edge by developing and promoting women lawyers and maximizing their opportunities for business development and leadership. Guided by a national steering committee in coordination with office delegates, LAW fosters networking, facilitates the flow of information and provides support for women lawyers to better navigate the challenges presented by a large law firm practice. Partners Heidi Levine and Stefanie Fogel are co-chairs of the LAW steering committee.

Lawyers of Color Each affinity group focuses internally on issues unique to their members and externally on developing relationships with other organizations with which the group shares common goals.

LGBT Affinity Group The LGBT Affinity Group is a virtual meeting place for the firm's lesbian, gay, bisexual, and transgender personnel and allies. The Group is open to all lawyers and non-lawyers of the firm. In addition to providing welcoming support to its members, the Group serves as a forum and advisory body on matters of concern to the LGBT community and provides opportunities for greater teamwork for the good of the firm and our clients. Contact Stacy Snowman for more information on the LGBT Affinity Group.
---
Topic for 21 April 2010
SCRAP Merchant Lying Spying Wives 9/11 WWI Titanic
---
Clinton Tunnels of Treason and Patents of Compound O Link 9/11 WWI and Titanic to U.S. SES, Totenkpof Division Waffen SS Compound O
UK Independence Party Leader Lord Malcolm Pearson of Rannoch
Met Office on the edge of Exeter
areas of the world that are covered by the nine Volcanic Ash Advisory Centres
---
Topic for 14 April 2010
Kristine Marcy Paperclip for Snuff Film Compound O
---
Kristine Marcy
Paperclip project links Anglo-Nazi snuff film network to U.S. Senior Executive Service (SES), Totenkpof Division of Waffen SS and Compound O, Camp 165 in Scotland.
Compound O, Camp 165
Camp 165 had an area known as Compound O, which was not for low risk POW's. This was the part of the camp that was kept very secret and locals who worked there were sworn to secrecy. This area, effectively screened off from Area A, was the home for hard line Nazis who were brought to Camp 165 for re-education and interrogation. The inmates called Compound O "Little Belsen".
Inmates at Compound O included:
U-boat captain Otto Kretschmer
Hitler's personal aide Max Wunsche
Paul Werner Hoppe commandant of Stutthof concentration camp where 85,000 people were murdered.
Men held in Compound O were repeatedly shown films of Nazi atrocities under the Third Reich.
It was felt that such an approach might go someway to breaking their support for Nazi ideas. Those who showed suitable repentance were allowed to return to West Germany. Those who did not were sent elsewhere for further interrogation and possible trial. Source:
thesun.co.uk
aerial view shows location of Camp 165
Paul Werner Hoppe
Paul Werner Hoppe
SS Sturmbannführer (major) Paul Werner Hoppe (1910 -1974) was captured by the British in 1946 and sent to Camp 165 in Watten Scotland in August 1947 until January 1948 when he was sent to a POW camp in Saxony in the British zone in West Germany. While awaiting extradition to Poland he escaped and made his way to Switzerland where he worked as a landscape gardener under a false identity for 3 years before returning to West Germany. He was arrested by the West German authorities in 1953 in Witten, West Germany. He was tried and convicted as an accessory to murder in 1955. In 1957, the district court in Bochum resentenced him to 9 years and he was released in 1960.
Hoppe joined the SS in 1933 and in 1936 he married Charlotte Baranowski the daughter of Herman Baranowski who was the commandant of first Dachau and then Sachsenhausen from 1938-1940. Hoppe was the commandant of Stutthof concentration camp from September 1942 until April 1945.
Insignia of the Totenkopf
Hoppe was assigned to the Inspectorate of the Concentration Camps under SS Obergruppenführer Theodor Eicke. He was instrumental in helping Eicke form the Totenkopf ("Death's Head" or "Skull") Division of the Waffen SS in September 1939 and served as Eicke's adjutant.
While leading an infantry company fighting the Red Army in the USSR, he received a severe leg wound in early 1942. In July 1942, after convalescing he was assigned to the SS-Totenkopfverbände then sent to Auschwitz as head of a guard detachment. He was recommended for the position of camp commandant of Stutthof concentration camp by SS Gruppenführer Richard Glucks, Eickes successor as Inspector of Concentration Camps.
As the Russians advanced westward, a decision was made to evacuate Stutthof. The formal evacuation order "Einsatzbefehl No 3" was signed by Hoppe on January 25, 1945 at 0500. The destination of the "death march" was to Lauenberg about 87 miles (40 km) west southwest from Stutthof.
After the mass evacuation Hoppe became commandant of Wobbelin concentration camp, a temporary camp set up to take prisoners evacuated from camps about to be overrun by the Red Army. Source:
en.wikipedia.org
Gunter D'Alquen
Commander D'Alquen was captured and interned in Camp 165. When the camp closed in 1948 he was 'passed on' to the USA CIA where it is believed he worked on propaganda tactics during the Korean War.
1927—became a Hitler Youth Party leader
1931—joined the SS
1932—joined the Völkischer Beobachter, the official newspaper of the NAZI party, as a political correspondent writing articles of a distinctly right wing nature
1935—Heinrich Himmler made him Editor of the Schwarze Korps, the official newspaper of the SS
towards the end of the conflict Himmler appointed him as head of the Wehrmacht Propaganda Department
responsible for several key works including the commissioned history of the SS
his works inflamed anti-Semitism and denigrated democracy in favor of benevolent dictatorship
Source:
aquiziam.com
Max Wünsche
Obersturmbannführer (Lieutenant Colonel) Max Wünsche was captured in 1944 and sent to Compound O. In 1948 he was released and returned to Germany where he married, had a family and became manager of an industrial plant in Wuppertal, until his retirement in 1980. He died a few days short of his 80th birthday in Munich, Germany in 1995.
1932—joined the Hitler Youth Movement in 1932
1933—joined the SS
senior figure in the Waffen SS fighting in the Netherlands (1940), France (1940), the USSR (1941-43) and at D-Day (1944)
1938—assigned to the Begleitkommando des Führers (a bodyguard team of SS soldiers tasked with protecting the life of Adolf Hitler)
1940—returned to the Leibstandarte, as a platoon commander in the 15th Motor Cycle Company under the command of Kurt Meyer, for the invasion of Holland and the Battle of France
1943—acting on his own, Wünsche carried out an attack encircling the Russians at Jeremejwka, destroying 52 heavy guns and causing over 900 casualties for the Russians. For this action he was awarded the Knight's Cross.
1944—following the D-Day, battles Wünsche's Regiment was credited with the destruction of 219 tanks for which he was awarded Oakleaves to his Knight's Cross.
Source:
en.wikipedia.org
Otto Kretschmer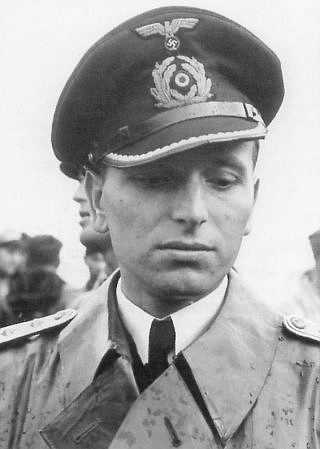 Flotilla Admiral Otto Kretschmer (1912-1998) was a German U-boat commander and was the most successful Ace of the Deep. From 1939 until being captured in 1941, he sank 47 ships (he was unsurpassed in tonnage sank) for which he received the Knights Cross with Oak Leaves and Swords, among other commendations. He earned the nickname "Silent Otto" for his successful use of the "silent running" capability of the U-boats as well as for his reluctance to make radio broadcasts during patrols.
He was captured in 1941 and sent to Compound O. In 1947 he was allowed to return to Germany. He joined the post-WWII German Navy. From 1962 he served in several staff positions before becoming Chief of Staff of the NATO Command COMNAVBALTAP (Commander Allied Naval Forces Baltic Approaches) in 1965. He retired with the rank of Flotillenadmiral in 1975.
In later years Kretschmer was often interviewed for television and radio programs about the Second World War, and appeared in the 1974 documentary series
The World at War
. In the mid-1990s he was interviewed for the computer simulation game
Aces of the Deep
, as one of several U-boat skippers whose interviews were excerpted specially for the CD-Rom version of the game.
In 1998 he died in a Bavarian hospital following an accident on a boat on the Danube while celebrating his 50th wedding anniversary. He was cremated and his ashes were scattered at sea. Source:
en.wikipedia.org
Paul Schroder
Compound O inmate Dr Paul Schroder—Chief of Ballistics Branch of the Waffenprufamt-Peenemunde—co-operated with intelligence officials, shared his technical knowledge of rockets and was eventually handed over to the Americans.
1948—granted special status due to his extraordinary knowledge regarding the specific technicalities relating to rocket projectiles and allowed to return to Germany
1950—granted an extension of his protection as a 'Matchbox Consultant' (code for science adviser) in order to ensure that the Soviets did not get access to 'The Greatest Mathematical Authority on Rockets Alive' according to the Science Advisor to the joint Committees
became a trusted advisor to the USAF
1958—joined the newly formed American space organization NASA
Source:
aquiziam.com
---
Topic for 13 April 2010
Anglo-Nazi SCRAP Merchant—Killers Kaczynski Katyn?
---
Lech Kaczynski
We are researching the possible role of an 'Anglo-Nazi SCRAP Merchant' organization in Saturday's wrongful death (?) of Lech Kaczynski and the 1941 Katyn Massacre of 15,000 Polish servicemen—allegedly by Britain's ally the Soviet Union.
We have evidence that Anglo-Nazi SCRAP Merchant saboteurs, assassins and 'false-flag' deception experts were recruited during brainwashing ceremonies (?) at Gavin Henderson's home at Buscot Park in Oxfordshire before and during the Spanish Civil War and Compound O at Camp 165 in Watten, Caithness, during and after WWII.
Apparent composition of Anglo-Nazi SCRAP Merchant:
S
erco [Formerly RCA—Titanic—Marconi—Stolen Patents—Queen's Flight]
C
ameron [HSBC House of Cameron—Sold Nazi-Japanese war bonds]
R
othschild [House of Rothschild bank—Sold Nazi-Japanese war bonds]
A
viva [Joint venture Reinhard Goerdeler, Baron Sharman KPMG]
P
atents [Serco/RCA virtual tunnels Guernica, Pam Am 103, 9/11]
Katyn Film
The state TV channel Rossiya was due to broadcast Polish director Andrzej Wajda's film
Katyn
on Sunday evening. The film chronicles the massacre of 22,000 Polish military officers and intellectuals in 1940 by Josef Stalin's NKVD secret police.
The much less-watched arts channel
Rossiya Kultura
became the first Russian television channel to air the film last week to coincide with the 70th anniversary of the massacre, which for decades Moscow had falsely blamed on Nazi Germany.
Ironically, Kaczynski represented a conservative, nationalist-minded segment of the Polish public that remains deeply sceptical of Moscow 20 years after the fall of communism.
Kaczynski vocally opposed what he branded as Russian "imperialism" in ex-Soviet states such as Georgia and Ukraine, even braving bullets during Moscow's short war with Tbilisi in 2008 to show his solidarity with President Mikheil Saakashvili.
Putin invited the pragmatic, quietly-spoken Tusk, not the more abrasive Kaczynski, to last week's Katyn commemoration. Kaczynski decided to go anyway, but on a different day. Source:
vision.org
Katyn Massacre
Truth, they say, is the first casualty in war. Sometimes it's also the last.
The Western Allies had an implicit hand in the cover-up of the Katyn Massacre in their endeavor not to antagonize a then-ally, the Soviet Union. Both British Prime Minister Winston Churchill and President Franklin Roosevelt were increasingly torn between their commitments to their Polish ally, the uncompromising stance of Sikorski and the demands by Stalin and his diplomats.
In private, Churchill agreed that the atrocity was likely carried out by the Soviets. According to the notes taken by Count Raczyński, Churchill admitted on 15 April 1943 during a conversation with General Sikorski: "Alas, the German revelations are probably true. The Bolsheviks can be very cruel". At the same time, on 24 April 1943 Churchill assured the Soviets: "We shall certainly oppose vigorously any 'investigation' by the International Red Cross or any other body in any territory under German authority. Such investigation would be a fraud and its conclusions reached by terrorism".
Unofficial or classified UK documents concluded that Soviet guilt was a "near certainty", but the alliance with the Soviets was deemed to be more important than moral issues; thus the official version supported the Soviet version, up to censoring the contradictory accounts. In Churchill's memoirs, he quotes the 1944 Soviet inquiry into the massacre, which predictably found that the Germans had committed the crime, and adds, "belief seems an act of faith".
In 1943, the Katyn Manifesto which blamed the Soviet Union, was published in London by the eccentric poet Count Geoffrey Potocki de Montalk. He was arrested by the Special Branch and imprisoned. In the United States, a similar line was taken, notwithstanding that two official intelligence reports into the Katyn massacre were produced that contradicted the official position.
In 1944 Roosevelt assigned his special emissary to the Balkans, Navy Lieutenant Commander George Earle, to compile information on Katyn, which he did using contacts in Bulgaria and Romania. Earle concluded that the massacre was committed by the Soviet Union. Having consulted with Elmer Davis, the director of the Office of War Information, Roosevelt rejected the conclusion (officially), declared that he was convinced of Nazi Germany's responsibility, and ordered that Earle's report be suppressed. Source:
wikipedia.org
Count Geoffrey Potocki de Montalk
Geoffrey Potocki de Montalk was sentenced to six months in Wormwood Scrubs for publishing a manuscript of erotic translations by Rabelais and Verlaine, with three short bawdy verses of his own. At his trial in London, he was supported by Leonard and Virginia Woolf and many of the leading writers of the day.
He emerged from prison bitter and determined to flout English convention. He travelled to Warsaw, where he was well received and reported on by the newspapers. He returned to England in 1935, to cover the Silver Jubilee of George V, who died shortly thereafter. When Edward VIII declared his intention to marry American divorcee Wallis Simpson, against the wishes of Prime Minister Baldwin, and was forced to abdicate, Potocki de Montalk printed a manifesto supporting the king and chastising Baldwin, distributed copies in Downing Street and was arrested. Aldous Huxley sent his wife to arrange bail and later funded the purchase of Potocki's first printing press.
In 1943, informed by Poles living in London about the massacre in the woods at Katyn of 15,000 Polish servicemen by Britain's ally, the Soviet Union, Potocki published what he considered to be his most important piece of writing, his
Katyn Manifesto
. The British government had been keen to keep quiet the atrocity, which the Soviet Union blamed on Germany. Potocki was arrested by Special Branch and imprisoned. Later, he was sent to an agricultural camp in Northumberland. This manifesto was the only acknowledgment of the atrocity in English. The full truth of the Katyn massacre was not to emerge for another 50 years. Source:
wikipedia.org
---
Topic for 7 April 2010
Captain Sherlock backs UK Independence Party—Stop Euro-Warming fraud
---
Our collective Captain Sherlocks have decided the best way to stop the Euro-Warming frauds and extortion of government leaders in the United States and, more generally, what Churchill called the English-Speaking Peoples, is to back the
United Kingdom Independence Party
and its leader Lord Pearson in the May 6 election.
In his time, Lord Pearson has declared war on, among others, Lloyd's of London, the Home Office, Marxism and the European Union.
"In my eyes, he has more moral and physical courage—and the remarkable tenacity that goes with those qualities—than anyone I have ever met short of an SAS commander." Jonathan Aitken, former Tory cabinet minister
From 1975 Pearsonb was involved in the so-called Savonita Affair at Lloyd's of London. His refusal to accept a claim involving cars supposedly lost at sea, but later found to be on sale on the Italian black market, led to reform and a new Act of Parliament.
Cameron Rothschild Aviva Paid Serco in CRAPS 9/11
Hawks CAFE see the May 6 election as a drag race where Warmists and Sceptics in the bleachers are screaming at each other and the drivers on the track have cars named DEATH and TRUTH.
The DEATH dragster is fuelled by 'CRAPS' as in:
C
ameron – HSBC Panmure Gordon Alinsky IIGCC Serco
R
othschild – Dump and pump from 1815 to 9/11
A
viva – Lord Sharman – KPMG Consulting – Tax shelters
P
ays – Murder for hire RICO Section 1958 U.S. Code
S
erco – RCA's virtual tunnel WWII Weather Underground
The "Truth" dragster is fuelled by UKIP and driven by Lord Pearson; he can follow the IIGCC hedge fund money through catastrophe bond frauds on Lloyd's of London.
Start your engines!
Global Warming and Sutton's Law
Obeying Sutton's law, Captain Sherlock forensic economists have decided to focus on the issue of global warming.
To apply Sutton's law is to search for the most likely cause of a symptom—ie, to go where the 'money' is.
Sutton's law is taught in medical schools to guide new doctors in ordering tests in a way that leads to faster treatment, while minimizing unnecessary costs. It is applicable to any process of diagnosis, in many disciplines, such as debugging computer programs.
The law is named after the bank robber Willie Sutton, who reputedly replied to a reporter's inquiry as to why he robbed banks by saying "because that's where the money is."
If members of the Bullingdon-SS get custody of $64 trillion in the Carbon Disclosure Project at 10 Downing Street and 4 trillion euros in the Institutional Investment Group on Climate Change, we assume we have located the mens rea of the biggest financial scam in the history of the world.
Institutional Investment Group on Climate Change (IIGCC)
Peter Dunscombe
Peter Dunscombe, the man responsible for looking after the fat pensions at
BBC Pensions
, is a climate change fanatic and is part of an international group of investment managers who invest in 'climate change' schemes. He runs the £8.2 billion corporation pension fund, advising trustees on a day-to-day basis about their investments. Mr Dunscombe, who addresses conferences about 'ethical investments', is also chairman of the
Institutional Investment Group on Climate Change (IIGCC)
which has 47 members and manages four trillion euros' worth of investments—yes, four trillion.
The IIGCC was launched in October 2006. Their goal is to find as many 'climate change' investment opportunities as possible. Asset owners and asset managers who signed the Statement committed to increasing their focus on climate change in their own processes and in their engagement with companies and governments."
In 2008, there were 18,736 contributors to the BBC pension fund—every one of them benefits from climate alarmism. Helen Boaden, director of BBC News, was appointed to the trust in 2008. So the person who tells BBC environment reporters such as Roger Harrabin and Richard Black that the science is settled also works to maximise the returns of the pension fund with Peter Dunscombe.
14 Jan 2010—
Investors Representing $13 Trillion Call on U.S. and Other Countries to Move Quickly to Adopt Strong Climate Change Policies
Desperate powerful investors who stand to lose
trillions of dollars
invested in carbon emissions trading are attempting to force governments to adapt carbon reduction policy. They are offering rewards if carbon policy is adapted and they threatening to wreak economies if policy is not implemented. They are trying to shame governments by saying that richer nations have brought on global warming at the expense of poorer nations who will suffer greatly due to no fault of their own.
"Given that Copenhagen was a missed opportunity to create one fully functional international carbon market, it is more important than ever that individual governments implement regional and domestic policy change to stimulate the creation of a low carbon economy. Time is of the essence and world leaders from both developed and developing countries need to act now to compensate for the lack of progress at an international level." ~Peter Dunsombe
Huge pensions funds which have invested on the side of the global warming scam now stand lose the last of their members' investments. The California Public Employees Retirement System (CalPERS), the nation's largest public pension fund with more than $205 billion in assets, is one. In a last-ditch plea, Anne Stausboll, CEO of CalPERS, is calling on the US government to create policy regulating carbon emissions.
"Investors are poised and ready to scale up investments in building the low carbon economy, but without policies that create a stable investment environment our hands are tied. U.S. leadership is critical in this regard, including U.S. Senate action to limit and put a price on carbon emissions." ~Anne Stausboll