Source: DAVID HAWKINS
Yahoo Group
We developed the 'SCRAP Merchant' name to describe a hybrid organization of principals who appear to use unwritten rules to justify the liquidation of their rivals.
SCRAP Merchant
S
erco (RCA BBC Met Office MOD Virtual Floating Matrix)
C
ameron (HSBC Bullingdon – $70 trillion CDP, IIGCC Serco)
R
othschild (RSA Carbon Ring 9/11 $4 billion Insurance Fraud)
A
viva (Lord Sharman KPMG Sidley Austin, Commercial Union)
P
atent Office (Marconi Clinton FDNY Thales
QRS11
Smacsonic
)
Miriam González Durántez
Source:
wikipedia.org
Miriam González Durántez (born May 1968) is a partner of international legal practice
DLA Piper
and the wife of UK
Liberal Democrat
party leader
Nick Clegg
. She was born in
Spain
and has Spanish nationality, but lives and works in the United Kingdom with her husband and children. Having previously worked as an advisor on trade law, economic relations and the
Middle East
to both the
European Union
and the British Government, González Durántez now works as a partner of
DLA Piper
. She is the head of International Trade Law. She is considered an expert on EU law and co-authored the book Regulatory Aspects of the WTO Telecoms Agreements.
Writing Unwritten Rules
Source:
dlapipercsrreview.com
Once a month, approximately 15 people in different roles at multinational companies in Beijing meet at Boeing's offices to share experiences, compare notes and champion sound ethical business practices. To be effective, such a meeting depends on openness and needs to be strictly confidential. Lawyers at DLA Piper's Beijing office drafted the non-disclosure agreements that every BEN participant signs, enabling this important work to proceed.
Boeing Violation of the Arms Control Act
Source:
seattletimes.nwsource.com
The State Department has prepared civil charges against Boeing alleging 94 violations of the Arms Control Act because the company sold commercial airliners without obtaining an export license for a tiny gyrochip that has defense applications. The company faces a potential fine of as much as $47 million, and the case could be another blow to the company's fragile relations with the federal government. In pursuing Boeing over exports of 96 jets to China and other countries between 2000 and 2003, the government is resurrecting a thorny and highly politicized issue: How should the U.S. protect dual-use technology that has both military and commercial applications without damaging its increasingly globalized trade?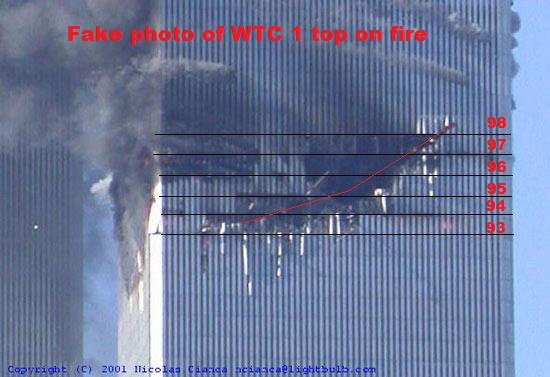 South face of the South Tower of the WTC, 9/11
The State Department charges against Boeing relate to the export of jets that contain a gyroscopic microchip called
QRS-11
, used as a backup system in determining a plane's orientation in the air. Though a Boeing document refers to the chip as "relatively unsophisticated" technology, the
gyrochip
also has been used to help stabilize and steer guided missiles .. "False statements" Boeing "was aware that a [State] Department export license was required but chose to export without authorization by using false statements on documents," the charging letter alleges.
Boeing managers declared on shipping certificates that no export license was required, even after the State Department had told the company otherwise, according to the letter. Boeing eventually acknowledged to the State Department it had exported 96 aircraft and 27 spare gyrochip-equipped flight boxes without export licenses. The
QRS-11 chip
, made by a unit of BEI Technologies in Concord, Calif., is just over 1-½ inches in diameter and weighs about 2 ounces. It sells for between $1,000 and $2,000. Described as "a gyro on a chip," it is used to help control the flight of missiles and aircraft. On Boeing jets, three BEI microchips are embedded in an instrument box made by French avionics firm [and ADL Piper client] Thales.
Acting together, the three chips provide a three-dimensional positional reading, telling the pilot through the flight display the precise yaw, roll and pitch of the airplane. This no-moving-parts electronic-sensor system acts as a back-up to a spinning gyroscope. Because of its use in guided missiles, the sensor is classified as a significant military item. Export-control regulations dictate that any larger system containing the sensor — even a commercial airplane — also must be considered a military item.
Mark A. Nadeau
Source:
dlapiper.com
In conjunction with his product liability work he has appeared in courtrooms in each of the 50 states. He has served as lead counsel in high-profile satellite television multibillion-dollar disputes throughout the United States involving retransmission and antitrust issues. On behalf of several aviation and launch-system clients, he has worked on issues involving rocket technology, joint venture disputes, cockpit avionics, license and patent claims, airworthiness, airframe and engine financing and performance, FBO centers, FAA regulations, environmental issues in aviation and major aircraft overhaul contracts.
As a result of his considerable work in Southeast Asia and for a large Chinese client in Guangzhou, Mr. Nadeau was invited by the Ministry of Trade and Economic Cooperation for the People's Republic of China to speak in that country on product liability and international arbitration. Mr. Nadeau is a member of the London Court of International Arbitration and is active with the World Congress of the International Chamber of Commerce. He is also a nationally elected member of DLA Piper's Policy Committee.
Jeffrey N. Owen
Source:
dlapiper.com
He represented the Boeing Company and Boeing Realty Corporation in the relocation of its world corporate headquarters from Seattle, Washington to Chicago, advising Boeing in:
real estate matters arising during the company's site review and evaluation process, while scouting potential locations in Chicago, Dallas and Denver;
analyzing public sector financing and governmental incentive packages that each city offered the company;
handling lease negotiations for the Chicago building that was finally chosen;
and negotiating, drafting and executing agreements memorializing the governmental incentive packages offered by Chicago, the State of Illinois and other local government agencies.
Malcolm Everard MacLaren Pearson
Source:
wikipedia.org
Devizes
,
Wiltshire
) is a
British businessman
and the leader of the
United Kingdom Independence Party
(UKIP). He is a member of the House of Lords. Born in
Devizes
, the son of John M. Pearson and Rosabel C Moysey, and educated at
Eton College
, Pearson had a successful career in international insurance until he resigned on becoming leader of UKIP. He was made a
life peer
on 18 June 1990 as Baron Pearson of Rannoch, of Bridge of Gaur in the District of
Perth and Kinross
, sitting as a
Conservative
. He entered the House for services to the insurance industry, particularly his anti-corruption stance on the 'Savonita' affair.