Source:
Hawks Cafe
;
Captain Sherlock
; Abel Danger
July 20, 2010
Dear Lord Pearson and Mr. Farage:
Crown Marcy-Gorelick illegal track Lockerbie BP bombs
Hawks CAFE asks UKIP to investigate the use of Oracle financial networks by Crown Agents'
Sisters
Jamie Gorelick and Kristine Marcy to track illegals, bombs and evidence through crime scenes such as the sites of the Pan Am Flight 103 crash near Lockerbie in 1988 or the explosion on the BP-chartered Deepwater Horizon drilling rig in April this year.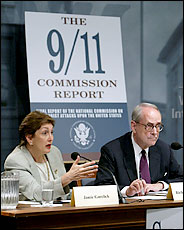 Our KSM agents have evidence that Crown
Sisters
Marcy and Gorelick served as handlers for convicted Soviet (?) spy Robert Hanssen who allegedly integrated Promis tracking software with Oracle Partner financial networks to move
illegals
through or around the Lockerbie, 9/11 and BP crime scenes.
"FTW, October 26, 2001 - 1300 PDT (UPDATED Nov. 16, 2001) - An October 16 FOX News report by correspondent Carl Cameron indicating that convicted spy, former FBI Agent Robert Hanssen, had provided a highly secret computer software program called Promis to Russian organized crime figures - who in turn reportedly sold it to Osama bin Laden - may signal a potential intelligence disaster for the United States. Admissions by the FBI and Justice in the FOX story that they have discontinued use of the software are most certainly a legal disaster for a government that has been engaged in a 16-year battle with the software's creator, William Hamilton, CEO of the Inslaw Corporation. Over those 16 years, in response to lawsuits filed by Hamilton charging that the government had stolen the software from Inslaw, the FBI, the CIA and the Department of Justice have denied, in court and under oath, ever using the software. Bin Laden's reported possession of Promis software was clearly reported in a June 15, 2001 story by Washington Times reporter Jerry Seper. That story went unnoticed by the major media. In it Seper wrote, "The software delivered to the Russian handlers and later sent to bin Laden, according to sources, is believed to be an upgraded version of a program known as Promis - developed in the 1980s by a Washington firm, Inslaw, Inc., to give attorneys the ability to keep tabs on their caseloads. It would give bin Laden the ability to monitor U.S. efforts to track him down, federal law-enforcement officials say. It also gives him access to databases on specific targets of his choosing and the ability to monitor electronic-banking transactions, easing money-laundering operations for himself or others, according to sources." .. it appears that Hanssen, who was arrested in February, in order to escape the death penalty this summer, agreed to provide the FBI and other intelligence agencies with a full accounting of his sale of Promis overseas .. On October 24, Department of Justice spokesperson Loren Pfeifle declined to answer any questions about where, when or how Promis had been used and would say only, "I can only confirm that the DoJ has discontinued use of the program." INSLAW had two limited contracts to provide Promis to Justice in 1982 and 1983. Neither application had anything to do with tracking terrorist activities. Hamilton's suits charged that Reagan Administration officials, including Edwin Meese, pirated the software, modified it for intelligence and financial uses and made millions by selling it to the governments of Israel, Canada, Great Britain, Germany and other friendly nations. After the installation of a CIA-created "back door" into the program, Israel, using its lifelong Mossad agent Robert Maxwell, reportedly sold the software to "unfriendly" nations and then secretly retrieved priceless intelligence data."
"Most Oracle professionals are surprised to learn that the name "Oracle" originates from the name of a CIA project. This article in Forbes Magazine notes that Oracle billionaire Larry Ellison worked on a CIA project with the code-name "Oracle": "He [Larry Ellison] dropped out of the University of Chicago in the 1960s, headed to Berkeley, Calif. and by the mid-1970s began working on a database project. Code name: Oracle. Client: the Central Intelligence Agency. In 1977, Ellison founded the company with Robert Miner and Edward Oates, naming it after the CIA job." There are other publications that suggest that the CIA did more than just lend the name Oracle, and they suggest that the CIA gave Ellison the Oracle software, after it was stolen from Russia: "I've chosen to publish his theory on Oracle's origin - in other words, how CIA stole the source code from the Russians, who had developed it originally!""
"A Report by a Panel of the NATIONAL ACADEMY OF PUBLIC ADMINISTRATION for the U.S. Department of Homeland Security Immigration and Customs Enforcement
October 2006 STABILIZING AND ENHANCING FINANCIAL MANAGEMENT An Independent Review of the ICE Financial Action Plan July–August 2006 .. The National Academy of Public Administration is the preeminent independent, non-profit organization for public governance. Established in 1967 and chartered by Congress, the Academy has become an independent source of trusted advice for every branch and level of government, Congressional committees and civic organizations. PANEL C. Morgan Kinghorn, Chair* W. Scott Gould* Kristine Marcy* FOREWORD Since its creation in March 2003, Immigration and Customs Enforcement (ICE) has been the largest investigative branch of the U.S. Department of Homeland Security (DHS). The agency, created following the events of September 11, 2001 combined the law enforcement arms of the then-Immigration and Naturalization Service and the former U.S. Customs Service, as well as merging the Federal Protective Service (FPS) as a means to more effectively enforce immigration and customs laws and protect the United States against terrorist attacks .. In 2005, KPMG, DHS' external auditor, rendered a disclaimer on the financial statements of the department, including ICE. KPMG noted 10 department-wide material weaknesses; ICE was a co-owner of eight of them .. Finally, I extend my thanks to the study team for its hard work and diligence in producing this important report. C. Morgan Kinghorn President National Academy of Public Administration"
"Gorelick joined the Washington, D.C. law firm Miller, Cassidy, Larroca and Lewin in 1975 and worked for them as a litigator until 1993, except for 1979 to 1980 when she was an assistant to the U.S. Secretary of Energy. Gorelick was president of the District of Columbia Bar from 1992 to 1993. Under the Clinton administration, Gorelick served as general counsel of the Department of Defense from 1993 to 1994, when she was appointed Deputy Attorney General of the United States, the No. 2 position in the Department of Justice. Gorelick served as Vice Chairman of the Federal National Mortgage Association from 1997 to 2003. She is currently a law partner in the Washington office of WilmerHale and a member of the boards of United Technologies Corporation, the John D. and Catherine T. MacArthur Foundation, the Carnegie Endowment for International Peace, the Washington Legal Clinic for the Homeless and Legal Affairs. She was also a member of the board of Schlumberger N.V., but tendered her resignation on June 3, 2010 in connection with her law firm's representation of BP plc in connection with U.S. Congressional hearings related to the Deepwater Horizon incident .. While serving as Deputy Attorney General under Bill Clinton, Gorelick spoke in favor of banning the use of strong encryption and called for a key escrow system to allow the Federal government access to encrypted communication .. Even though she had no previous training nor experience in finance, Gorelick was appointed Vice Chairman of Federal National Mortgage Association (Fannie Mae) from 1997 to 2003. She served alongside former Clinton Administration official Franklin Raines. During that period, Fannie Mae developed a $10 billion accounting scandal .. the "Gorelick Wall" barred anti-terror investigators from accessing the computer of Zacarias Moussaoui, the 20th hijacker, already in custody on an immigration violation. "During the time of Ms. Gorelick's 1995 memo, the issue causing the most tension between the Reno-Gorelick Justice Department and Director Freeh's FBI was not counterterrorism but widely reported allegations of contributions to the Clinton-Gore campaign from foreign sources, involving the likes of John Huang and Charlie Trie." Mr. Trie later told investigators that between 1994 and 1996 he raised some $1.2 million, much of it from foreign sources whose identities were hidden by straw donors. Testifying before the commission, Attorney General John Ashcroft said, "Although you understand the debilitating impact of the wall, I cannot imagine that the commission knew about this memorandum, so I have declassified it for you and the public to review," he said. "Full disclosure compels me to inform you that its author is a member of this commission."
"[Jamie Gorelick is partner of] Wilmer Cutler Pickering Hale and Dorr LLP, which also goes by the shorter market name WilmerHale, is an American law firm with twelve offices across the USA, Europe and Asia .. Hale and Dorr gained national recognition in 1954 when partner Joseph Welch, assisted by associate James St. Clair and John Kimball, Jr., represented the U.S. Army on a pro bono basis during the historic Army-McCarthy hearings .. In the 1980s, Cutler led the founding of the Southern Africa Legal Services and Legal Education Project, to aid South African lawyers who fought to implement the rule of law during apartheid .. In 2003, partner Jamie Gorelick began serving as a member of the 9/11 Commission .. firms merged to form Wilmer Cutler Pickering Hale and Dorr in 2004 .. Wilmer, Cutler & Pickering represented Swiss banks accused of profiting from the Holocaust in their settlement negotiations with plaintiffs. The firm also represented Siemens AG, Krupp AG, and other German companies accused of exploiting forced laborers during the Nazi era .. A team of WilmerHale attorneys currently represents the "Algerian Six", a group of men who fell under suspicion of planning to attack the US embassy in Bosnia and who are now held in the Guantanamo Bay detainment camp .. In January 2007, Cully Stimson, deputy assistant secretary of defense for detainee affairs, criticized WilmerHale and other major law firms for representing "the very terrorists who hit their bottom line back in 2001" and questioned whether such work was really being done pro bono or might actually receive funding from shadowy source Offices Boston, MA New York Los Angeles Palo Alto, CA Waltham, MA Washington, DC London (1972) Brussels (1990) Berlin (1993) Beijing (2004) Oxford (2007) Frankfurt (2008)"
KSM also has evidence Crown Agents' Sisters use a Promis backdoor into Oracle Partner networks so illegals can be infiltrated or exfiltrated through crime scenes by mercenaries hired through City of London's Guild and Livery Companies (sample crests above).
We list below the names of 12 Crown Agents' Sisters and affiliations, projects and networks which allegedly make use of Crown Agents' TRIPS s/w and Oracle Partners to move assets for sexual entrapment, snuff-film production and cat-bond insurance frauds.
"1. Eliza Manningham-Buller [Oracle-MI5-CIA Serco, Promis, K-Branch, IRA, Pan Am 103, NetJets 9/12, Amec 7/7, RAF Brize Norton, Anna Chapman, Rendition, Waterboarding] 2. Jamie Gorelick [Oracle-Fannie Mae, MindBox, DOJ Pride, Vince Foster, Waco, Promis, 9/11 Wall, Schlumberger, Transocean, BP Cancelled Cement Job, Sabotage] 3. Samantha Cameron [Oracle-Menzies Aviation and Distribution, Smythson Stationery, Boston Brakes, Princess Di, great grandfather was chairman of Reuters] 4. Hillary Clinton [Oracle USAID-SBA liquidations, Crown Agents Gyroscope QRS11 Patent on NetJets Boeing and Gulfstream V on 9/11] 5. Cherie Blair [Oracle-LSE For You, Matrix Terrorists, Law of the European Union, European Convention on Human Rights] 6. Michelle Obama [Oracle-CIA Henry Bienen, Princeton, Union Carbide Bhopal AT&T] 7. Miriam Clegg [Oracle DLA Piper head of international trade law practice, wife of Lord President of the Council Nick Clegg, late Robin Cook, Passports for illegals, BBC Royal Charter] 8. Bernardine Dohrn [Oracle-Northwestern University, Unabomb, Weather Underground Rwanda Genocide, Torture Paradigm and Practice] 9. Mary Harron [Oracle-Netflix DVD American Psycho, Weather Underground, Bondage S&M, SCUM, Former girlfriend of Tony Blair at Oxford University] 10. Charlotte Bryan [Oracle-Serco FAA Contract Towers FC-KU crime scenes of 9/11] 11. Lucy Adams [Oracle-Serco BBC snuff film sites 9/11, 7/7] 12. Kristine Marcy [Oracle-Serco, Promis, SBA DOJ Pride USIS DNS, ICE, U.S. Marshals, Reduction in Recruitment (RIR) for illegals in preparation for 9/11, Obama CUKC Passport JPATS Femme Comp Inc Unabombs 'Mindless breathers - Useless Breeders' comment, Field McConnell's sister] .. Guild of Air Pilots and Air Navigators .. Honourable Company of Master Mariners .. Worshipful Company of Security Professionals .. City of London Solicitors' Company .. Worshipful Companies of Stationers and Newspaper Makers, Insurers, International Bankers, World Traders and Weavers [Livery Company heraldry - Torse-fillet strangler scarf at United 93 Crash]"
"Crown Agents is exactly what its name implies, an agent of Her Majesty the Queen. It was founded in 1833 as Crown Agents for the Colonies, and historically played a vital role in the creation and management of what British historians call the Third Empire .. Crown Agents printed the stamps and banknotes of the colonies; provided technical, engineering, and financial services; served as private bankers to the colonial monetary authorities, government officials, and heads of state; served as arms procurers, quartermasters, and paymasters for the colonial armies .. Her Majesty's Murder, Inc. .. Crown Agents' range of ``services''--arms procurement, border controls, offshore banking--also nicely fit the ``administrative requirements'' of the world's organized crime cartels .. review of some of the more sordid aspects of the recent history of Crown Agents, suggests that the firm has been at the center of the British Crown's highly sensitive patronage of global organized crime--what EIR long ago dubbed Dope, Inc."
Please browse the links and do what is right.
http://www.hawkscafe.com/107.html
http://www.abeldanger.net/
http://www.captainsherlock.com/