Presidential Field McConnell has linked crime scenes associated with the Bullingdon Club's short [sellers] and curlies to pedophile traps allegedly set by the Allen & Overy law firm which handled the abdication of King Edward VIII and Standard Chartered, Crown Agents' banker in WTC#7 on 9/11.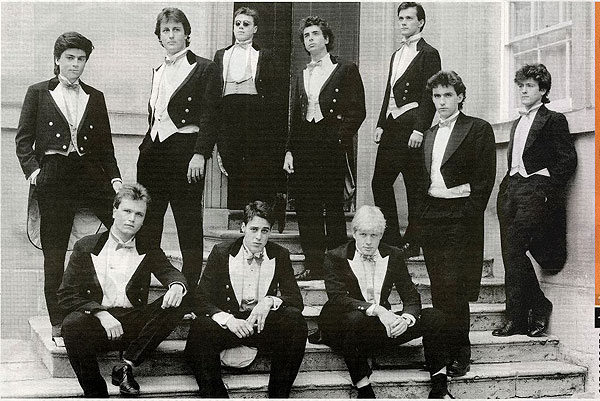 Standard Chartered – partners of Allen & Overy – allegedly used entrapped and extorted pedophiles to place incendiary bombs in SEC offices to destroy evidence of short selling pass-through certificates for Wells Fargo and Bank of America in re WTC# 1, 2 and 7.




"Sky News Documentary Dec 24th 2007 - Is It Possible McCanns Are Involved?

[No but it is probable that Maddy McCann's abduction was arranged by Allen & Overy acting for Bullingdon shorts and their pedophile curlies allegedly including Rebekah Wade]

"
Bullingdon short – cf. Black Wednesday and George Soros – and his pedophile curlie?
Is this why Gareth Williams died? Where is O&A and Bain & Company's116 000?




"For Years, the Tabloids' Sting Kept British Politicians in Line By SARAH LYALL Published: July 9, 2011 LONDON — In 2004, Clare Short, a Labour member of Parliament, learned what could happen to British politicians who criticized the country's unforgiving tabloids. At a lunch in Westminster, Ms. Short mentioned in passing that she did not care for the photographs of saucy, topless women that appear every day on Page 3 of the populist tabloid The Sun, owned by Rupert Murdoch's News Corporation. "I'd like to take the pornography out of our press," she said. Big mistake. " 'Fat, Jealous' Clare Brands Page 3 Porn" was The Sun's headline in response. Its editor, Rebekah Wade (now Rebekah Brooks and the chief executive of News International, Mr. Murdoch's British subsidiary), sent a busload of semi-dressed models to jeer at Ms. Short at her house in Birmingham. The paper stuck a photograph of Ms. Short's head over the body of a topless woman and found a number of people to declare that, in fact, they thoroughly enjoyed the sexy photos. "Even Clare has boobs, but obviously she's not proud of them like we are of ours," it quoted a 22-year-old named Nicola McLean as saying. However much they might deplore tabloid methods and articles — the photographers lurking in the bushes; the reporters in disguise entrapping subjects into sexual indiscretion or financial malfeasance; the editors paying tens of thousands of dollars for exclusive access to the mistresses of politicians and sports stars; the hidden taping devices; the constant stream of stories about illicit sex romps — politicians have often been afraid to say so publicly, for fear of losing the papers' support or finding themselves the target of their wrath. If showering politicians with political rewards for cultivating his support has been the carrot in the Murdoch equation, then punishing them for speaking out has generally been the stick. But the latest revelations in the phone-hacking scandal appear to have broken the spell, emboldening even Murdoch allies like Prime Minister David Cameron to criticize his organization and convene a commission to examine press regulation."

"http://www.allenovery.com/AOWEB/Community/Editorial.aspx?contentTypeID=1&contentSubTypeID=7949&itemID=52813&prefLangID=410 Child protection project expands in Europe and Asia 24 August 2009 Lawyers from our offices across Europe – led from Belgium – have played an important role in efforts to eradicate the sexual exploitation and abuse of children on the internet, as part of a major initiative which is now being extended to Asia. The commercial sexual exploitation of children on the internet is a growing problem. A huge number of different contract, privacy, data protection and banking secrecy laws across Europe make it very difficult for internet and credit card companies to identify the criminals behind this activity and report them to the authorities. But an international team of Allen & Overy lawyers – working with White & Case in Moscow – have completed a year of research across 11 European countries for the charity, Missing Children Europe, to find ways to prevent legal loopholes obstructing the prosecution of persons selling child pornography on the internet.

The research highlights legal

[?]

techniques that allow banks and credit card companies to block payments to websites, trace payments back to the people running them and share evidence about the perpetrators so that they can be reported and arrested.

Our research for Missing Children Europe – an umbrella for 23 European child protection organisations – has contributed to the launch of the European Financial Coalition, chaired by the UK's Child Exploitation and Online Protection Centre and supported by the European Commission. The Coalition brings together finance companies, internet service providers, charities, law enforcement agencies and leading NGOs, as well as Allen & Overy as an ongoing advisory member.

Building on this success in Europe, we have begun similar research in Asia, in partnership with the International Centre for Missing and Exploited Children and Standard Chartered Bank.

The objective is to create a similar financial coalition in Asia, based on the European model."

"The Child Exploitation and Online Protection Centre (CEOP), formed in April 2006, is a UK cross agency and cross business department of the Serious Organised Crime Agency, which is tasked to work both nationally and internationally to bring online child sex offenders, including those involved in the production, distribution and viewing of child abuse material, to the UK courts. CEOP combines police powers with expertise from the business sector, government, specialist charities and other interested organisations. Partners CEOP is made up of police officers with specialist experience of tracking and prosecuting sex offenders working with people from organisations including the NSPCC and Childnet, Microsoft and AOL. Partnerships have been set up across non-government bodies, including: NCH, NSPCC, Barnardos; business (Microsoft, AOL, Serco, Vodafone etc) and UK Government departments (Children, Schools and Families; Home Office; Foreign and Commonwealth Office etc). CEOP works with organisations such as The Scout Association , the Football Association, the England and Wales Cricket Board, British Telecom, and Lycos to widen the scope of its work." The CEOP Centre is also a partner in an international law enforcement alliance – the Virtual Global Taskforce. This was set up in 2004 and provides an international alliance of law enforcement agencies across Australia, the USA and Canada as well as Interpol

[Google Entrust Thoma Bravo Sidley Austin Hull House Jane the Ripper Addams SOS Chicago Torture Paradigms and Practise]

in bringing a global policing response to tackling documented child abuse."

"Rupert Murdoch's London lawyers study new UK bribery law Published: Thursday, Sep 8, 2011, 15:20 IST Place: Washington, DC | Agency: Reuters Lawyers for Rupert Murdoch's UK newspaper arm have begun an examination of its responsibilities under a new British law intended to crack down on bribery, Reuters has learned. Two people briefed on internal matters at News Corp's News International unit said the bribery law review is being conducted by London-based Allen & Overy. Lawyers from the firm have been acting as News International's in-house counsel since the departures of the publisher's previous staff lawyers earlier this summer during public uproar over questionable reporting practices at the company's now-shuttered News of the World. One of the sources said that Allen & Overy's assignment would be to look at the publisher's "obligations" under a new British bribery statute which became law on July 1. According to a description posted on the website of Britain's Foreign and Commonwealth Office, the new law is intended to provide a "modern legal framework to combat bribery in the UK and internationally." The Foreign Office said the new law makes it illegal to offer or receive bribes and to bribe foreign officials. The law also makes it illegal for businesses to fail "to prevent bribery" by people working for them. The second source briefed on the matter said some senior executives on News International's editorial staff had already been contacted by the lawyers about the bribery issue. A representative for News International declined to comment. The examination by Allen & Overy of News International's obligations under the new British bribery law follows the company's acknowledgment last week that another set of outside lawyers are conducting a broad review of reporting practices at the company's three remaining U.K. newspapers: The Sun, a daily tabloid, and two upscale papers, the Times of London and the Sunday Times. A person briefed on this review said that the main law firm conducting the broad inquiry, Linklaters, was now being assisted by another large London firm, Olswang LLP. New details of the reporting practices review, which has been under way since at least last month, were described by a source familiar with the review. The source said selected editorial employees at News International titles had been advised in writing that they will be expected to discuss several issues related to reporting practices with lawyers from Olswang or Linklaters. These issues include discussion of possible historical and recent use by News International journalists of phone hacking, the employment of private detectives, and details of dealings with police and other government employees. The OlswangLinklaters review will also examine the newspapers' use of cash payments, wire transfers and contributions to charity, the source said. Two sources briefed on the inquiry said that employees who have been notified they will face interviews by Linklaters or Olswang have also been advised that they are not obliged to volunteer any information which would tend to incriminate them in illegal activity. If a journalist facing an interview fears they have a problem, the company has offered to arrange and pay for independent lawyers to advise the journalist how to proceed. A company representative also declined to comment on the new details of the broad reporting practices review. Last week, the company confirmed the review's existence, with a spokesperson saying it was "part of a process that started a number of weeks ago."

Presidential Field invites you to check the links and join him in the SaC-OODA loop.

Presidential Mandate

http://www.abeldanger.net/