United States Marine Field McConnell has linked Mrs. Clegg to Libor G4S extortionists who allegedly represent a threat to the London Olympic Games and Underground stations on the scale of the Munich Massacre.
McConnell claims that GCHQ code-breaker Gareth Williams had hacked into Mrs. Clegg's Libor rate-rigging cartel and she authorized G4S hit teams to have him killed (cf. Key to FBCA).
See #11:
Abel Danger Mischief Makers - Mistress of the Revels - 'Man-In-The-Middle' Attacks

"1972 Munich Olympics Massacre of Israeli Atheletes"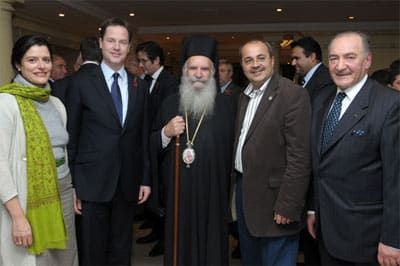 Clegg's erstwhile boss at Libor law firm DLA Piper cozying up to Barack Obama, the sponsor of G4S / Wackenhut racketeering operations of a number of U.S. private prisons.
"Gareth Williams, MI6 False Leads, Dark Arts of the Secret Services and the Spy Inquest"
London Underground bombing exercise set up by Clegg's Libor law firm DLA Piper and G4S security agents.




"

[Spoliation inference that Mrs. Clegg helped her Libor law firm DLA Piper to launder Oil for Food money through Libor rate-rigging and G4S-triggered cat bond reinsurance frauds]

Anti-Israel Iraqi billionaire's dinner with Nick Clegg How the Lib Dem leader dined with oil scandal billionaire who funded Galloway's Gaza convoy By Martin Bright, April 22, 2010 A controversial Iraqi-British billionaire who funds one of the UK's most strongly anti-Zionist websites organised a banquet in honour of Lib Dem leader Nick Clegg, and a fundraiser for Susan Kramer, the party's candidate in the high-profile seat of Richmond Park. Nadhmi Auchi, 73, was convicted of fraud in the giant French Elf-Aquitaine oil company trial in 2003 and given a suspended sentence, although he is seeking to appeal the verdict. The Lib Dems told the JC that the connection between the party and the billionaire was limited to the two events and that Mr Auchi was not a donor to the party. Mr Clegg spoke at a dinner hosted by Mr Auchi's Anglo-Arab Organisation, set up to promote understanding between Britain and the Arab world last November. The Lib Dems confirmed that the AAO also organised a £60-a-head dinner for Ms Kramer, which raised around £5,000."

"BBA Libor associates

[include Sidley Austin, Allen and Overy law firms which allegedly set up Romney's Libor tax shelters with The Cayman Islands Bankers' Association]

Accenture ADT Fire and Security plc

[Twin Towers security for investors in Libor leveraged lease]

… Allen & Overy

[Structured Thomson's acquisition of Reuters and its Libor services]

… Bank of England .. Bankersalmanac.com .. Brown Brothers Harriman & Co .. Capital One (Europe) plc Clifford Chance .. DLA Piper UK LLP [Mrs. Clegg restructured HSBC trademark for Libor SOS Children's Villages] .. G4S [Olympic money laundering, Wackenhut Joker hit] … Isle of Man Bankers' Association [CCX scam] .. Jersey Bankers Association .. KPMG

[Patte

rn of the Times on 9/11 http://www.youtube.com/watch?v=aItdAk5Qemo] .. Linklaters LLP [Repo'ed Lehman Brothers with Libor loans!!!] .. Norton Rose .. Oracle .. PwC .. Sidley Austin LLP

[Obama's cronies Structured Romney's Libor tax shelters in Cayman Island]

.. The Cayman Islands Bankers' Association

[Laundered HSBC Fast and Furious]

.. The Post Office Ltd

[Magnotta head]

.. Worldpay"


"G4S staff 'cheat' on tests to run x-ray scanners at Olympic Games Recruits given several chances to pass exams on bomb detection – but just 20 minutes training on machines Nick Hopkins guardian.co.uk, Monday 23 July 2012 22.23 BST 'It was easy to miss something and I did – a bomb in the bag' The credibility of the Olympic security operation being run by G4S is called into further question by claims that scores of trainees are being allowed to "cheat" their way through tests for the x-ray machines that detect homemade bombs and other weapons. Trainees who fail the test are being given repeated opportunities to get the right answers to the same questions, and are also being allowed to confer with others during the exams under the noses of instructors, a source has told the Guardian. Recruits are being given only 20 minutes' practice on the real machines that will be used at the Olympic venues to stop visitors bringing in dangerous materials, or possibly an IED (improvised explosive device). G4S insisted it has followed industry standards and that the tests were designed and approved by the Olympic organisers, Locog. It said it was not "uncommon or wrong" for trainees to repeat tests. But the Guardian has been told that concern about the proper staffing of the x-ray machines was raised at the government's Cobra meeting on Monday, which involved senior ministers and Olympic Games officials. With the Olympic opening ceremony just days away, police and armed forces have now been asked to "scope out" whether they can undertake more x-ray duties, and run the CCTV monitors too, if G4S cannot supply the numbers needed to operate the machines."


More to follow.