Mistress of the Revels 'man-in-the-middle' attacks


Mistress of the Revels
List (September 15, 2011), of Crown Agents' Sisters who allegedly use pedophile extortionists and snuff-film patent pools to support 'man-in-the-middle' attacks on leaders with an M.O. of Matrix 5 communities (see Marcy below) and command, contract hit and spoliation crews that dates back to the 1629 foundation of the Worshipful Company of Spectacle Makers:
1. Kristine Marcy (nee McConnell) "[Revised August 10, 2012: Kristine Marcy is a Matrix 5 principal and the 1979 founder and de-facto president of the Senior Executive Service ('SES'); she allegedly borrowed British Bankers Association money at Libor Minus Sex Per Cent to modify ConAir – U.S. Justice Prisoner and Alien Transportation System – planes for missions such as the Norad Santa exercise of 1996; she allegedly flew ConAir prisoners on furlough to prepare a Libor $118,000 ransom note at a crime scene associated with the snuff film and torture killing of JonBenet Ramsey on Christmas Day 1996; she allegedly used the snuff film to extort national security concessions from JonBenet's father and Lockheed Martin directors in 1996, including Lynne Cheney and Norman Mineta; she and co-recipients of the Gore Hammer awards, allegedly used Clipper chips and the Nortel-developed Joint Automated Booking Station (JABS) in the spoliation of evidence of the JonBenet murder in Boulder, Colorado in 1996, and the Gareth Williams murder some time in August 2010 in Pimlico, London, U.K.; she allegedly developed JABS for David Blood and Al Gore to authorize serial and/or mass murders of 'Mindless Breathers - Useless Breeders'; she is allegedly rewarded with other JABS users for the management of evidence at Blood & Gore crime scenes with money laundered through the Department of Justice Assets Forfeiture Fund; she was the 1996 recipient of Vice President Gore's Hammer Award for Reinventing Government Programs for her work in creating the Justice Prisoner and Alien Transportation System (JPATS – nick named 'Con Air'); she allegedly organized the theft of PROMIS and its translation into a French version of JABS for La Sûreté du Québec and Francophonie 9/11; she and co-recipients of the Gore Hammer awards, allegedly used the Nortel JABS system in the spoliation of evidence of a home break-in at the former Glyndon property of her brother, Field McConnell; she allegedly conspired with FAA's Collaborative Decision Makers who also won Gore Hammer awards, to overthrow the United States Government on 9/11; she allegedly sent bogus Con Air passenger manifests and flight schedules to the FAA's air traffic control headquarters in Herndon, Va., to paralyze blue-team responses to electronic hijacking during the phony Gore Hammer war game on 9/11; she allegedly used Con Air to fly victims to cannibal oath ceremonies at a British Columbia pig farm where they would swear to uphold the principles espoused in Al Gore's propaganda movie 'An Inconvenient Truth'; she allegedly conspired with her former SBA loan syndicate client, Wells Fargo, to promote the Al Gore : Inconvenient Truth [Death by Breath?] propaganda on her brother's birthday October 02, 2007 at the Wells Fargo Theatre in Denver, CO; she allegedly authorized DOJ Pride to set up a ConAir pedophile transport system to entrap and extort KPMG clients at SOS Children's Villages in the State of Illinois and 130 countries around the world; she allegedly launched DOJ Pride in 1994 to infiltrate Uranian – third sex – entrapment experts into crime scene investigations to accuse the innocent and shelter the guilty; she allegedly used a Federal Bridge Certification Authority to give the U.K. Ministry of Defence an electronic warfare backdoor into the Air Force Special Operations Command and its SBA mentor-protégé programs for 'Gore Hammer 9/11'; she allegedly converted a Pennsylvania mine to hold pedo-file images for use by her DOJ Pride colleagues to extort pedophile government employees and undermine the integrity of a Federal Bridge Certification Authority ('FBCA'); she allegedly holds proxy keys to the FBCA which give Barack Obama distance from contract hits such as the Fast and Furious assassination of ATF agent Brian Terry; she is the former Senior Counsel for the Office of Detention and Removal Operations (DRO) of U.S. Immigration and Customs Enforcement (ICE); she allegedly issued time-lapse private keys to the SBA's extorted 8(a) HUBZone voters to ensure Barack Hussein Obama was fraudulently elected POTUS 44 in November 2008; she allegedly procured time lapse keys for use by a matrix of Her Majesty's Crown Uranian (see anagram for Manchurian) cells inside DOJ Pride to conceal Paperclip passport frauds exposing Obama as a citizen of the United Kingdom and Colonies (CUKC); she allegedly directs the extortion of man-in-the-middle officials in the U.S. Department of Justice, the Bar Associations of the District of Columbia and the U.S. Court of Military Appeals, and the U.S. Supreme Court; she appears to have used .tv snuff films to extort the Office of Personnel Management into concealing Obama's ties to a Mau Mau oath-taking family in Kenya; she allegedly linked the U.S. Small Business Administration's HUBZone Settlements to an E-Comm command center in British Columbia where 9-1-1 operators learn how to stage a murder during the production of a horror film production with unwitting (?) actors or extras; she allegedly formed a joint venture between Macdonald Dettwiler and Associates and the U.S. Justice Prisoner and Alien Transportation System ('Con Air') to use Sabre seat reservation technology to monitor the movements of pig farm oath takers; she allegedly used SBA 8(a) mentor-protégé companies to modify an EC135C Speckled Trout aircraft carrying General Henry Shelton and support a Uranian attempt to overthrow of the United States government on 9/11; she allegedly set up a revolving fund (# 15X4275) with bona vacantia – ownerless goods – in a joint venture with Star Chamber insiders, the Treasury Solicitor, Permira (Schroder Salomon Smith Barney in WTC#7) and organized crime groups to finance modifications of aircraft for the 9/11 attacks; she allegedly procured 'Con Air' Lear Jet aircraft for use by Bombardier's homicidal EW pilot, Russell Williams to support the SES Speckled Trout chain of command and the decoy-and-drone maneuvers of 911; she allegedly used USIS files and Canadian Privy Council insider and NAPA vice president Lena Trudeau to create virtual 'al-Qaeda' operatives; she allegedly auctioned off SBA 8(a) CDOs just before the 9/11 attacks and assigned patented-device incendiary liquidation rights to D2 Banking and KPMG clients at Canary Wharf; she allegedly used images of Uranian pig-farm oath ceremonies to extort 9/11 cooperation from the likes of Donald Rumsfeld, Dick Cheney, Frank Carlucci, Lynn McNulty, Dr. David Finkleman, Gen. Ralph E. Eberhart, Rear Admiral Gordon Piche, Robert Mueller, Bruce McConnell and Generals Haig, Shelton and Shalikashvili; she is the de facto President and Chief Executive Officer of Washington D.C.-based NAPA (The National Academy of Public Administration); she allegedly infiltrated pig farm Greek Life oath takers into George Washington University, University of Chicago and Northwestern University and University of Hawaii (BA French) and Georgetown University ( MFS, master foreign service); she allegedly exfiltrated U.S. Marshals from Murrah Building OKC before initiating the bombs fraudulently attributed to a subsequently-executed decoy, Timothy McVeigh; we infer from spoliation through pay-per-view encryption that she re-assigned SBA liquidation rights in patent pool devices used on 9/11, including .tv to Crown Agents' City & Guilds Livery Companies such as the Worshipful Company of Spectacle Makers]"
2. Samantha Cameron (nee 'Snowy' Sheffield)
"[Revised July 23, 2012. Matrix 5 wife of the allegedly extorted man-in-the-middle Prime Minister of the United Kingdom, David Cameron; evidence she and her husband were ordered by trustees of the Thomson Reuters Foundation to develop a Carlton Communications snuff-film script – apparently financed by Libor panel banks – for the London Underground bombing of July 7th, 2005; evidence that on 9/11, she arranged multicast of ITV/Carlton idents followed by Naudet Brothers' snuff-film images relayed via Schroder's WTC Building #7; evidence her husband and fellow Bullingdon alumna synchronized ITV/Carlton idents with Schroders snuff film to associate 'Pull it' of WTC#7 with Twin Towers demolitions; evidence that Thomson Reuters-controlled Livery Companies sent her to New York on Monday September 10, 2001 to prepare a Matrix 5 man-in-the-middle attack on that city's 9-1-1 operators; evidence that NYC 9-1-1 operators were deceived by 9/11 bait and switch calls; evidence she arranged root authority needed by the Worshipful Company of Spectacle Makers to film the demolition of WTC#7 and thereby confirm the destruction of evidence of Clipper-chip backdoors into the Mayor's Office of Emergency Management; evidence she tried to establish an alibi for the production of VideoGuard snuff film images with the 9/11 Massive Attack group in New York with Hillary Clinton, Heather Mills and Sarah Ferguson; evidence she conspired with late Bullingdon Club alumnus and former U.K. Minister for War, Jack Profumo, in the use of Entrust public key infrastructure to conceal her Fag Mistress role during the pedophile man-in-the-middle propaganda attacks of 9/11; evidence she adapted a Matrix 5 pedophile-pimping strategy developed by her 17th century ancestor Nell Gwyn to procure VideoGuard-encrypted snuff-film images for the Treasury Solicitor to extort Livery Company support for 9/11 & 7/7 insurance frauds on Lloyd's of London; evidence she used 'Jane the Ripper' oath takers, associated with various City and Guilds' Livery Companies including The Musicians, to stage a Matrix-5 propaganda massive attack on New York on 9/11; evidence her mother, Viscountess Astor, provided 'Fag Mistress' services to Lord Boothby with the Kray Twins in the Astor-Club London of the '60s; evidence her ancestor Nell Gwynn provided Bona Vacantia contract-killing services through the Treasury Solicitor to the court of King Charles II; evidence she arranged for her husband to be employed by Michael Green as a 'Haberdashers Ass' from 1994 to 2001; evidence she ordered her husband to launder Carlton Communications' pay-per-view revenues for the 9/11 Massive Attack through VideoGuard encryption networks which he allegedly integrated in the period 1990-1993 with the Bona Vacantia accounts of the Treasury Solicitor; evidence she ordered TSol – a London-based corporation sole – to settle bills presented by ownerless Livery Company special weapons and tactics teams for the murder of Todd Beamer et al. during phony war games on 911; evidence she ordered her husband to co-ordinate the production of Matrix 5 propaganda such as the docu-drama, 'United 93'; evidence she plays a centuries-old role as 'Mistress of the Revels' or 'agente provocatrice' for lesbian or pedophile raves where witnesses are hired to entrap and extort future leaders; evidence she provided such services with Tricky's Massive Attack group to Cameron's Bullingdon Boys; evidence that her family entrapped David Cameron in a filmed pedophile rave at some time between his introduction to a tradition of pedophile rape and torture (beatings) at Eton College, through his work as a 'Shipjumper' with Jardine Fleming in Hong Kong, through his drunken property-smashing orgies at Oxford University's oath taking Bullingdon Club; evidence that she ordered David Cameron and HSBC-Rothschild bankers to fund 'ownerless SWAT teams' to act for the Alliance of Small Island States in 1990 in ongoing man-in-the-middle propaganda attacks on the English Speaking Peoples; evidence that she or her mother ordered David Cameron to orchestrate the Black Wednesday sabotage of the U.K. Treasury [Solicitor] on 16 September 1992 when the pound sterling was withdrawn from the European Exchange Rate Mechanism; evidence of a seditious conspiracy between the Treasury Solicitor, the Cameron, Sheffield, Astor and Rothschild Families and George Soros – a WWII extortionist at a mere 14 years of age – to make a US$1 billion profit by short selling sterling; evidence she worked with Rebekah Brooks and Elisabeth Murdoch in the '90s on the development of man-in-the-middle propaganda attacks on extorted leaders of industrialized societies to promote the 'Catastrophic Anthropogenic Global Warming Causes Sea Rising and Flooding of Small Islands in the Age of Stupid' myth and thereby justify a global tax on breath; Samantha Cameron graduated from City & Guilds' Camberwell College of Arts; she is the former creative director of Smythson where she allegedly tracked and moved victims of pedophile and lesbian snuff-film raves with dual-use City & Guilds 'bona vacantia' products or services such as leather & skin passport covers (Leathersellers), Menzies Aviation weapons cargo and paramilitary-passenger handling systems (Guild of Air Pilots and Air Navigators and Information Technologists) and Newspaper Distribution (Stationers and Newspapermakers); she was allegedly alerted by her City & Guilds lesbian agents that Gareth Williams had enrolled at Central St Martin's College of Art and Design in London and appeared to have hacked into Matrix 5 AOSIS network which she had helped to set up to launder CO2e money through her family office at D2 Banking Canada Square, Canary Wharf; evidence she procured a continuity of government authority to organize an illegal rave from Miriam Clegg, the Spanish wife of extorted man-in-the-middle Lord President of Council, Nick Clegg; evidence she used that authority to organize a City & Guilds lesbian rave at which Gareth Williams died; evidence she organized non-professional actors associated with Matrix 5 City & Guilds community into ownerless SWAT teams and left clues sufficient for Abel Danger to solve "Case of Haberdashers Ass and Beamer, Todd' and 'Case of the Folded Spook']"
3. Annabel Lucy Veronica Astor, Viscountess Astor (nee 1948 Jones) [CEO of OKA Direct, a home furnishings design company; former owner and designer of Annabel Jones jewellery business in London; mother of wife of British Prime Minister and Conservative Party leader David Cameron, Samantha Sheffield; she is daughter of Timothy Angus Jones and his wife Patricia David "Pandora" Clifford; her mother married secondly in 1961 to Michael Astor, habitué of the Astor Club alleged used by the Kray Twins to take control of the Metropolitan Police and House of Lords through a pedophile protection racket; Astor's are considered to be the most powerful of the thirteen families or bloodline groups heading up the World Government plan; Astor's allegedly portrayed as one of the 13 stars on the SES flag; individuals from the 13 families are mentioned in Dope Inc. [Crown Agents] as involved in some aspect of the drug trade: the Astor's, Bundy's, DuPont's, Freeman's, Kennedy's, Li's, Rockefellers, Rothschild's, and Russell's; other families also play key roles in the drug trade such as the Bronfman's, Cabot's, Shaw's, Bacons, Perkins, Morgan, Forbes, Cisneros and Oppenheimer's; Viscountess Astor paternal grandparents were Sir Roderick Jones, the Chairman of Reuters, and the novelist Enid Bagnold; Her mother Pandora Clifford was the daughter of the Hon. Sir Bede Edmund Hugh Clifford (son of William Hugh Clifford 10th Baron Clifford of Chudleigh, a descendant of King Charles II of England) by his wife Alice Devin Gundry]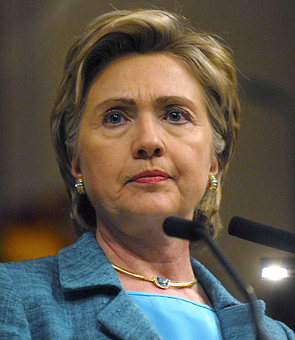 4. Hillary Clinton (nee Rodham) [Revised December 8, 2012 .. Allegedly uses SOS Children's Villages to raise children for the pedophile sexual entrapment and extortion of prospective leaders such as Rhodes Scholar and former POTUS man-in-the-middle, Bill Clinton; she allegedly shuffled patent assignments used to build BBC Crimewatch timelines ('Crimelines') for murders dating back to at least 1984; she allegedly built Crimelines for the 'Songbird' profile executed by a patented guidance and control system in the bomb which demolished the Pentagon's U.S. Navy Command Center on 9/11; she allegedly shuffled patent assignments for QRS-11 gyroscope sub-assemblies installed on a John 'Songbird' McCain weapons platform debris or evidence from which was removed on a Crimeline over the Pentagon Lawn on 9/11; she allegedly engaged in the sexual extortion of Joseph Giroir Jr. (former boss at Rose Law Firm), John Huang (former Commerce Department), John Riady (family partly owns Lippo Group in Indonesia where Barry Soetoro, now Barack Obama, was groomed as a pedophile entrapment expert) and various directors of Tyson Foods Inc., Wal-Mart Stores Inc. and BEI Technologies, Inc; as a patent lawyer, she allegedly assigned time lapse patents for BEI micromachined GyroChip sensors to support remote hijacking of systems related to Aircraft Flight Control, Helicopter Flight Control, Missile and Projectile Guidance, Unattended Guided Vehicle Navigation for Commercial and Military markets for everything from missiles to commercial light and heavy aircraft; as the Junior Senator from New York she allegedly used the Onion Router patent assignment with Sarah Ferguson to co-ordinate attack on Floor 101 of WTC#1 at their meeting the night before 9/11; she allegedly master minded the raid on Ron Brown's office with T-Force and FBI's Robert Hanssen to get continuity of government and encryption codes for D2 Banking and 9/11; Crown Agents' USAID-SBA liquidations; ancestors associated with Oddfellows three-link binder of patents for contract killing; her 9/11 Modus Operandi was allegedly used by Crown Agents in 1836 arson at U.S. Patent Office to convert U.S. patents to exclusive use of City of London livery companies]"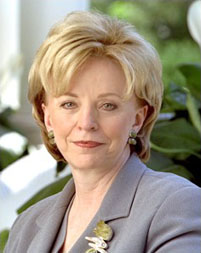 5. Lynne Ann Cheney (nee Vincent) "[PEOC on 9/11 where she disrupted communications between U.S. Vice-President Cheney and U.S. President George Bush; custodian of Lockheed Martin and Access Graphics patent pools used from 1994 to 9/11; her Sisters novel portrays rape and depictions of lesbian sex.]"
6. Sarah, Duchess of York (nee Sarah Margaret Ferguson – Fergie) "[SARAH FERGUSON, LOST OFFICES IN WTC .. Howard Lutnick from Cantor Fitzgerald gave her office in New York on the 101st floor. Andrew flew to the US on 9/11 .. Fergie appointment .. for her Chances For Children charity with office in the World Trade Center KING: The famous doll story, too. They found the doll in the street. FERGUSON: Well, you know, the fact that she survived said to me that Little Red -- how is it that my doll, for Chances For Children, she's a symbol of the charity. KING: There's the famous picture of the fireman finding her. Did you think that was an omen? FERGUSON: I did, Larry. You know, a lot of people would say, sure, you know, but I do, I really believe that it said to me, and I get Chances For Children up and running and get on an do more work and make sure you can give children a right to a healthy life" .. 1993, the Duchess founded Children in Crisis based in London with two current trustees: Grahame Harding and Paul Szkiler .. grown to help over 250,000 children annually in 10 countries around the world 2004 .. named official spokesperson of SOS Children's Villages - USA 2006 .. established The Sarah Ferguson Foundation based in Toronto .. serve [exploit and extort] children and families in dire need .. China, Japan, Poland, Mexico, and cities across the United States .. filmed offering access to Prince Andrew for £500,000 .. heard to say "£500,000 when you can, to me, open doors" .. She is seen taking away a briefcase containing $40,000 (US) in cash" .. "The Prince Andrew, Duke of York (born 19 February 1960), second son third child of Queen Elizabeth II and Prince Philip ... The Special Representative for International Trade and Investment for United Kingdom at trade fairs the world over .. took over from HRH The Duke of Kent in this role in 2001 .. 1979 Royal Naval College Flight.. signed on for 12 years from 11 May 1979 .. 1980 took the Royal Marines Green Beret commando course .. Invincible serve as a Sea King helicopter co-pilot .. anti-submarine warfare and anti-surface warfare, Exocet missile decoy, casualty evacuation, transport, and search and air rescue .. brief assignments to HMS Illustrious, RNAS Culdrose, and Joint Services School of Intelligence .. flight commander and pilot of the Lynx HAS3 on HMS Campbeltown from 1989 to 1991 .. flagship of NATO force in the North Atlantic from 1990 to 1991 former Senior Pilot of 815 Naval Air Squadron .. finish his naval career at the British Ministry of Defence until 2001, as officer of the Diplomatic Directorate of the Naval Staff .. On 19 February 2010 promoted to Rear Admiral .. Colonel-in-Chief of the Canadian Airborne Regiment (disbanded) [allegedly to create the core team for the 9/11 attack] .. Honorary Air Commodore of the Royal Air Force Lossiemouth; Personal Aide-de-Camp to Her Majesty The Queen; 1993-1999: Lieutenant-Commander, Captain, HMS Cottesmore; Senior Pilot, 815 NAS at RNAS Portland; Directorate of Naval Operations, British Ministry of Defence; 1999-2005: Commander, Diplomacy Section of the Naval Staff .. As the United Kingdom's special trade representative, Prince Andrew frequently travels the world to promote British businesses .. revealed in the United States diplomatic cables leak [via Julian Assange Onion Router and pedophile network] Prince Andrew .. discussing bribery in Kyrgystan and the investigation into the Al-Yamamah arms deal and alleged kickbacks a senior Saudi royal had received in exchange for the multi-year, lucrative BAE Systems contract to provide equipment and training to Saudi security forces .. Prince Andrew also tours Canada to frequently undertake duties related to his military role there. Rick Peters, the former Commanding Officer of the Royal Highland Fusiliers of Canada stated: "[Prince Andrew]'s very well informed on Canadian military methods" ... Freeman of the Worshipful Company of Shipwrights]"
7.
Mary Harron
"
[Born in Ontario, Canada, in a film and theatre family; St Anne's College, Oxford University; dated Tony Blair; moved to NYC into 1970s punk scene; first interview of Sex Pistols; 1980s drama critic for The Observer in London; executive producer The Weather Underground, directed TV episodes of Oz, Six Feet Under, Homicide: Life on the Street, The L Word and Big Love; currently developing film based on book Please Kill Me which details the 1970s New York punk scene; first movie, I Shot Andy Warhol 1996, story of Valerie Solanas who shot Andy Warhol and wrote SCUM Manifesto, a book detailing her ideas for ridding the world of men; second movie, American Psycho 2000 graphic descriptions of torture and murder by Patrick Bateman (Christian Bale), wealthy broker working at the fictional mergers and acquisitions firm Pierce & Pierce; The Notorious Bettie Page 2005, about 1950s pinup model a cult icon of sexuality who popularizes pornography]"
8. Theresa Emerson (nee Yeuk-Si Tang) "[Husband is David Emerson, former Canadian foreign minister; "son-in-law of China"; he was director of MDA, the co-developer with SBA 8(a)'s Femme Comp Inc of the Onion Router for MCOINIII attacks on Allied naval ships and Final Approach to attack aircraft and co-developer with Countrywide of MindBox debt recovery software used through D2 Banking 9/11, Fannie Mae and BP-Deepwater Horizon bordereaux insurance frauds.]"
9. Linda Wright (nee Pickton) "[Revised December 11, 2011. Matrix 5 principal and sister of the allegedly extorted man-in-the-middle brothers, Dave and Willie (Robert) Pickton; she was allegedly given the unlawfully-delegated (ultra vires) Star Chamber authority of Canadian Privy Councilor, HRH Prince Philip, the Duke of Edinburgh, then President of City and Guilds, to hire guildsmen and women to film guests – including RCMP officials – at Piggy's Palace Good Times Society cannibal feasts in B.C.; she allegedly used this authority to launch Matrix 5 propaganda attack on trustees of the RCMP's pension and insurance funds; in 1996, she allegedly extorted her indebted brothers into running Piggy's Palace (registered by the Canadian Privy Council in 1996) as a non-profit society intended to "organize, co-ordinate, manage and operate special events, functions, dances, shows and exhibitions on behalf of service organizations, sports organizations and other worthy groups"; she allegedly hired tradesmen through the Guild of Professional Home Services to hack domestic security systems through AT&T's Clipper Chip and allow 9-1-1 operators to monitor and disrupt crime-scene investigations into B.C.'s pig-farm oath ceremonies (to 2001) and the murder of JonBenet Ramsey in 1996; she allegedly used her current Guild law-firm partner, Gordon H. Andreiuk – formerly employed at Ottawa's Communications Security Establishment – to work with Crown Sister's U.S. triple agent Robert Hanssen on the development of Clipper back doors into 9-1-1 emergency communications; she was the alleged fiduciary (or 'off-book' community organizer) of Matrix 5 "special events" at Piggy Palace--a converted building at the hog farm; she allegedly paid her distressed-debt brothers to stage drunken off-campus raves featuring "entertainment" by Downtown Eastside prostitutes orchestrated by lesbian prisoners on furlough from jails in Canada or America (Karla Homulka?); she allegedly knew that the women – many sacrificed in cannibal oath taking ceremonies – would not be missed, particularly because trustees of the Vancouver Police and RCMP pension funds had been tricked or extorted into investing in the mortgage on the development of the pig farm barn for the cannibal raves; soon after Piggy Palace opened in 1996, she and her brothers were sued by Port Coquitlam officials for violating city zoning ordinances; although she had the property zoned for agricultural use, she had "altered a large farm building on the land for the purpose of holding dances, concerts and other recreations" that sometimes drew as many as 1,800 persons; she allegedly arranged for her brother Willie to face 27 counts of first-degree murder related to women, mostly drug-addicted prostitutes, who disappeared from Vancouver's seedy Downtown Eastside in the 1990s; she allegedly extorted VPD and RCMP officials to keep her out of court as a witness even though she must have known the women were disappearing on her property; as a Kerrisdale realtor, she was a best (?) friend of Carole Taylor (former Vancouver City councilor) and Nancy Campbell while their husbands Art Philips and Gordon Campbell were creating bcIMC - perhaps the world's first pooled pig-farm pension plan to kick-back major crime-scene benefits to a city police force; following a New Year's Eve party on December 31, 1998, she and her brothers were slapped with an injunction banning future parties, the court order noting that police were henceforth "authorized to arrest and remove any person" attending public events at the farm; her "society" finally lost its nonprofit status in January 2000, for failure to provide mandatory financial statements"; she told the RCMP that her pig farmer brother Willie was mentally "slow"; she contradicted herself by saying he wasn't slow and he was good mechanically; she said he quit school at the age of 16 to focus on farming and didn't do very well academically,"; she allegedly hired extortionists through Clipper Ripper Guilds, including Air Pilots and Air Navigators and Professional Home Services, to commission and bug Boeing headquarters before 9/11 and conceal a Matrix 5 man-in-the-middle propaganda attack on the United States government by City of Chicago and Vancouver Settlement Movement insiders; she allegedly conspired with the CAI Private Equity Group and insiders of the Ontario Teachers Pension Plan and the B.C. Investment Management Corporation ('bcIMC') to become controlling 'pig-farm' investors in Macdonald Dettwiler and its MindBox, BC OnLine and Instrument Approach Procedures services which would be needed to support Chicago Boeing's 911 attack; after her parents died, she set up Dave Pickton to handle the business end of things and tell Willie Pickton when to go to bed at night; she placed her brother in a mobile home on the Dominion Avenue property to run a small-scale piggery and slaughter operation; she arranged for Willie Pickton to mortgage his share of the larger Dominion Avenue property to the lawyer Peter Ritchie for $375,000 in April 2002 in the form of a demand loan as Ritchie's retainer; she arranged for Willie's lawyers to launch a Robotham application in 2002, asking a judge to order him to receive a publicly funded defence; she had MDA MindBox and BC OnLine land title records 'adjusted' to show a long list of charges, mortgages and judgments registered against the two properties, often against Pickton's share and most pre-dating the government's mortgage; she and David Pickton, for example, registered a mortgage on the pig farm itself through a numbered company in 1998; she also registered a mortgage in 1998 on the smaller Burns Road property, this time keeping the ownership with her brothers to stay at arm's length from the alleged Matrix 5 oath-taking ceremonies; she told the government that if it wanted to foreclose on the properties it would have to take her and her brother to court and apply to force a sale because of their joint ownership; she reminded government insiders of the rule of ``first in time, first in line,'' meaning that earlier creditors would be paid before the province; she extorted B.C. government insiders to use bcIMC securities to put a mortgage worth $10 million with no interest rate and no repayment schedule on the pig farm including the Dominion Avenue and Burns Road properties where both mortgages carry Willie's signature; she used the money to cover the publicly funded defence of her brother Willie; she therefore ensured that funds were available to pay the lawyers to maintain Willie as a cutout for the lesbian and pedophile communities of Matrix 5; she had the mortgage registered on the suburban Port Coquitlam property and a nearby smaller parcel, on Feb. 28, 2003, a year after police raided the farm and arrested Willie; she arranged for the lender to be listed as the B.C. Crown, represented by the attorney general, where a lawyer in the ministry's legal services branch, authorized the registration in a Feb. 27 2003 letter to the New Westminster land title office; she and her fellow Crown Agents' Sisters, allegedly extorted control over New Westminster land title office through co-conspirator, Nancy Campbell, a member of bcIMC; she has allegedly used MDA's 9-1-1 and MindBox automated [pig-farm] debt recovery system to entrap and extort top officials and consultants in Fannie Mae and Freddie Mac, including Newt Gingrich]"
10. Vicky Huhne or Pryce (nee 1952) "[Revised February 26, 2012. Former senior economist and consultant to the allegedly extorted man-in-the-middle clients of KPMG; she allegedly used 'Worshipful Time Lapse Companies', including Management Consultants and World Traders with her erstwhile KPMG colleague Michael Peat, to arrange a 30 hour time-lapse tax shelter through 9/11 to entrap and extort the custodians of the Queen's Privy Purse and the bona vacantia accounts of the Duchy of Lancaster; she allegedly used the Federal Bridge Certification Authority to trigger Son of BOSS tax shelters for client insiders on 9/11; she is the former wife of allegedly extorted Chris Huhne, the recently resigned Secretary of State for Energy and Climate Change; she allegedly entered into a triangular Uranian relationship with her former husband's lover, the bisexual Carina Trimingham; she was recently charged with her ex in perverting the course of justice; she is possibly an illegitimate Greek-born (1953) daughter of Prince Philip, the Grand Master of the Guild of Air Pilots and Air Navigators on 9/11, and an underage mother; she is the former Master of Worshipful Company of Management Consultants; she allegedly worked as an UK Government Economic Service insider to build a covert 'chat room' with the Treasury Solicitor for 9/11; she is an LSE Fabian who has allegedly been engineering predatory credit-default swaps in City & Guilds supply chains; she has allegedly enriched KGEN lesbians through the Family Offices of D2 Banking at Canary Wharf; she allegedly set up tScheme / DEADF007 authorities for Jardine Fleming and its 'Auld Alliance' families; she allegedly arranged bogus "bordereau" insurance cover for 'liquidation' of extorted borrowers in re Exxon Valdez, Military Bank, Williams & Glyn's Bank, Royal Bank of Scotland, the Department for Trade and Industry and FTI; she is a reviewer for the Internet Watch Foundation and an alleged practitioner in the dual use of the Federal Bridge to monitor and entrap NetFlix viewers of child pornography]"
11.
Miriam Clegg
"
[Revised September 11, 2012. Matrix 5 principal and Femme Comp wife of the allegedly-extorted man-in-the-middle Nick Clegg, Minister for Constitutional and Political Reform in the U.K. coalition government of David Cameron; she allegedly used Alpine RapidEye surveillance and Onion Router technology to relay a license to kill Saad al-Hilli – a prospective whistleblower to the decoy-and-drone flying events of 9/11; she allegedly ordered al Hilli killed to stop him from revealing her client's – British Bankers' Nadhmi Auchi – escrow agreements with Julian Assange and Macdonald Dettwiler and Associates – Canada's RapidEye contractor – to relay encrypted Onion Router license-to-kill messages for al-Qaeda hit teams on 9/11; she allegedly extorts her husband in his multiple roles, including a British Liberal Democrat politician, the Deputy Prime Minister of the United Kingdom and the Lord President of the Council; she allegedly ordered her husband to have code breaker Gareth Williams tortured and killed by suffocation in a hockey bag after his DEADF007 signature was found in the Stuxnet/Flame malware of logic process controllers Iran's uranium enrichment program; she allegedly ordered her husband and his D2 Banking colleagues at Canada Square to try and snuff out traces of Flame malware used in the May 9 sabotage of Sukhoi Superjet; she was a Partner and head of international trade practice for multi-national law firm DLA Piper (2006-2011); she allegedly co-ordinated or extorted DLA Partners, Michael Lester, the former BAE Systems group legal director, and Frank Menaker, the former Lockheed Martin general counsel, into the payment of $400 million hush money to the DOJ Forfeiture Fund for the Saudi warplane bribes; she allegedly used her husband's office to procure Bessemer's VeriSign keys to the Federal Bridge and a Silent Witness role in the spoliation of evidence of Bessemer agents at the spy-in-the-bag (Gareth Williams) crime scene; she left Foreign Office in 2006 as an expert in the Middle East peace process and the racketeering arbitrage of the UN Oil-for-Food program under Robin Cook who was allegedly the victim of a patented hit on 6 August 2005; she allegedly extorted Cook as the Lord President of the Privy Council between 8 June 2001 to 18 March 2003; she's allegedly cool at husband's "no more than 30 "sexual encounters" which AD suspects include abuse of children in front of a video camera but outside the reach of Common Law; her husband studied the genocidal Deep Green child-killing movement at University of Minnesota in 1990; her husband interned in New York under the homosexual entrapment expert Christopher Hitchens; her husband moved to Brussels into G24 where he allegedly trained for the 911 attacks through the coordinated use of PKI and patented devices to control airline supply chains to former Soviet Union and Transport Corridor for Europe, the Caucasus and Asia; her husband took a second master's degree at the College of Europe in Bruges where he and she appear to have been targeted for Dutroux-style pedophile entrapment; her husband's great-great aunt Moura Budberg was mistress of Sir R. H. Bruce Lockhart, a double-agent for both the Soviet Union and British intelligence who served the two Odd Fellows – Winston Churchill and Franklin D. Roosevelt – who decided to nuke Hiroshima and Nagasaki; she is a former senior adviser in cabinet of EU external relations commissioner Chris Patten and the cabinet of Benita Ferrero-Waldner who was former Chef de protocole for Secretary General Boutros-Ghali at the UN in New York during the Rwanda Genocide; she was responsible for EU relations for the United States and the Middle East; she joined DLA Piper EU, Competition and Trade practice in London as a senior consultant; she is an expert in EU law and trade in the telecommunications and energy sectors; she is a former European Commissions' leading trade negotiator at the WTO on telecommunication, energy, postal, construction and information services; she is former competition and regulatory lawyer for BT in Brussels; she has a masters degree from the College of Europe in Bruges (Belgium); she is a senior associate member of St Anthony's College, Oxford; she was allegedly extorting Dr. Patrick Van Eecke as the man-in-the-middle of DLA Piper's Internet law group who specializes in Mozilla open-source software, e-commerce, e-government, digital signatures and PKI, data protection, cyber-criminality and data protection; allegedly extorted staff at D2 Banking and PKI Sevices, Canary Wharf, and the U.S. Department of Commerce's National Institute of Standards and Technology; allegedly authorized development of plaintext injection attacks against SSL to fool users into thinking session is secure and convert session to a true man-in-the-middle attack through Mozilla, VeriSign and Entrust; she allegedly created rogue CAs in Livery Company supply chains to allow Sisters to intercept traffic to a secure Web site and steal or plant sensitive information such as passwords and credit card data or phony clues; allegedly managed transition of security industry has from flawed MD5 to equally flawed SHA-1; she allegedly authorized Entrust to infiltrate the ePassports EAC Conformity & Interoperability Tests in Prague, Czech Republic and allow EU to move Matrix 5 pedophile assets and evade interception; allegedly allowed Entrust to build backdoor public key infrastructure (PKI) into the open-source community through Sun Microsystems, Inc. and the Mozilla Foundation; she allegedly authorized Silent Witnesses on the FBCA to 'hijack' AA Flight 77 in a Free Flight patented hit of pilot Captain "Chic" Burlingame (USNA 1971) and his crew and passengers; she and her fellow Crown Agents Sisters must now await reprisal by the late Captain Chic's fellow Marines – Semper Fi]"
12.
Baroness Sue Garden (nee Button)
"[Wife of late 9/11 war-game maestro Tim Garden; he was Director of Royal Institute of International Affairs at Chatham House, London; from mid 1998, he undertook projects for the British Government [Crown Agents], the US Department of Defense and NATO; he was Visiting Professor at the Centre for Defence Studies at King's College London from 2000, engaged in research projects on improving European defence capabilities, Defence Diplomacy, interoperability for NATO forces and counter-terrorism; he was military advisor on BBC television series Crisis Command and his publications include: Can Deterrence Last? and The Technology Trap; he gave [allegeldy false] evidence to Defence Committee on the new threats after 11 September 2001; she set up Financial Services Group of Livery Companies; House of Lords EU sub-committee for Home affairs report on cyber attack; Volunteer Citizens' Advice Bureaux, welfare counsellor, military caseworker; 1988 - 2000, advisory until 2008 in City & Guilds vocational qualifications for Oddfellow Security Professionals and other illegally-bonded (?) users of Onion Router encryption; member World Traders' Livery Company since 2000, Master 2008-09, spokesperson in Lords for Children, Schools and Families]"
13.
Cherie Blair (nee Booth)
"[Her MitM husband Tony Blair placed lesbian onion ring in GCHQ in 1997 to monitor pedophile trade; Oracle-LSE For You, Matrix Terrorists, Law of the European Union, European Convention on Human Rights]"