Source:
Tikun Olam – תיקון עולם
Promoting Israeli democracy, exposing secrets of the national security state
Israel Defense Forces Secret Intelligence Commander Named
by Richard Silverstein on December 22, 2014
UPDATE:
I am concerned that the source who offered me the information conveyed in this post may face some jeopardy for his actions. Neither he nor I know precisely what that means at this time. I put on notice anyone who might
cause
him jeopardy: I will fight on his behalf, not just for his sake, but for Israel's sake.
* *
Unit 8200
is the IDF's signals intelligence (SIGINT) division and part of the army's Aman intelligence service. It is the U.S. equivalent of the NSA, the jewel in the crown of the Israeli army, only slightly lower in status than the famed Sayeret Matkal, special forces division. 8200 monitors and intercepts communications of Israel's enemies and serves as the eyes and ears of Israel's military and intelligence agencies. It is the one of the most powerful and sophisticated cyber-warfare players in the world, and was
jointly responsible
(with the NSA) for creating some of the most powerful malware attacks the world has seen. Additionally, Edward Snowden's NSA leak
confirmed
that the U.S. spy agency shared unfiltered data with 8200 about U.S. and Israeli citizens who were targets of spying.
The NSA–8200 computer worms, known by names like Stuxnet and Flame, were designed to attack Iran's nuclear program and delay its purported pursuit of a nuclear weapon. This cyber-sabotage caused substantial damage, in one of the most successful cyber-attacks ever waged by a nation state. In turn, it generated a number of powerful and damaging retaliatory attacks by presumed Iranian cyber-warriors against targets like the
Saudi oil company Aramco
,
American banks
, and Sheldon Adelson's
Las Vegas Sands
gambling empire.
Unit 8200's profile is even more prominent due to the latest in a long line of cyber-attacks, this one
confronting
the major Hollywood film studio, Sony. Its comedy film,
The Interview
, portraying the assassination of North Korean dictator, Kim Jong Un, so angered that nation, it appears to have mounted a successful penetration of Sony's computer systems. The attack exposed huge masses of data, including embarrassing e-mails among studio executives, actors, directors, agents, and producers. Personal data of company employees and corporate financial information has been compromised as well.
Technology experts have
warned
for a number of years that such cyber-attacks could pose similar threats to society as conventional weapons do. Additionally, the response of nations to such attacks could escalate into conventional armed conflict. President Obama himself warned North Korea, somewhat ominously, that the U.S. would mount a "
proportional response
" to the assault against Sony. This is the first time that any major leader has warned that an attack on an individual
company
would result in an official attack by a nation on another. It seems like we're headed into dangerous and uncharted waters.
[Abel Danger note: Chicago-mob-funded CIA stooge Obama's statement appears typically disingenuous and opportunistic. Most likely, this irresponsible, morally vacuous Hollywood "comedy film" is being used as cover for standard saber-rattling against nationalistic North Korea, but mostly as pretext for a corporate criminal attack on Sony's status by rival Jewish-owned studios, possibly in conjunction with allied Chinese hackers. So take the claim of North Korean authorship of this hack of Sony's electronic infrastructure, and their subsequent public humiliation, with a shaker of kosher salt.]
Israel is a national security state in which the functions of the intelligence services, including the primary agencies (Shin Bet, Mossad, and Aman), are veiled in secrecy. Israeli media are routinely censored or faced with judicial gags which prohibit them from reporting stories that are ostensibly damaging to national security, but which may only be embarrassing to the top brass.
The names of all officers and agents (except the three chiefs of the services named above) are secret and may not be reported. Even years after military or intelligence service has ended, personnel may not be identified. In other western nations, while the identities of covert operatives are secret, those of the chiefs, unit heads, and even lower-level personnel of intelligence agencies, are widely known and reported. There's no reason Israel shouldn't be the same, especially as it considers itself (though some would dispute this) a western-oriented democracy.
The opacity of Israel's national security apparatus poses a major obstacle to journalists, activists, and ordinary citizens who want to know what is done in their names. There is no way to hold intelligence personnel accountable for their actions without knowing who they are and what they're doing. For that reason, Israeli security affairs are perhaps the most shrouded of all western nations.
The only individuals
legally
entitled to strike blows for Israeli accountability and transparency are, unfortunately, foreigners. That is why I've served as a conduit for brave Israelis willing to buck the tide against the secrecy monolith, by naming names like those of Israel's intelligence chiefs before they were appointed to their positions; and the name of the
IDF commander of Israel's WMD force
.
For that reason, I will name the current commander of Unit 8200:
Brig. Gen. Ehud Schneerson
. Schneerson, a distant relation to the Lubavitcher rebbe, Menachem Schneerson, worked his way up the ranks from within 8200.
Brig. Gen. (Res.) Nadav Zafrir, former Unit 8200 commander
My confidential Israeli source tells me that commanders are appointed in a very particular order that alternates between a
khnoon
(Hebrew slang for 'computer geek') and someone who worked his way up in a combat role. Schneerson is considered a
khnoon
, while the previous head,
Nadav Zafrir
, was a combat officer who served in the Sayeret Matkal.
The confidential source explained his/her motivation for exposing Schneerson's identity:
There's absolutely no justification for the identity of the commander of the largest unit in the IDF, which is involved in controversial activities, and in which one of its senior officers is a suspected pedophile, being kept a secret from the Israeli public. Unit 8200 "swallows" billions of shekels annually from taxpayers, and it fields a force of 10,000 – more than the Shabak (6000) and Mossad (3000) combined! The identities of the chiefs of the Mossad and Shabak have been made public for almost two decades, and the sky didn't fall. Accountability is a very important principle, just like in the US – where the NSA chief makes public statements and participates in public congressional hearings.
The importance of this revelation is further amplified by the recent revolt of seventy Unit 8200 veterans, some of whom still performed reserve duty,
who protested
against the immoral and destructive role they'd played. Their statement revealed they'd intercepted private communications of Palestinian political leaders in order to probe and identify weaknesses like homosexuality and marital infidelity, which might be exploited for Israel's advantage:
We… veterans of Unit 8200… refuse to take part in activities against the Palestinians and refuse to… enable the deepening of military rule in the Occupied Territories.
There is a view that service in IDF intelligence is devoid of moral dilemmas and… only… prevent[s] violence and injury to the innocent. However… intelligence is an inseparable part of military rule in the Territories. The Palestinian population… is completely exposed to spying and surveillance by Israeli intelligence. As opposed to Israeli citizens, and citizens of other nations, there is no oversight of methods of gathering, tracking, or using intelligence information related to the Palestinians, whether they are involved in violence or not. Information gathered damages the innocent, and is used for political persecution and creating divisions within Palestinian society, through recruitment of collaborators and turning of Palestinian society against itself…. Intelligence enables continuing rule over millions of people, authority that is deep and penetrates into every facet of daily life. These things prevent normal life and spark further violence and further distance any end of the conflict.
… We who served in Unit 8200 have a responsibility for this situation and a responsibility to act. Our consciences do not permit us to continue serving this system, which damages the rights of millions of human beings. Therefore… we will refuse to take part in operations against Palestinians. We call upon intelligence officers, currently and in future, and all Israeli citizens, to make their voices heard against these injustices and to act to bring them to an end. We believe that Israel's future depends on it.
What motivated my source's dashing brace of candor is Glenn Greenwald's
new report
exposing the identity of the CIA's prime cheerleader for torture. She was the model for the "Maya" character in
Zero Dark Thirty
. But the real operative, Alfreda Bikowsky, is considerably more troubling and problematic than Jessica Chastain's movie version.
The CIA has waged a full-court press, begging U.S. media not to reveal her identity. It claimed she would be placed in danger of retaliation from Islamists whom she helped capture or torture. But Greenwald decided to go forward because he believed that the CIA's primary motivation was to protect itself from further scandal related to the
torture report
recently released by Congress:
Naming Bikowsky allows people to piece together these puzzles and hold American officials accountable. The CIA's arguments for suppression of her name are vague and unpersuasive, alluding generally to the possibility that she could be the target of retaliation.
The CIA's arguments focus on an undefined threat to her safety. "We would strongly object to attaching anyone's name, given the current environment," a CIA spokesperson, Ryan Trapani, told The Intercept… he added: "There are crazy people in this world and we are trying to mitigate those threats."
Whatever danger exposure poses to individuals must be mitigated by the even greater danger posed by secrecy. Informed citizens cannot weigh in on these important matters of state without knowing what their government is doing and who is doing it. Israel is even more opaque than the U.S. and other western nations in these matters. But it is critical to expose this secret world to the disinfectant of sunlight. It is the only way to hold a nation's servants accountable for their actions. That is a principle that trumps individual safety.
http://www.richardsilverstein.com/2014/12/22/israel-defense-forces-secret-intelligence-commander-named/
_______
Source: The Corbett Report
Who is Audrey Frances Tomason?
James Corbett
21 September, 2011
UPDATE (Sep. 22nd): It has now been confirmed that the name of the "Frances" referred to in this article is not Audrey Tomason, as originally speculated, but Alfreda Frances Bikowsky. The name of the other mysterious CIA agent referred to as "Michael" has also been revealed as Michael Anne Casey.
The now infamous photograph of Obama and his aides gathered around a non-existent live feed of the highly dubious Osama raid was scrutinized to the nth degree when it came out, but one anomaly has not been given very much attention: the presence of one "Audrey F. Tomason," whom the White House identifies as "Director for Counterterrorism."
The Daily Mail in the UK has speculated that the "F." in "Audrey F. Tomason" stands for Frances, and that this is the "Frances" who was referred to in reports earlier this year as the CIA officer who argued that the CIA should detain German citizen Khaled el-Masri in 2004. Although the CIA's own inspector general issued a blistering report on "Frances'" conduct, she ended up being promoted.
This is where things get interesting.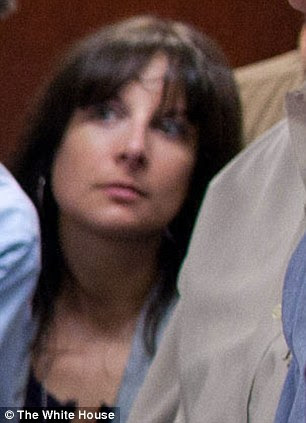 Those who have been following the story of Richard Clarke's recently released bombshell testimony about the CIA deliberately holding back key 9/11 intelligence know that the two filmmakers behind that interview were recently threatened by the CIA not to release their documentary. This was ostensibly because their documentary was going to release the real identities of two CIA officers who were instrumental in that cover-up: someone known as "Michelle" and someone known as… "Frances."
Sibel Edmonds over at Boiling Frogs Post now has an article up, speculating on the idea that "Frances" may in fact be Tomason. It's just speculation at this point, but I urge all readers to go check the story out by
clicking this link
(Note: This link has been removed as per update above)
. Rest assured there will be more to come on this story in the coming days.
http://www.corbettreport.com/who-is-audrey-frances-tomason/
_______
CIA Officer Alfreda Frances Bikowsky
Posted on January 19, 2014 by Cryptocomb
Source sends:
South Garland (Texas) High School alumni have been keeping tabs on their classmates for reunion purposes:
http://www.dfwretroplex.com/SGHS_1983_master.htm
.
Interestingly, her 1981 and 1982 yearbooks have been posted online. Photo attachments above contain visuals of her from 30 years ago.
Bikowsky's last known address was in Alexandria which I believe sold in 2012. You will see that she is referenced in the alumni list as living in that city, and as holding a second surname, Silverstein.
It appears that Bikowsky, who got her BA from UPenn, may have married a gentleman she met at Tufts University's Fletcher School for Law and Diplomacy in the late '80s. His name is David Silverstein.
Both are graduates of the Fletcher School. You will note that in a 1991 article on terrorism for The Heritage Foundation, Silverstein references Bikowsky's unpublished master's thesis:
http://www.heritage.org/research/reports/1991/08/bg847-an-american-strategy-against-terrorism
. Access to this unpublished thesis would require at least some greater degree of access.
Silverstein has gone on to be deeply involved in formulating foreign, defense, and national security policy. He is currently a director and media talking head with two neo-conservative "think tanks" on, mostly, Middle East matters: ASMEA and the Foundation for Defense of Democracies. Should his relationship to Bikowsky be confirmed, it's hard to imagine how his ideas have not trickled into Bikowsky's mind, and consequently, the CIA's business practices. More about Bikowsky at Cryptome.
http://cryptocomb.org/?p=338
__________
Source: Gawker
Chief of CIA's 'Global Jihad Unit' Revealed Online
John Cook
9/22/11 3:28pm
The CIA is having trouble keeping its secret agents off the internet. First, it
allowed the White House to publish a photograph
of the man behind the operation to kill Osama bin Laden. And now the identity of the woman who runs its "Global Jihad Unit" – and who has a long (if pseudonymous) history of being associated with some of the agency's most disastrous boondoggles – has been published online by two documentary filmmakers who sussed it out with the help of some "savvy internet research."
Her name is Alfreda Frances Bikowsky and, according to independent reporters Ray Nowosielski and John Duffy, she is a CIA analyst who is partially responsible for intelligence lapses that led to 9/11. The two reporters recently released a "documentary podcast" called "Who Is Richard Blee?" about the chief of the agency's bin Laden unit in the immediate run-up to the 9/11 attacks, and featuring interviews with former counterterrorism official Richard Clarke, former CIA agent Bob Baer,
The Looming Tower
author Lawrence Wright, 9/11 Commission co-chairman Tom Kean, and others. In it, Nowosielski and Duffy make the case that Bikowsky and another CIA agent named Michael Anne Casey deliberately declined to tell the White House and the FBI that Khalid al-Mihdhar, an Al Qaida affiliate they were tracking, had obtained a visa to enter the U.S. in the summer of 2001. Al-Mihdhar was one of the hijackers on American Airlines Flight 77. The CIA lost track of him after he entered the U.S..
Bikowsky was also, according to Nowosielski and Duffy, instrumentally involved in one of the CIA's most notorious fuck-ups: the kidnapping, drugging, sodomizing, and torture of Khalid El-Masri in 2003 (El-Masri turned out to be the wrong guy, and had nothing to do with terrorism). As the Associated Press' Adam Goldman and Matt Apuzzo
reported earlier this year
, an analyst they described only by her middle name – "Frances" – pressed for El-Masri to be abducted even though some in the agency weren't convinced he was the terrorist that Frances suspected he was. Instead of being punished or fired for the error, "Frances" was eventually promoted to running the Global Jihad Unit by then-CIA director Michael Hayden. According to Goldman and Apuzzo's story, "Hayden told colleagues that he gave Frances a pass because he didn't want to deter initiative within the counterterrorism ranks."
Nowosielski and Duffy also contend that Bikowsky is the unnamed "particularly overzealous female officer" described in Jane Mayer's
The Dark Side
, who traveled to personally view Khalid Sheikh Muhammed's interrogation
despite having "no legitimate reason" to be there
. Mayer reported that she attended the sessions because "she thought it would be cool"; her supervisors later reprimanded her with the admonition, "It's not supposed to be entertainment."
Michael Anne Casey, according Nowosielski and Duffy, is the name of the CIA analyst who sat on information about Al-Mihdhar obtaining a visa in 2001, at one point telling an FBI agent detailed to the agency, "Listen, it's not an FBI case. It's not an FBI matter. When we want the FBI to know, we'll let them know. And you're not going to say anything."
The disclosures appear to have been inadvertent. In the "Who Is Rich Blee?" podcast, as well as a transcript of it available online, both Bikowsky and Casey are referred to exclusively as "[Frances]" and "[Michael]." But at some point this week, Nowosielski and Duffy posted on their web site a cache of email correspondence with the CIA's public affairs office, generated while pursuing the story. Among them was an email Nowosielski wrote to an unnamed CIA official last month, laying out their argument for revealing Bikowsky and Casey's names – and revealing that they were able to identify them not through a whistleblower or anonymous leak, but "through internet research." Here it is in full:
From: FF4 Films
Date: Thu, Aug 8, 2011 at 10:00 AM
Subject: CIA Public Affairs
To: (CIA Email Form)
To CIA Public Affairs Media Relations:
We wish to make you aware that we plan to release an investigative podcast on iTunes on Sunday, September 11, and a written piece in Truthout shortly thereafter which will name two of your employees, Alfreda Frances Bikowsky and Michael Anne Casey. Please take appropriate steps to ensure their safety, though our sources tell us both are currently working from CIA headquarters in Langley.
Evidence we have uncovered demonstrates that each failed to follow standard operating procedure on multiple instances with regard to an operation that surveilled two future 9/11 hijackers, one that many we interviewed feel was the single best opportunity to stop those attacks. Some of those failures appear to have been deliberate choices. Both women then failed to tell the full story to and/or ensure the full story was known by subsequent investigations.
Both were analysts, not operatives, before Sept 11th, so the CIA could have chosen to allow them to be named and held to account by subsequent government investigations. Instead, the Agency put them in the cover status, retroactively protecting their identities and allowing them to continue in important terror-related assignments in the field. We understand that Ms. Casey has multiple family members also working in the Agency.
Regarding Ms. Bikowsky specifically, we have learned that she may have misinformed the Congressional investigation on certain details. We have also confirmed that she is the CIA employee described in Jane Mayer's The Dark Side as having been reprimanded for making herself involved in the waterboarding of Khalid Shaikh Mohammed without officially being assigned to do so. And another source who has read the CIA OIG Report into the Camp Chapman attack says she was named for accountability in that incident as well.
We wish to make clear that no source provided us with these names. We were given descriptions and various background details by multiple sources about two officers inside Alec Station in 1999-2001, one a red-headed thirtysomething supervisor later promoted to Deputy Chief and the other a young staff operations officer. We were then able through internet research to identify likely candidates for the names of these people. During interviews with those who might know, we would describe what Ms. Bikowsky did in this instance or Ms. Casey did in that and ask a question about it. The failure to correct us provided confirmation.
We are officially requesting to interview Ms. Bikowsky and Ms. Casey so that they might set the record straight in detail if we have been given bad information or misinterpreted the often murky facts surrounding these incidents. We are willing to move back our release date in order to include their interviews, though we would need to know that within twenty-four hours.
When you reply, we will send you a transcript of the podcast so that CIA may choose to respond. This response will be included on our web site, mentioned at the end of the podcast, and referenced in the Truthout piece. If you provide new details or explanations that are significant enough, we will re-work the podcast and Truthout write-up to reflect these revelations before release. We can be reached by reply email or at 317-698-xxxx.
Thank you,
Ray Nowosielski
FF4 Films
The reporters also posted the CIA's reply, which seemed to confirm the identities: "We strongly believe it is irresponsible and a potential violation of criminal law to print the names of two reported undercover CIA officers whom you claim have been involved in the hunt against al Qa'ida." Nowosielski and Duffy interpreted this as a threat and an attempt to censor their reporting, writing: "The federal law in question was later stated: the Intelligence Identities Protection Act. The law has never before been applied to journalists who find information in open-source materials. This possible expansion of precedent fits an ongoing pattern of intimidation and redefining precedent regarding leaks and whistleblowers from the White House."
Last night, the former FBI linguist and whistleblower Sibel Edmonds caught wind of the correspondence and
posted Bikowsky's name on her blog
: "Boiling Frogs Post has now confirmed the identity of the CIA analyst at the heart of a notorious failure in the run-up to the September 11th tragedy." Cryptome's John Young
also published Nowosielski's letter in full
. At this point, Bikowsky and Casey's identities as CIA analysts are fully disseminated across the internet. A Google search for either name immediately turns up web sites reporting their CIA affiliations. Likewise, a search for "
Who is the director of the CIA's Global Jihad Unit?
" returns Bikowsky's name in the first result.
(Their digital trails are, as one might expect, scant. A "Michael Anne Casey" turns up on LinkedIn as an "Independent Think Tanks Professional" in the Washington, D.C. area. In 2003, someone by that name was
nominated as a foreign service officer for the State Department
. In 2004, she was listed as a consular officer in Rome by the U.N.'s Committee on World Food Security, of which she was a member. Bikowsky was
nominated to the foreign service in 2008
.)
Unfortunately for Nowosielski and Duffy, they never intended to post the email containing Bikowsky and Casey's names. Though they had hoped to publish the identities, the CIA's threats had successfully intimidated them. Nowosielski wrote to Cryptome's John Young at some point last night or this morning, explaining that the email was posted in error and asking that he remove his copy; Young complied.
Nowosielski told Gawker via email, "We chose to censor the name at the request of CIA. Sibel chose to run the name for her story. We've asked that she remove any reference to our web site, where we did in fact censor the names for both the podcast and transcript. The post of the correspondence was an accident, a miscommunication with our webmaster that was quickly corrected. We frankly were scared of the CIA repercussions (regardless of the ethical issues involved here) and decided to censor. Simple as that."
We contacted the CIA seeking comment about the disclosures, Nowosielki and Duffy's reporting, and to ask if the agency did in fact threaten them with criminal prosecution if they published the names. Spokesman Preston Golson responded in a statement:
The CIA does not as a rule comment on the names of reported undercover officers.
The Central Intelligence Agency has a very different assessment, as you might expect, on these events, as did the 9/11 Commission. The CIA's counterterrorism efforts have significantly degraded al Qaeda and produced valuable and timely intelligence, which has allowed the United States and others to take action countless times to save lives and disrupt plots.
Any suggestion that the CIA purposely refused to share critical lead information on the 9/11 plots with FBI is baseless.
Speculation and allegations such as these diminish the hard work and dedication of countless CIA officers who have worked tirelessly against al Qaeda both before and after 9/11-hard work that culminated in the operation that found Bin Ladin.
Golson did not ask us not to publish Bikowsky and Casey's names.
The Associated Press' Goldman, when asked if the "Frances" he referred to in his February story with Matt Apuzzo was indeed Bikowsky, referred us to AP spokesman Paul Colford. Colford declined to comment. It's notable that Goldman, who presumably knows Frances' identity, posted on Twitter a link to the correspondence while it was up on Nowosielski and Duffy's site: "Web site reveals names of CIA officers involved in 9/11 intelligence failure." UPDATE: After we published this story, Goldman wrote on Twitter that "Retweeting is not a confirmation of anything."
We asked Jane Mayer if Bikowsky was the woman she described as having crashed Khalid Sheikh Muhammed's interrogation. She replied, "I identified everyone I felt was appropriate in my book, and am sorry not to be of more help but need to leave it at that."
http://gawker.com/5842912/chief-of-cias-global-jihad-unit-revealed-online
________
Further reading:
Insiders voice doubts about CIA's 9/11 story
History Commons: Michael Anne Casey (CIA officer at Alec Station, CIA's bin Laden unit)
Gareth Williams case far from solved - Cryptographic whiz - Scotland Yard ignoring evidence - "Mediterranean-looking" suspects = Israelis - Yigal Farkash - Cisco acquires Rupert Murdoch-owned NDS - Investigating Israel's use of malware (Stuxnet, Flame) - British media covers up for Mossad crime
Japan Earthquake Registered Only 6.67 - Nuclear Induced Tsunami - Japan Offers Iran Enriched Uranium - An Act of War? - Japan: Knife at Its Throat
Toxic "Think Tanks" and Sordid PR Firms - Flaming Jewish Princesses on the Warpath - Neocon Wars of Aggression - Zealots' Lies, Hoaxes, Propaganda - Messianic Zionism and "Ethnic Cleansing" of Palestinians
Members of Israel's Elite Intelligence Unit 8200
Refuse to Spy on Palestinians
Israeli Intelligence Corps: High-tech specialists
being recruited to serve in IDF's largest unit
Alfreda Frances Bikowsky: CIA Criminal
[HOPE X] Unmasking a CIA Criminal
The Complete History of Israel's Intelligence
Community: Mossad, Aman, and
Shin Bet (1990)