Plum

City - (

AbelDanger.net

):

United States Marine Field McConnell has linked

Black-Hand*

hacks of Hillary Clinton's server to HSBC's OOOI Jetway tracks and the drug-hub banker's alleged deployment of

Serco

snuff-film crews to capture 9/11/12 'money shots' in Benghazi for the White House.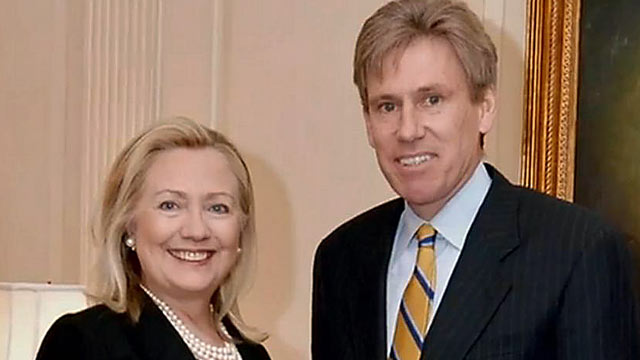 Clinton Benghazi Testimony - What does it matter?
Hillary Emails on Personal Server Credibility Questioned
McConnell notes that a
Black Hand
hack would have allowed HSBC to track the
Blue
Mountain security team which Clinton hired to guard the U.S. diplomatic mission in Benghazi, through its OOOI Jetways at Heathrow, and pre-position a
Serco
snuff-film crew in a Benghazi hospital for the murder of Christopher Stevens, the late U.S. Ambassador to Libya, on September 12, 2012.
Black Hand*
– HSBC's drug-hub navigators with a "
License to Track, Film and Kill
" for the City of London's Honourable Artillery Company 1537; The Master Mariners and Air Pilots (formerly GAPAN) 1929, and The Ancient and Honorable Artillery Company of Massachusetts 1638 – whose alumni include the United States
'
Presidents James Monroe, Chester Alan Arthur, Calvin Coolidge and John F. Kennedy and – perhaps – Barack 'Choom Gang' Obama.
McConnell can reveal that HSBC knew Clinton was the only person in the Obama administration who had the authority to stand down
Blue
Mountain guards on 9/11/12 and allow HSBC's client
Serco
to back-haul snuff-film images to the
Red
Switch Network voyeurs in the White House.
Prequel 1:
#2287: Marine Links Clinton's Blue-Mountain Benghazi E-Mails To

Serco

's

Red

-Switch

Black

-Hand Snuff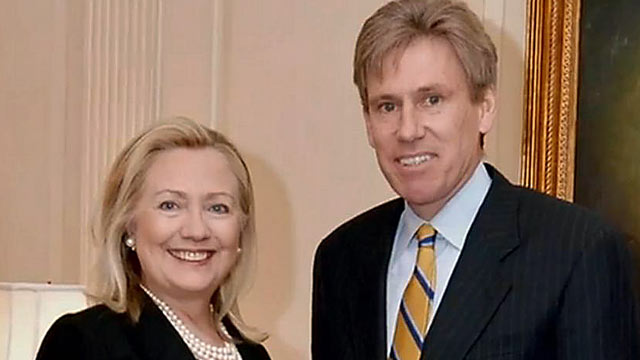 Michael Savage: Ambassador Stevens Raped and Sodomized Before Murder.
SWISSLEAKS - "HSBC developed dangerous clients: arms merchants, drug dealers, terrorism financers"




Copy of

SERCO

GROUP PLC: List of Subsidiaries AND Shareholders! (Mobile Playback Version)[Note that HSBC is

Serco

's banker and one of

Serco

's major shareholders with Her Majesty's Government and its funds]




Serco

... Would you like to know more?

"John Christopher Stevens (April 18, 1960 – September 12, 2012) was an American diplomat and lawyer who served as the U.S. Ambassador to Libya from June 2012 to September 12, 2012.[3][4] Stevens was killed when the U.S. consulate in Benghazi, Libya,was attacked by Islamic militants on September 11–12, 2012."
"House committee subpoenas Clinton emails in Benghazi probe By JACK GILLUM and TED BRIDIS Mar. 5, 2015 12:59 AM EST WASHINGTON (AP) — A House committee investigating the Benghazi, Libya, attacks issued subpoenas Wednesday for the emails of Hillary Rodham Clinton, who used a private account exclusively for official business when she was secretary of state — and also used a computer email server now traced back to her family's New York home.
The subpoenas from the Republican-led Select Committee on Benghazi demanded additional material from Clinton and others related to Libya, spokesman Jamal D. Ware said. The panel also instructed technology companies it did not identify to preserve any relevant documents in their possession.
The development on Capitol Hill came the same day The Associated Press reported the existence of a personal email server traced back to the Chappaqua, New York, home of Clinton. The unusual practice of a Cabinet-level official running her own email server would have given Clinton — who is expected to run for president in the 2016 campaign — significant control over limiting access to her message archives.
The practice also would complicate the State Department's legal responsibilities in finding and turning over official emails in response to any investigations, lawsuits or public records requests. The department would be in the position of accepting Clinton's assurances she was surrendering everything required that was in her control.
Late Wednesday, a message was sent on Clinton's Twitter account that remarked on the growing controversy.
"I want the public to see my email. I asked State to release them," according to the tweet from @Hillary Clinton. "They said they will review them for release as soon as possible."
In response, State Department spokeswoman Marie Harf said the department will review for release the emails Clinton provided. "We will undertake this review as quickly as possible; given the sheer volume of the document set, this review will take some time to complete," Harf said.
Congress said it learned last summer about Clinton's use of a private email account to conduct official State Department business during its investigation of the Benghazi attacks on a U.S. mission in which four Americans died.
"It doesn't matter if the server was in Foggy Bottom, Chappaqua or Bora Bora," House Speaker John Boehner said. "The Benghazi Select Committee needs to see all of these emails, because the American people deserve all of the facts."
The chairman of the Benghazi committee, Rep. Trey Gowdy, R-S.C., told reporters: "I want the documents. Sooner rather than later." Democrats called it a fishing expedition.
"Everything I've seen so far has led me to believe that this is an effort to go after Hillary Clinton, period," said Rep. Elijah Cummings of Maryland, the top Democrat on the committee.
The questions about Clinton's email practices left the Obama administration in an awkward position. At one point, the State Department directed reporters to contact Clinton, who has not publicly commented about her emails. The White House said it was her responsibility to make sure any emails about official business weren't deleted from her private server.
Meanwhile, the AP said it was considering legal action under the U.S. Freedom of Information Act against the State Department for failing to turn over some emails covering Clinton's tenure as the nation's top diplomat after waiting more than one year. The department has never suggested that it doesn't possess all Clinton's emails.
It was not immediately clear exactly where Clinton's computer server was run, but a business record for the Internet connection it used was registered under the home address for her residence as early as August 2010. The customer was listed as Eric Hoteham.
An aide to then-first lady Clinton was identified in a 2002 congressional report as Eric Hothem, whose name is spelled differently than in the Internet records. Hothem, a financial adviser in Washington, was not available to take an AP reporter's phone call at his office Wednesday. He was a special assistant to Clinton as far back as 1997 and considered one of the family's information technology experts.
A parody Twitter account for Hoteham appeared Wednesday after the AP cited the records, sending satirical tweets supporting Clinton's campaign. Hoteham's name had not appeared with that spelling in public-record databases, campaign contribution records or online background searches. In most cases, individuals who operate their own email servers are technical experts or users so concerned about issues of privacy and surveillance they take matters into their own hands.
Clinton — who emailed so frequently using her BlackBerry as secretary of state that it became an Internet meme — is particularly sensitive about disclosures of personal files based on her experiences in confronting congressional investigations and civil lawsuits during her husband's election and presidency and her own roles as first lady, senator, presidential candidate and Cabinet official.
State Department spokeswoman Marie Harf said Clinton as Cabinet secretary never used a government email account on the agency's separate network for sharing classified information, which Clinton would have been prohibited from forwarding to her private email account.
"She had other ways of communicating through classified email through her assistants or her staff, with people, when she needed to use a classified setting," Harf said.
Most Internet users rely on professional outside companies, such as Google Inc. or their own employers, for the behind-the-scenes complexities of managing their email communications. Government employees generally use servers run by federal agencies where they work. Clinton's email practices appear to be far more sophisticated than some politicians, including Mitt Romney and Sarah Palin, who were found to have been conducting official business using free email services operated by Microsoft Corp. and Yahoo Inc.
Clinton has not described her reasons for using a private email account — hdr22@clintonemail.com, which appears to include a nod to her middle name, Diane. A spokesman for her did not respond to requests seeking comment from the AP on Tuesday or Wednesday.
Operating her own server would have afforded Clinton additional legal opportunities to block government or private subpoenas in criminal, administrative or civil cases because her lawyers could object in court before being forced to turn over any emails. And since the Secret Service was guarding Clinton's home, an email server there would have been well protected from theft or a physical hacking.
But homemade email servers are generally not as reliable, secure from hackers or protected from fires or floods as those in commercial data centers. The Hoteham registration is also associated with a separate email server, presidentclinton.com, and a nonfunctioning website, wjcoffice.com, all linked to the same residential Internet account as Mrs. Clinton's email server. The former president's full name is William Jefferson Clinton. Hothem, the former Clinton aide, surfaced in at least two Clinton administration controversies. A congressional report in 2002 investigating pardons said a Citibank account linked to Hothem wired $15,000 to President Clinton's brother, Roger, in March 2001, while investigators were trying to compel Roger Clinton to testify about his role in several pardon cases. The president's lawyer told investigators the money came from a personal account of the Clintons and was intended for Clinton's brother to hire a lawyer.
In early 2001, Hothem was also named by a former White House chief usher as saying the Clintons were permitted to take furniture when they left the White House that later was determined to belong to the government.
Sue Hothem, his wife, is a well-known fundraiser and political consultant in Washington. Last year, she was named a vice president for the technology lobbying group TechNet. It said she previously headed development efforts for the Democratic Leadership Council and the Progressive Policy Institute. Mrs. Clinton's email options included using an official State Department account or even a secret agency email address, which the AP revealed in 2013 as a common practice across the U.S. government and by previous administrations. Many senior U.S. officials use alternate addresses that aren't disclosed to the public for official business so they are not inundated with unwanted messages.
But the State Department's email system might not have been attractive to Clinton because it is frequently targeted by hackers. The AP revealed in 2006 and 2014 that the agency had suffered significant electronic break-ins. In the most recent incident, the department took the unprecedented step of shutting down its entire unclassified email system. While Clinton was secretary of state in 2010, a U.S. soldier, Chelsea Manning, stole 250,000 diplomatic cables and turned them over to WikiLeaks, which published them online.
___ Associated Press writers Stephen Braun, Matthew Daly and Donna Cassata contributed to this report."
"Your 'inevitable' President, everyone.
As Dan reported yesterday, Hillary Clinton has been exposed for using private email accounts to conduct federal business during her accomplishment-free tenure as Secretary of State. While it's not terribly unusual for federal officials to do this occasionally, Hillary did it exclusively. ALL of her business was conducted from her own, special, above-the-law account. ...And that's just the beginning.
According to the White House, none of this is a big deal - as long as the State Department received complete backups of those communications.
Of course, that's completely ridiculous, because we're talking about the Clintons. Is anyone, anywhere, stupid enough to believe that Hillary would turn over un-scrubbed archives of her correspondence? Are we really supposed to think that - of all people - the Clintons would abide by "the honor system" and not spend two years deleting anything that might make Hillary look bad?
This gets even worse when you learn that Hillary wasn't simply using her own email address. She was using her own set of "homebrew" email servers which the Clintons maintain in their Chappaqua, New York home.
As the AP Reports The computer server that transmitted and received Hillary Rodham Clinton's emails — on a private account she used exclusively for official business when she was secretary of state — traced back to an Internet service registered to her family's home in Chappaqua, New York, according to Internet records reviewed by The Associated Press.
The highly unusual practice of a Cabinet-level official physically running her own email would have given Clinton, the presumptive Democratic presidential candidate, impressive control over limiting access to her message archives. It also would distinguish Clinton's secretive email practices as far more sophisticated than some politicians, including Mitt Romney and Sarah Palin, who were caught conducting official business using free email services operated by Microsoft Corp. and Yahoo Inc.
Most Internet users rely on professional outside companies, such as Google Inc. or their own employers, for the behind-the-scenes complexities of managing their email communications. Government employees generally use servers run by federal agencies where they work. In most cases, individuals who operate their own email servers are technical experts or users so concerned about issues of privacy and surveillance they take matters into their own hands. It was not immediately clear exactly where Clinton ran that computer system.
Remember when Lois Lerner said her hard drives had been destroyed and, therefore, all of her email had been lost? The immediate response was "All the email should still exist on the servers." Hillary, it seems, didn't want to have to deal with that little snafu. If she controls the servers, she can control what's kept, what's deleted, what's archived, and precisely which backups are turned over to the State Department.
By running her own server, Hillary granted herself near-complete control over the record of her official State Department interactions.
Hillary's people are arguing that, since she was emailing other federal officials, records of those interactions would still exist at the recipients end. ...And they're right, if the people receiving her messages chose to follow the rules and were using their federal accounts. Unfortunately, Gawker reports that there's a big hole in Hillary's story. At least two of her top staffers were also using the private Clinton system.
Hillary Clinton is defending her use of a private email address, hosted at ClintonEmail.com, to conduct official State Department business by claiming that her emails were captured by official @state.gov accounts that other agency employees were instructed to use to contact her. But according to a knowledgeable source, at least two other top Clinton aides also used private email accounts to conduct government business—placing their official communications outside the scope of federal record-keeping regulations.
"Her top staffers used those Clinton email addresses" at the agency, said the source, who has worked with Clinton in the past. The source named two staffers in particular, Philippe Reines and Huma Abedin, who are said to have used private email addresses in the course of their agency duties. Reines served as deputy assistant secretary of state, and Abedin as Clinton's deputy chief of staff. Both rank among Clinton's most loyal confidantes, in and out of the State Department.
So, at the very least, those closest to Hillary - those who were most likely to be discussing her secrets - have been operating under the same umbrella of protection that she created for herself. There's no way to know what they were talking about and, thanks to the delete key, it's entirely possible that there never will be. So much for transparency.
Given that other federal officials had to see Hillary's private Clinton address in the header, but did nothing to rein her in, why should we assume that the "private server" practice isn't common? Either the State Department didn't care about the transgression, or they just "got it."
To be blunt, it feels like a culture of secrecy has developed among top-level officials, and the use of clandestine accounts is so pervasive that they all write it off as "no big deal."
....At least until one of them gets caught.
Be sure to "like" Robert Laurie over on Facebook and follow him on Twitter. You'll be glad you did.
As always, we're "shocked" to find that the not-at-all-sleazy-and-corrupt Clintons are embroiled in an ethics controversy."
"For Benghazi diplomatic security, U.S. relied on small British firm BY TABASSUM ZAKARIA, SUSAN CORNWELL AND HADEEL AL SHALCHI WASHINGTON/BENGHAZI, Libya Wed Oct 17, 2012 9:52pm EDT (Reuters) - The State Department's decision to hire

Blue

Mountain Group to guard the ill-fated U.S. diplomatic mission in Benghazi, Libya, entrusted security tasks to a little-known British company instead of the large firms it usually uses in overseas danger zones.
The contract was largely based on expediency, U.S. officials have said, since no one knew how long the temporary mission would remain in the Libyan city. The cradle of last year's uprising that ended Muammar Gaddafi's 42-year rule, Benghazi has been plagued by rising violence in recent months. Security practices at the diplomatic compound, where

Blue

Mountain guards patrolled with flashlights and batons instead of guns, have come under U.S. government scrutiny in the wake of the September 11 attack in Benghazi that killed U.S. Ambassador J. Christopher Stevens and three other Americans. Federal contract data shows that the Benghazi security contract, worth up to $783,284, was listed as a "miscellaneous" award, not as part of the large master State Department contract that covers protection for overseas embassies.
"

Blue

Mountain was virtually unknown to the circles that studied private security contractors working for the United States, before the events in Benghazi," said Charles Tiefer, a commissioner at the Commission on Wartime Contracting, which studied U.S. contracting in the Iraq and Afghanistan wars.
Several British government sources said that they were unfamiliar with

Blue

Mountain, which is based in Wales. They said British authorities used a different contractor for security protection in Libya.
Fred Burton, vice president of intelligence at the Stratfor consulting firm and a former U.S. diplomatic security agent, said he did not know Blue Mountain, but it likely got State Department work because it was already working in Libya.
"They may have been the path of least resistance," he said.


Blue

Mountain was able to work in Libya because it forged a business alliance with a local security firm, as required by Libyan regulations.
Eric Nordstrom, former regional security officer for the U.S. Embassy in Libya, testified at a congressional hearing last week that contracting out for security in the eastern Libyan city "was largely based on our concern of how long we would be in Benghazi. We were concerned that if we retained or brought on board full-time employees we would have to then find a position for them if that post ever went away."
In describing the challenges of hiring private security at Benghazi, he added: "It's my understanding that there was a very high turnover with those people."
GUARDS OF BENGHAZI

Blue

Mountain hired about 20 Libyan men - including some who say they had minimal training - to screen visitors and help patrol the mission at Benghazi, according to Reuters interviews.
Some of the guards sustained injuries and said they were ill-prepared to protect themselves or others when heavily armed militants last month stormed the rented villa that was serving as the mission.
They also described being hired by

Blue

Mountain after a casual recruiting and screening process.
State Department security officials had their own concerns about some of the guards at the mission months before the recent attack, according to emails obtained by Reuters this week. One guard who had been recently fired and another on the company's payroll were suspected of throwing a homemade bomb into the U.S. compound in April. They were questioned but not charged.
The State Department has declined to comment on the company other than confirming it was the contractor in Benghazi.

Blue

Mountain did not respond to numerous emails and phone calls, and a person answering the phone at its office in Carmarthen, Wales, said the company would not discuss the issue. Previously known as Pilgrim Elite,

Blue

Mountain says on its website that it offers security services and professional training and has operated in Afghanistan, Iraq, and Pakistan.
The website once listed General Motors as a client, and a GM spokeswoman in Detroit told Reuters that

Blue

Mountain's work for the company was "on a very limited basis and mostly in the UK."
A

Blue

Mountain recruiter posted a notice on a security website in 2011 seeking employees with visas to work in Libya.
The State Department contract for "local guard" services in Benghazi took effect in March 2012. Several of

Blue

Mountain's Libyan employees told Reuters that they had no prior security training or experience.
"I was never a revolutionary or a fighter, I have never picked up a weapon during the war or after it," said Abdelaziz al-Majbiri, 28, who was shot in the legs during the September 11 assault.
The Libyan commander in charge of the local guards at the mission was a former English teacher who said he heard about

Blue

Mountain from a neighbor. "I don't have a background in security, I've never held a gun in my life," he said, speaking on condition of anonymity out of fear for his safety. When hired, the commander said he was told "you have great English and get along with everyone and are punctual; we want you to be a guard commander." The unarmed guards were told to sound the alarm over the radio and then run for cover if there was an attack, a Libyan who acted as a supervisor for the

Blue

Mountain local guard team at the mission said during an interview with Reuters.
He also displayed a medal embossed with "Department of State" and a horseman carrying Libyan and U.S. flags. "They thanked us for our help and also gave us this medal as an appreciation," he said.
Despite their inexperience, the

Blue

Mountain guards said they feared the Americans were not concerned enough about security.
"We used to tell the Americans who spoke to us on many occasions that we needed more support in security, because it felt thin on the ground. But they didn't seem to be so worried, and (were) confident that no one will dare to come close to the consulate," one guard said.
'DOWN IN THE WEEDS' Tiefer, who is also a government contracting law professor at the University of Baltimore, said the Benghazi contract paled in comparison to other State Department security awards.
"This is down in the weeds," he said in a telephone interview.
Most State Department work goes to eight large private security firms with vast experience.
In the late summer of 2011, after Libyan rebels took control of Tripoli,

Blue

Mountain guards were seen working security at the Corinthia Hotel and its sister Palm City residential compound in the Libyan capital.
A United Press International report indicated that Blue Mountain and its local partner, Eclipse, also were competing for contracts guarding oil fields.


Blue

Mountain and Eclipse parted ways in the spring over problems with Tripoli contracts, several sources familiar with the matter said. The severed relationship may have prevented

Blue

Mountain from getting additional work in Libya, which required the local affiliation. On a social network website earlier this year, a

Blue

Mountain official described the firm as "one of the few companies certified and legally allowed to work in Libya."


Blue

Mountain Chief Executive Officer Nigel Thomas, a former British special forces member, did not respond to emails or phone calls.
NO EASY TASK Setting up security in Libya after the anti-Gaddafi revolution was not easy, documents show.
In a July 9 memo approved by the late ambassador Stevens, regional security officer Nordstrom said his office hoped to shore up defenses at U.S. compounds in Libya and would consider partial arming of some local guard supervisors, without being more specific.
But Nordstrom described difficulties getting local gun permits, noting it could take up to 60 days for "selection, training, equipping, policy approvals and deployment" of armed guards.
(Hadeel Al Shalchi reported from Benghazi; Additional reporting by Marie-Louise Gumuchian in Tripoli, Mark Hosenball and Lucy Shackelford; Editing by Marilyn W. Thompson and Paul Simao)"
"Building a State-of-the-Practice Data Communications Network To create a state-of-the-practice data communications network required

Serco

to engineer different solutions for each of the AFSCN's unique locations. Each ground station around the world had to be surveyed in order to develop detailed installation plans, project support agreements and testing plans. Furthermore, to assure communications reliability between the ground station and the operational control nodes, Serco also had to conduct a complete circuit testing exercise. … In developing this enhanced voice and data communications network,

Serco

's team engineered and implemented an ATM backbone and secure voice system for each of the AFSCN ground stations. The installed network was based on a Wide Area Network (WAN) architecture utilizing IP based network capabilities and proprietary secure communication technologies such as KG-75s, KG-84S and KIV-7s. In addition,

Serco

ensured Defense

Red

Switch Network connectivity and operations throughout the AFSCN"

Yours sincerely,

Field McConnell, United States Naval Academy, 1971; Forensic Economist; 30 year airline and 22 year military pilot; 23,000 hours of safety; Tel: 715 307 8222

David Hawkins Tel: 604 542-0891 Forensic Economist; former leader of oil-well blow-out teams; now sponsors Grand Juries in CSI Crime and Safety Investigation