Plum

City - (

AbelDanger.net

):

United States Marine Field McConnell has linked HSBC,

Serco

's bank and small-business funder of Base One Technologies' honey-pots allegedly used by Hillary Clinton since 1994, to the

Black Hand*

navigators' alleged 'spoof' of the State Department authority which put the USS

Cole

into a dockside ambush in Aden Harbour on 10/12/2000.
"The USS Cole bombing was a suicide attack against the United States Navyguided-missile destroyer USS Cole (DDG-67) on 12 October 2000, while it was harbored and being refueled in the Yemeni port of Aden. 17 American sailors were killed, and 39 were injured.[1] This event was the deadliest attack against a United States Naval vessel since 1987"
Black Hand*
– HSBC's drug-hub navigators with a
Serco
"
License to Track, Film and Kill
" for the City of London's Honourable Artillery Company 1537; The Master Mariners and Air Pilots (formerly GAPAN) 1929, and The Ancient and Honorable Artillery Company of Massachusetts 1638 – whose alumni include the United States' Presidents James Monroe, Chester Alan Arthur, Calvin Coolidge and John F. Kennedy and – perhaps – Barack 'Choom Gang' Obama.
McConnell claims that
Serco
/Base One set up the Clinton honeypot for the dockside ambush of the
Cole
with the help of Citigroup director John Deutch, who, two days after his resignation as director of the CIA on December 15, 1996, was found to have thousands of pages of classified documents on unsecured (CIA) Macintosh computers at his home (Hello Hillary!).
McConnell notes that by Fall 2000, John Deutch was the target of a criminal investigation by Clinton Attorney general Janet Reno, only to be pardoned by President Clinton on his last day in office on January 20, 2001, leaving America vulnerable to a Base One Honeypot 9/11.
McConnell claims that HSBC used SBA loans to finance the
Serco
/Base One Clinton honeypot for the ambush of the
Cole
and paid
Black Hand
navigators to 'spoof' then-Secretary of State Madeleine Albright and trick the USS
Cole
's Commander Kirk Lippold into believing he had local diplomatic clearance from the Yemen to dock in Aden harbor for a routine fuel stop.
"Mr. SAXTON. Can you tell us is there communication between the Department of Defense or the folks that are making decisions in the Navy about these things and the State Department relative to diplomatic issues involving ports or countries such as Yemen?
General FRANKS. Yes, sir there is. And both in terms of an operational capability as well as in an intelligence capability. For example, the fact that we are seeing issues in the Middle East which we are continuing to see on the TV today, the Cole certainly was in possession of all of that information as well as the intelligence information.
Mr. SAXTON. When you decide whether to use a port for refueling purposes, is there consultation with the State Department?
General FRANKS. Sir, there certainly is. As a matter of fact, the State Department at the local level has to get the diplomatic clearance from the country where the port visit will be conducted.
Mr. SAXTON. I wanted to pursue that. Because when you answered earlier that the decision was made, I got solely for operational purposes. There is communication and consultation between the folks that make those decisions and DOD and the State Department?
General FRANKS. Yes, sir, at this level. But once, sir, as it gets down to the operating level, where those naval commanders are, and as you know, our naval commander is in Bahrain.
Mr. SAXTON. Would it be fair to say that there are diplomatic reasons why ports are used from time to time?"
"Hillary Clinton's E-Mail Was Vulnerable to 'Spoofing' 59 MAR 18, 2015 12:58 PM EDT By Josh Rogin & Eli Lake … Spoofing a senior official's e-mail identity is also an easy way to conduct "spear phishing" attacks, where an attacker sends a personally crafted e-mail that appears to come from a trusted source. Once the target opens it, his own system can be compromised. Clinton said she e-mailed with dozens of State Department and White House officials using her server, including President Barack Obama. … Nick Merrill, a spokesman for Clinton's personal office, declined to comment on the SPF issue, telling us that she took several security precautions when setting up her server, including hiring third-party experts. .. Merrill declined to say who has been in charge of maintaining the server or ensuring its security since 2009 [Allegedly an SBA protégé, Base One Technologies, mentored by

Serco

funded by HSBC]. This would be a good question to have answered. It would be important to know, for instance, what sort of security vetting the employees overseeing the server received."
"Base One [A

Serco

protégé funded by HSBC and set up in the Bronx by then-Secretary of State Colin Powell on February 15, 1994]…Conducts IT Security and Risk Assessment in Federal government as well as security testing, implementing security for multiple platforms and operating systems around the world. … Ability to conduct business process analysis to provide technical security countermeasures, risk management and data communications security planning for large organizations. … Provides computer security integration for web server and traditional client-server based applications. We secure environments up to as many layers as required by our clients' policies, industry practices, and regulating bodies - including the desktop and user experience as required. … Develops, implements and supports Information Security Counter measures such as

honey-pots and evidence logging

and incident documentation processes and solutions."
McConnell believes that HSBC officers have been funding

Serco

/Base One honey-pots for Hillary Clinton since 1994 and hired

Black Hand

navigators to 'spoof' the State Department authority which put the USS

Cole

into a dockside ambush in Aden Harbour on 10/12/2000.

Prequel 1:

#2301: Marine Links

Serco

's

Black

-Hand 8(a) Banker To Sister's Base-One Clinton Honeypot, Bin Laden's Gorelick Wall



Prequel 2:

Base One Technologies - Information Security Services



Prequel 3:

Base One Technologies [Note the diversity scam]
Commander Lippold on CNN (4/9/12), Front Burner:
Al Qaeda's Attack on the USS Cole
Navy Ships Refuel At Sea - Time Lapse
Serco

... Would you like to know more?
SWISSLEAKS - "HSBC developed dangerous clients: arms merchants, drug dealers, terrorism financers"
Clinton: My Email Server Will Remain "Private"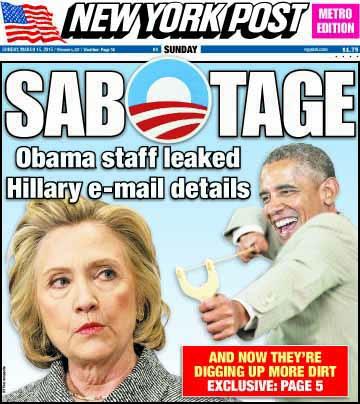 Copy of

SERCO

GROUP PLC: List of Subsidiaries AND Shareholders! (Mobile Playback Version) [Note that HSBC is

Serco

's banker and one of

Serco

's major shareholders with Her Majesty's Government and its funds]


"Hillary Clinton's E-Mail Was Vulnerable to 'Spoofing' 59 MAR 18, 2015 12:58 PM EDT By Josh Rogin & Eli Lake Hillary Clinton didn't take a basic precaution with her personal e-mail system to prevent hackers from impersonating or "spoofing" her identity in messages to close associates, according to former U.S. officials familiar with her e-mail system and other cyber-security experts.
This vulnerability put anyone who was in communication with her clintonemail.com account while she was secretary of state at risk of being hacked. Clinton said at the United Nations last week that there were no security breaches of her personal e-mail server, which she used to send and receive more than 60,000 professional and personal e-mails. But former cyber-security officials and experts told us that there were gaps in the system. According to publicly available information, whoever administrated the system didn't enable what's called a Sender Policy Framework, or SPF, a simple setting that would prevent hackers sending e-mails that appear to be from clintonemail.com. SPF is a basic and highly recommended security precaution for people who set up their own servers. Here is a security evaluation of Clinton's server by SenderScore:
Experts told us that oversight was just one flaw of a security system that would have been relatively easy for foreign intelligence services and others to exploit. "I have no doubt in my mind that this thing was penetrated by multiple foreign powers, to assume otherwise is to put blinders on," said Bob Gourley, the chief technology officer at the Defense Intelligence Agency from 2005 to 2008 and the founder of Cognitio, a cybersecurity consultancy.
"If a Sender Policy Framework was not in use, they could send an e-mail that looks like it comes from her to, say, the ambassador of France that says, 'leave the back door open to the residence a package is coming,'" added Gourley. "Or a malicious person could send an e-mail to a foreign dignitary meant to cause an international incident or confuse U.S. foreign policy."
Spoofing a senior official's e-mail identity is also an easy way to conduct "spear phishing" attacks, where an attacker sends a personally crafted e-mail that appears to come from a trusted source. Once the target opens it, his own system can be compromised. Clinton said she e-mailed with dozens of State Department and White House officials using her server, including President Barack Obama.
Spear phishing has caused problems for the government in the past. In October 2012, the White House confirmed that hackers linked to the Chinese government had penetrated sensitive but unclassified computer systems using the technique. Just last week, the State Department shut down its entire e-mail system after attacks by hackers suspected to be Russian.
There's no evidence that Clinton's e-mail server was linked to those or any other specific attacks. And it's worth noting that the State Department's e-mail domain does not have SPF enabled. Thus, experts point out, it may also have been vulnerable to hacking during her time as secretary.
Nick Merrill, a spokesman for Clinton's personal office, declined to comment on the SPF issue, telling us that she took several security precautions when setting up her server, including hiring third-party experts. "Robust protections were put in place and additional upgrades and techniques were employed over time as they became available," he said. "There was never evidence of a breach, nor any unauthorized intrusions."
The problem with such confidence is that if hackers exploited the SPF vulnerability, Clinton's office would likely never have known her domain name, which has been public information since March of 2013, was being used surreptitiously.
Merrill declined to say who has been in charge of maintaining the server or ensuring its security since 2009 [Base One Technologies, mentored by

Serco

]. This would be a good question to have answered. It would be important to know, for instance, what sort of security vetting the employees overseeing the server received.
It would be useful to know, too, if the federal agencies that protect sensitive government communications -- the FBI and the NSA -- were aware of the server's existence and helped to provide security. Clinton has refused to clarify this issue, saying only that the server "had numerous safeguards and was on property guarded by the Secret Service In 2008. Chinese hackers penetrated the e-mail systems of both the Barack Obama and John McCain campaigns, which were operating on commercial systems. After the hacks were discovered, the FBI lent its assistance and the hacks stopped.
E-mails "that run on commercial services are vulnerable to collection,

"

said James A. Lewis, who held senior technology posts at the White House and State Department and now directs the technology and public policy program at the Center for Strategic and International Studies. Lewis, who authored "Cybersecurity for the 44th Presidency," a report commissioned by a bipartisan House panel in 2007, added: "I don't think people realize how much of this information is available to foreign intelligence services."
Until team Clinton answers vital questions about exactly what safeguards were in place in Chappaqua, New York, we won't know how likely it was that sensitive communications at the highest level of government may have ended up in unfriendly hands. To contact the authors on this story:
Josh Rogin at joshrogin@bloomberg.net Eli Lake at elake1@bloomberg.net
To contact the editor on this story:
Tobin Harshaw at tharshaw@bloomberg.net"
"The USS Cole bombing was a suicide attack against the United States Navy guided-missile destroyer USS Cole (DDG-67) on 12 October 2000, while it was harbored and being refueled in the Yemeni port of Aden. 17 American sailors were killed, and 39 were injured.[1] This event was the deadliest attack against a United States Naval vessel since 1987.
The terrorist organization al-Qaeda claimed responsibility for the attack. A U.S. judge has held Sudan liable for the attack, while another has released over $13 million in Sudanese frozen assets to the relatives of those killed. The American Navy has reconsidered their rules of engagement in response to this attack.
On the morning of Thursday, 12 October 2000, USS Cole, under the command of Commander Kirk Lippold, docked in Aden harbor for a routine fuel stop. Colecompleted mooring at 09:30; refueling started at 10:30. Around 11:18 local time (08:18 UTC), a small craft approached the port side of the destroyer, and an explosion occurred afterward, creating a 40-by-60-foot gash in the ship's port side, according to the memorial plate to those who lost their lives. Former CIA intelligence officer Robert Finke said the blast appeared to be caused by explosives molded into a shaped charge against the hull of the boat.[2] Around 400 to 700 pounds (200–300 kg) of explosive were used.[3] The blast hit the ship's galley, where crew were lining up for lunch.[4] The crew fought flooding in the engineering spaces and had the damage under control after three days. Divers inspected the hull and determined that the keelwas not damaged.
17 sailors were killed and 39 were injured in the blast. The injured were taken to the United States Army's Landstuhl Regional Medical Center near Ramstein, Germany, before being sent to the United States. The attack was the deadliest against a U.S. naval vessel since the Iraqi attack on the USS Stark on 17 May 1987. Theasymmetric warfare attack was organized and directed by the terrorist organization al-Qaeda.[5][6][7][8] In June 2001, an al-Qaeda recruitment video featuring Osama bin Laden boasted about the attack and encouraged similar attacks.[9][10]
Al-Qaeda had previously attempted a similar but less publicized attack on the U.S. Navy destroyer USS The Sullivans while in port at Aden on 3 January 2000, as a part of the 2000 millennium attack plots. The plan was to load a boat full of explosives and explode it near The Sullivans. However the boat was so overladen that it sank, forcing the attack to be abandoned.[11][12]
Planning for the attack was discussed at the Kuala Lumpur al-Qaeda Summit shortly after the attempt, which was held from 5 to 8 January 2000. Along with other plotters, it was attended by future 11 September hijacker Khalid al-Mihdhar, who then traveled to San Diego, California, where he established a close relationship with "9/11 imam" Anwar al-Awlaki, who was later linked to numerous plots and attacks, including the Fort Hood shootings and the "underwear bomber" of 2009 and put on a targeted killing list by President Obama as a terrorist threat. On 10 June 2000, Mihdhar left San Diego to visit his wife in Yemen at a house also used as a communications hub for al-Qaeda.[13][14][15] After the bombing, Yemeni Prime Minister Abdul Karim al-Iryani reported that Mihdhar had been one of the key planners of the attack and had been in the country at the time of the attacks.[16] He would later return to the United States to participate in 9/11 on American Airlines Flight 77, which flew into the Pentagon, killing 184 people.[citation needed]" "Information Security Services Information Security Planning is the process whereby an organization seeks to protect its operations and assets from data theft or computer hackers that seek to obtain unauthorized information or sabotage business operations. Without a properly planned and managed Information Security Plan, an organization runs the risk of law suits, loss of data, compromised operations and loss of reputation. Our experts have secured some of the world largest and most complex commercial and carrier networks, as well as conducted extensive analysis and implementation work on some of the Federal Government's most sensitive and critical environments, such as the FAA.
Base One Technologies takes your information security needs seriously! We conduct business analysis, install solutions and protect your network from unauthorized entry and data loss. We are there in the beginning to provide guidance and support to your data security program, through to implementation and eventually during the support life cycle providing process and procedures for incident reporting, analysis and counter measures.
Key Clients Benefiting From Our Information Security Expertise:
Base One Technologies Expertly researches, designs, and develops information security policies that protect your data and manage your firm's information technology risk at levels acceptable to your business.
Performs architectural assessments and conducts both internal and external penetration testing. The results of these efforts culminate in an extensive risk analysis and vulnerabilities report.
Develops and implements multi-layer Information Security Solutions, practices and procedures. We deploy Intrusion Detection Systems (IDS) and IP Security with VPN solutions using Cisco routers, Frame Relay, firewalls, address and port translation, obscurity standards and authentication technologies (AAA, 3DES, TACACS, etcŠ), to enhance and meet the level of Data Security required for global organizations.
Conducts IT Security and Risk Assessment in Federal government as well as security testing, implementing security for multiple platforms and operating systems around the world.
Ability to conduct business process analysis to provide technical security countermeasures, risk management and data communications security planning for large organizations.
Provides computer security integration for web server and traditional client-server based applications. We secure environments up to as many layers as required by our clients' policies, industry practices, and regulating bodies - including the desktop and user experience as required.
Develops, implements and supports Information Security Counter measures such as

honey-pots and evidence logging

and incident documentation processes and solutions."
"Contact 111 Eighth Avenue New York, NY 10011 Description Base One Technologies, Ltd. is a DOMESTIC BUSINESS CORPORATION, located in New York, NY and was formed on Feb 15, 1994. This file was obtained from the

Secretary of State

and has a file number of 1795583. This business was created 7,695 days ago in the New York SOS Office and the registered agent is C T Corporation System that does business at 111 Eighth Avenue , New York in New York. After conducting a search for principals and owners of Base One Technologies, Ltd., we were able to find 2 owners and/or executives. Their information is listed below.
This file was last updated on May 14, 2013.
Principals Liza R Zaneri Chief Executive Officer 15 Irving Place New Rochelle, NY 10801 Liza R Zaneri Principal Executive Office 15 Irving Place New Rochelle, NY 10801 Registered Agent xxxC T Corporation System 111 EIGHTH AVENUE NEW YORK, NY 10011 http://www.base-one.com/ https://www.linkedin.com/in/rcooleyjr" "SOURCE: Base One Technologies September 02, 2008 09:00 ET Base One Technologies, Inc. Continues Operations in Government Space NEW ROCHELLE, NY--(Marketwire - September 2, 2008) - Base One Technologies, Inc. is pleased to announce that it has sold its affiliate, Base One Technologies Ltd., to Apptis Inc. Base One Technologies, Inc. will continue to compete in the government space as an 8(a), HubZone and Woman Owned Small Disadvantage Company. Base One Technologies, Inc. is an IT Engineering and Technical Services company founded in 1994. Base One has a Top Secret Facilities Clearance and specializes in: Enterprise Architecture, Network Infrastructure Support, Data Security, Software & Database Services, Disaster Recovery & Contingency Planning, and Independent Validation & Verification. Base One is a privately-held organization with headquarters in New Rochelle, NY. For more information visit: www.base-one.com.
About Base One Technologies Base One Technologies, Inc. is an IT Engineering and Technical Services company certified as an 8(a), Woman Owned, SDB, HUBZone Business. Founded in 1994, Base One has a Top Secret Facilities Clearance and specializes in: Enterprise Architecture, Network Infrastructure Support, Data Security, Software & Database Services, Disaster Recovery & Contingency Planning, and Independent Validation & Verification. Please visit www.base-one.com for more information. CONTACT INFORMATION Contact Information:
Liza R. Zaneri Base One Technologies 914 633-0200 x205 www.base-one.com"
"

Serco

's Office of Partner Relations (OPR) helps facilitate our

aggressive

small business utilization and growth strategies. Through the OPR,

Serco

mentors four local small businesses under formal Mentor Protégé Agreements: Three sponsored by DHS (Base One Technologies, TSymmetry, Inc., and HeiTech Services, Inc.,) and the fourth sponsored by GSA (DKW Communications, Inc.).

Serco

and HeiTech Services were awarded the 2007 DHS Mentor Protégé Team Award for exceeding our mentoring goals." http://www.dtic.mil/whs/directives/corres/pdf/100515p.pdf
"Opened in 1994 as the successor to the Transitional Immigrant Visa Processing Center in Rosslyn, Va., the NVC centralizes all immigrant visa preprocessing and appointment scheduling for overseas posts. The NVC collects paperwork and fees before forwarding a case, ready for adjudication, to the responsible post.
The center also handles immigrant and fiancé visa petitions, and while it does not adjudicate visa applications, it provides technical assistance and support to visa-adjudicating consular officials overseas.
Only two Foreign Service officers, the director and deputy director, work at the center, along with just five Civil Service employees. They work with almost 500 contract employees doing preprocessing of visas, making the center one of the largest employers in the Portsmouth area.
The contractor,

Serco

, Inc., has worked with the NVC since its inception and with the Department for almost 18 years.
The NVC houses more than 2.6 million immigrant visa files, receives almost two million pieces of mail per year and received more than half a million petitions from the U.S. Citizenship and Immigration Service (USCIS) in 2011. Its file rooms' high-density shelves are stacked floor-to-ceiling with files, each a collection of someone's hopes and dreams and each requiring proper handling. ….
The NVC also preprocesses the chief of mission (COM) application required for the filing of a petition for a Special Immigrant Visa (SIV). Such visas, for foreign nationals who have performed services for the U.S. government in Iraq and Afghanistan, require COM concurrence before the applicant can file a petition with USCIS. The NVC collects the requisite documents from such applicants and, when complete, forwards the package to the U.S. embassies in Baghdad or Kabul for COM approval"
"Update on

Serco

's Strategy Review including the Contract & Balance Sheet Reviews; capital structure and funding; latest trading and outlook Date : 10 November 2014 THIS ANNOUNCEMENT AND THE INFORMATION CONTAINED HEREIN IS RESTRICTED AND IS NOT FOR RELEASE, PUBLICATION OR DISTRIBUTION, DIRECTLY OR INDIRECTLY, IN WHOLE OR IN PART, IN, INTO OR FROM THE UNITED STATES, CANADA, AUSTRALIA, JAPAN, SOUTH AFRICA OR ANY OTHER JURISDICTION IN WHICH THE SAME WOULD BE UNLAWFUL. PLEASE SEE THE IMPORTANT NOTICE AT THE END OF THIS ANNOUNCEMENT.
… Strategy Review:

Serco

's future to be as an international B2G business. A successful, innovative and market-leading provider of services to Governments. Core sectors: Justice & Immigration, Defence, Transport, Citizen Services and Healthcare. ….
In the Americas Division, our work for the US Affordable [Obama] Care Act (ACA) has begun an expanded first option year. Other awards in the period included: career transition services for US soldiers; health outreach services for the US Naval Reserve; deployable medical systems solutions also for the Navy; and two contracts for fleet maintenance services for commercial clients. In total, the ACA and all other awards in the period are valued at over $550m. Meanwhile, our contract supporting the Department of State's National Visa Center and Kentucky Consular Center (NVC/KCC) came to an end during the period, as did some Acquisition and Program Management support work for US intelligence agency customers. C4I2TSR services for the US Air Force and Naval installation task order work under the Sea Enterprise frameworks are also reducing. …
For further information please contact

Serco

:
Stuart Ford, Head of Investor Relations T +44 (0) 1256 386 227 Marcus De Ville, Head of Media Relations T +44 (0) 1256 386 226 Jonathan Glass, Brunswick T +44 (0) 207 404 5959 Analyst and institutional investor meeting…….
Download PDF [PDF, 387 KB] (Please note: this link will open the page in a new browser window)" "The Crimes of Citibank… More CIA Connections CITIBANK'S SENIOR MANAGER FOR GOVERNMENT RELATIONS, NORA SLATKIN PLAYED KEY ROLE IN JOHN DEUTCH INVESTIGATION - FORMER NUMBER 3 AT CIA
By Michael C. Ruppert - www.copvcia.com
[From the May 31, 2001 issue of "From The Wilderness"]
Special to NarcoNews - As the remaining unbiased press of the Western Hemisphere, and especially of Latin America, rises in outrage at the announced May 17 purchase of Mexico's giant Banacci Group (Banamex) by Citigroup, more skeletons come stampeding out of the Citigroup closet. Both banks have been firmly connected to drug money laundering and Banamex owner Roberto Hernandez owns land near Cancun, Mexico that is commonly referred to as "the cocaine peninsula." President Bill Clinton vacationed on the Hernandez property in the summer of 2000.
Taken collectively these skeletons reveal a well-defined financial and intelligence infrastructure that appears tailor-made for the global management of the drug trade's billions of dollars in illegal revenue along with the additional billions of dollars generated annually by the illegal looting of national economies by government officials.
One of these skeletons is Nora Slatkin. Having risen to a post as Assistant Secretary of the Navy for Acquisition in 1995 she resigned and was immediately appointed as the Executive Director of the Central Intelligence Agency. The Executive Director is the number three position at Langley and is responsible for all Agency operations. Her boss was then Director of Central Intelligence (DCI) and current Citigroup Board Member John Deutch. The timeline - as compiled from stories in The New York Times, The Washington Post and AP and the CIA's web site - around her tenure at CIA and of her transition to Citigroup is most revealing.
May 10, 1995 - John Deutch sworn in as DCI.
May 19, 1995 - The Senate announces that Nora Slatkin is leaving the Department of Defense (Assistant Secretary of the Navy) to join the CIA as Executive Director.
December 15, 1996 - Deutch resigns as DCI.
December 17, 1996 - A CIA computer security official visits Deutch's home and discovers thousands of pages of classified documents on unsecured (CIA) Macintosh computers. Almost immediately the CIA General Counsel, Tom O'Neil and Nora Slatkin are advised of the breach. Slatkin advises DCI Tenet.
December, 1996 - Deutch joins the Board at Citigroup.
Dec 20, 1996 - Deutch begins deleting files from his computers.
January, 1997 - CIA security officials complain to Slatkin that O'Neil is dragging his feet. Slatkin takes no action in response, except to "hold discussions." Deutch refuses to be interviewed by security staff.
Summer, 1997 - The CIA security staff completes a report on Deutch which languishes in the security office awaiting action.
Fall, 1997 - Claiming ignorance of the security office's investigation, DCI Tenet grants Deutch new security clearances.
October, 1997 - On Deutch's recommendation Slatkin also joins the Board at Citigroup. Her current title - Senior Manger of Government Relations.
December, 1997 - Because the Justice Department has not been notified, a one-year statute of limitations for the appointment of an independent counsel to investigate Deutch lapses
March, 1998 - After seven years of service, CIA Inspector General Frederick P. Hitz retires to assume the Goldman Sachs Chair on International Intelligence at Princeton University. He later tells The New York Times that he assumed that his successor, Britt Snider, would advise the Department of Justice as to Deutch's possible criminal mishandling of CIA records. Oops!
April, 1999 - Janet Reno's Justice Department declines to prosecute Deutch while nuclear scientist Wen Ho Lee languishes in jail for similar violations.
February, 2000 - After a CIA Inspector General's report on Deutch's conduct leaks to the press Janet Reno reopens the investigation. Prosecutor Paul Coffey recommends criminal charges.
March, 2000 - Slatkin and Hitz contradict Tenet and state that he was much more involved than previously admitted.
Summer/Fall 2000 - The criminal investigation of Deutch inches ahead in secret. Fears mount that John Ashcroft, as Bush Attorney general, will aggressively pursue criminal charges.
January 20, 2001 - On his last day in office President Clinton pardons Citibank Director John Deutch.
Given the enormity of documentation on Citibank's direct involvement with drug and criminal money laundering and the extraordinarily detailed investigations by journalist Al Giordano at www.narconews.com, several questions become obvious. Giordano's translation of Spanish language reports on the on again, off again relationship between Citibank and Peruvian CIA backed strongman Vladimiro Montesinos, suggest that CIA tells Citibank which criminal clients are acceptable for Private Banking money laundering activities. Clearly, the timeline implies that Slatkin's hiring at Citibank was a quid pro quo for her services in stalling the Deutch investigation. But more so it raises the question as to whether Slatkin is the CIA liaison at Citigroup to open approved channels for money laundering.
Also, it must be asked whether or not there is a partisan flavor to Citigroup's activities. All of the players here were Democratic Party apparatchiks. Is the Democratic Party the sole beneficiary of Citigroup criminal money laundering? Much will be revealed when the Bush Administration weighs in on the Banamex acquisition.
JOHN DEUTCH AND WALL STREET
John M. Deutch is listed as a current director of the following corporations that are registered with the SEC:
Ariad Pharmaceuticals Inc. Citigroup Inc. CMS Energy Corp Cummins Engine Co Inc Raytheon Co Schlumberger Ltd/NY/ He is also involved with the following ventures (some offshoots of above corporations) as an investor and/or officer: Allied Digital Technologies Corp Analog Acquisition Corp Buenos Aires Bottling Co Inc Citicorp Citicorp Mortgage Securities Inc Citigroup Capital CMS Energy Trust II CMS Energy X Tras Pass Through Trust I Consumers Energy Co Cort Business Services Corp Davco Restaurants Inc Delco Remy International Inc Galey & Lord Inc. GNI Group Inc Green I Acquisition Corp Hudson Hotels Corp Landmark Fixed Income Funds/MA/ Landmark Funds I Landmark Funds II Landmark Tax Free Income Funds Palomar Medical Technologies Inc. Sybron Chemicals Inc. Tower Automotive Inc Travelers Group Inc"

Yours sincerely,

Field McConnell, United States Naval Academy, 1971; Forensic Economist; 30 year airline and 22 year military pilot; 23,000 hours of safety; Tel: 715 307 8222

David Hawkins Tel: 604 542-0891 Forensic Economist; former leader of oil-well blow-out teams; now sponsors Grand Juries in CSI Crime and Safety Investigation