Plum

City - (

AbelDanger.net

):

United States Marine Field McConnell has linked the diuretic which had the late Airbus captain Patrick Sondenheimer

taking a piss in a honeypot allegedly run by

Serco

-mentored Base One Technologies

to the British Crown's

Black-Hand*

navigators who allegedly used a remotely-trimmable horizontal-stabilizer patented device to wag the dog on Germanwings Flight 9525 and attribute the murder of 150 people to co-pilot Andreas Lubitz.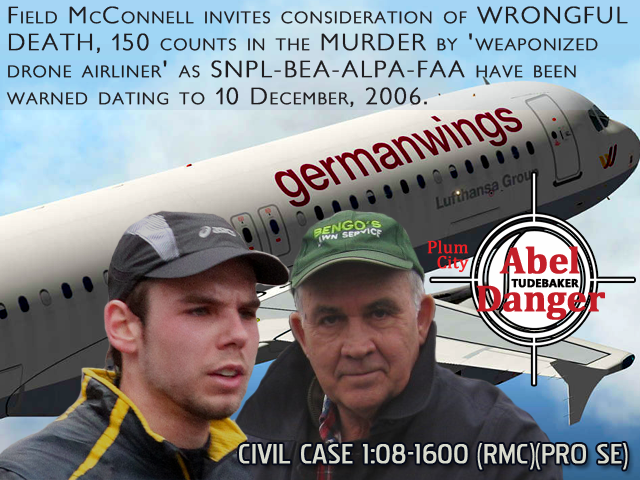 "Germanwings Pilot Andreas Lubitz Spiked Captain's Coffee With Diuretic Drug To Make Him Leave Cockpit, Go To Bathroom:
Report By c.silva@ibtimes.com on April 08 2015 12:18 PM EDT
Before he took control of a plane full of passengers and crashed it into the French Alps last month, Germanwings pilot Andreas Lubitz might have spiked his captain's coffee with a diuretic drug to make him leave the cockpit and go to the bathroom, the Mirror reported Wednesday. Lubitz, 27, researched diuretic drugs, which increase the need to urinate, online before he reportedly locked flight captain Patrick Sondenheimer out of the cockpit and crashed the plane on March 24, killing all 150 people on board. Prosecutors have been scouring Lubitz's online records for clues as to why he took the plane down. He also researched "cockpit doors" and "suicide" days before crashing the plane, German prosecutors revealed last week. '' Lubitz reportedly used the username "Skydevil" to log on to his computer. He had recently completed Internet searches on "bipolarity," "manic depression," "migraines," "impaired vision" and "acoustic trauma.""
"Trimmable horizontal stabilizer US 7963485 B2 ABSTRACT A trimmable horizontal stabilizer is provided adjacent to the fuselage of an aircraft and has a predetermined aerodynamic profile. A movable elevator is arranged adjacent to the horizontal stabilizer. The horizontal stabilizer has a load-bearing structure which extends in the span direction and is firmly connected to the fuselage of the aircraft, and movable areas which are connected to the load-bearing structure such that they can move and can be moved independently of the elevator in order to trim the horizontal stabilizer by varying the aerodynamic profile. Original assignee Airbus Operations Gmbh"
"Taking the piss is a Commonwealth term meaning to take liberties at the expense of others, or to be unreasonable. It is often used to mean (or confused with) taking the piss out of, which is an expression meaning to mock, tease, ridicule, or scoff.[1] It is also not to be confused with "taking a piss", which refers to the act of urinating. Taking the Mickey (Mickey Bliss, Cockney rhyming slang) or taking the Michael is another term for making fun of someone. These terms are most widely used in the United Kingdom, Ireland, South Africa, New Zealand and Australia."
McConnell notes
Serco
(the world's largest air traffic controller) processed a 2 millionth patent application for the U.S. Patent and Trademark Office in March 2013 giving the British Crown's
Black Hand
navigators' access to the patented devices, including the trimmable horizontal stabilizer described in US 7963485 B2, needed to cause or to prevent the Airbus crashes of AF Flight 447, QZ Flight 8501 and Germanwings 9525.
Black Hand*
–
Serco
navigators' using the Crown's "
Patent Rights to Track, Film and Kill
" from the City of London's Honourable Artillery Company 1537; The Master Mariners and The Air Pilots (formerly GAPAN) 1929, and The Ancient and Honorable Artillery Company of Massachusetts 1638 – whose alumni include U.S. Presidents James Monroe, Chester Alan Arthur, Calvin Coolidge and John F. Kennedy and – perhaps – Barack Obama.
McConnell (30 year airline and 22 year military pilot with 23,000 hours of safety) is offering his services as an expert witness to the families of Andreas Lubitz and fellow victims of the crash of Flight 9525 who may wish to claim damages in a suit for wrongful deaths against
Serco
and its
Black Hand
shareholders including Allianz, HSBC and Her Majesty's Government.
Prequel 1:
#2325: Marine Links Ottawa Final Approach,

Serco

Black

-Hand Patents To Allianz Re Lubitz Murder
Prequel 2:
Episode #78 – SUNDAY WIRE: 'The Friendly Skies', host Patrick Henningsen with guest Field McConnell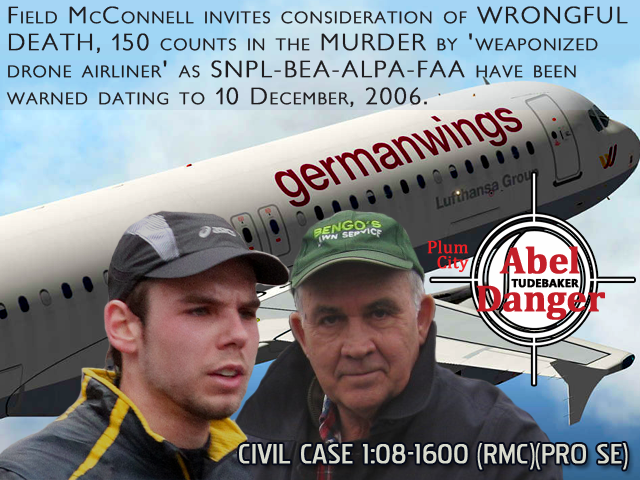 Germanwings co-pilot Andreas Lubitz 'spiked
captain's... diuretic drug to make him leave cockpit'
Black box flight recorder airbus a320 4u 9525
GermanWings aircrash - Andreas Lubitz pilot
WAG THE DOG - Trailer - (1997) - HQ
Authorities: Plane distress call 'emergency, emergency'
Serco

... Would you like to know more?
SWISSLEAKS - "HSBC developed dangerous clients:
arms merchants, drug dealers, terrorism financers"
Copy of

SERCO

GROUP PLC: List of Subsidiaries AND Shareholders! (Mobile Playback Version) [Note that HSBC is

Serco

's banker and, with Allianz and Her Majesty's Government, one of

Serco

's major shareholders]
"

Killer pilot Andreas Lubitz

ACCELERATED INTO Alps mountain, data from doomed plane's second black box recorder reveals .. By SIMON TOMLINSON and PETER ALLEN FOR MAILONLINE PUBLISHED: 09:58 GMT, 3 April 2015 | UPDATED: 12:19 GMT, 3 April 2015

Killer pilot

Andreas Lubitz accelerated the doomed Germanwings jet into the mountain, data from the second black box recorder revealed today. French air accident investigators said the 27-year-old used the automatic pilot to put the plane into a descent and repeatedly adjusted the controls to speed up the aircraft."
"[Base One Technologies, Ltd. is a DOMESTIC BUSINESS CORPORATION, located in New York, NY and was formed on Feb 15, 1994.This file was obtained from the Secretary of State and has a file number of 1795583] Expertly researches, designs, and develops information security policies that protect your data and manage your firm's information technology risk at levels acceptable to your business. Performs architectural assessments and conducts both internal and external penetration testing. The results of these efforts culminate in an extensive risk analysis and vulnerabilities report. Develops and implements multi-layer Information Security Solutions, practices and procedures. We deploy Intrusion Detection Systems (IDS) and IP Security with VPN solutions using Cisco routers, Frame Relay, firewalls, address and port translation, obscurity standards and authentication technologies (AAA, 3DES, TACACS, etcŠ), to enhance and meet the level of Data Security required for global organizations. Conducts IT Security and Risk Assessment in Federal government as well as security testing, implementing security for multiple platforms and operating systems around the world. Ability to conduct business process analysis to provide technical security countermeasures, risk management and data communications security planning for large organizations. Provides computer security integration for web server and traditional client-server based applications. We secure environments up to as many layers as required by our clients' policies, industry practices, and regulating bodies - including the desktop and user experience as required. Develops, implements and supports Information Security Counter measures such as honey-pots and evidence logging and incident documentation processes and solutions."


"AirAsia Flight QZ8501: Mysterious Chinese Man Predicted [Black Hand] Disappearance Two Weeks Ago By
Gopi Chandra Kharel
December 29, 2014 13:18 IST
In an eerie blog post about two weeks ago, a mysterious Chinese man had warned that an AirAsia plane was going to disappear or meet a tragic end. And about a fortnight later, AirAisa flight QZ8501 disappeared from the air traffic control radar system on the morning of 27 December. The
post
has gone viral on social media and discussion forums such as
Reddit
, with people reacting in astonishment on how the person could have predicted it. The man behind the post apparently explains that the same people who brought down MH370 were going to attack another Malaysian airlines flight or an AirAsiaplane. The post alleges that an organisation called "The International Black Hand" is behind the disappearance of the airplanes. Black Hand is the term that is understood to be a metaphor for the shadowy organisation that does its work behind the scenes.. "Black Hand hijacked and shot down MH370 and MH17. This has pretty much killed the 6th largest airline -- Malaysian airline," the post read, according to a loose translation by a Reddit member…"

"From the early days of the Republic, Congress and the federal courts grappled with the government's rights to own or use patents it issued. Courts rejected the British "Crown Rights" rule that allowed the sovereign to practice whatever patents it issued. Instead, the federal government was conceptualized as a legal person on par with any other persons with regard to issued patents. But, this simple rule presented challenges as complexities arose in three intertwined patent rights scenarios. The first involved inventions by government employees. The second revolved around government and government contractor use of patents held by private citizens. And the third involved inventions by federal contractors and their employees arising under federal funding."
"SOURCE: Base One Technologies September 02, 2008 09:00 ET Base One Technologies, Inc. Continues Operations in Government Space NEW ROCHELLE, NY--(Marketwire - September 2, 2008) - Base One Technologies, Inc. is pleased to announce that it has sold its affiliate, Base One Technologies Ltd., to Apptis Inc. Base One Technologies, Inc. will continue to compete in the government space as an 8(a), HubZone and Woman Owned Small Disadvantage Company. Base One Technologies, Inc. is an IT Engineering and Technical Services company founded in 1994. Base One has a Top Secret Facilities Clearance and specializes in: Enterprise Architecture, Network Infrastructure Support, Data Security, Software & Database Services, Disaster Recovery & Contingency Planning, and Independent Validation & Verification. Base One is a privately-held organization with headquarters in New Rochelle, NY. For more information visit:
www.base-one.com
. Contact Information: Liza R. Zaneri Base One Technologies 914 633-0200 x205 "
www.base-one.com
"
"

Serco

's Office of Partner Relations (OPR) helps facilitate our

aggressive

small business utilization and growth strategies. Through the OPR, Serco mentors four local small businesses under formal Mentor Protégé Agreements: Three sponsored by DHS (

Base One Technologies

, TSymmetry, Inc., and HeiTech Services, Inc.,) and the fourth sponsored by GSA (DKW Communications, Inc.).

Serco

and HeiTech Services were awarded the 2007 DHS Mentor Protégé Team Award for exceeding our mentoring goals."
"Yarl's Wood migrant 'can sue government over prescribed drug' 1 April 2015 A migrant who claims her psychosis was triggered by medication given to her at Yarl's Wood Immigration Removal Centre is to be allowed to sue the government. The 36-year-old from Nigeria, known as GB, was given an anti-malarial drug while detained for outstaying her visa. .. 'Heard voices' The Bedfordshire facility houses up to 400 women under threat of deportation. The woman, who came to the UK in 2010 and detained in June 2012,

said she was prescribed the drug by a local GP contracted by Serco to provide medical cover

. A few weeks later she complained of hearing voices

[cf. Aaron Alexis with Serco Common Access Card in Navy Yard]

and the centre's mental health team concluded she was sectionable and lacked capacity. She was given an anti-psychotic drug and specialist care before being released with residence and reporting requirements."
Yours sincerely,
Field McConnell, United States Naval Academy, 1971; Forensic Economist; 30 year airline and 22 year military pilot; 23,000 hours of safety; Tel:
715 307 8222
David Hawkins Tel:
604 542-0891
Forensic Economist; former leader of oil-well blow-out teams; now sponsors Grand Juries in CSI Crime and Safety Investigation