Plum

City - (

AbelDanger.net

):

United States Marine Field McConnell has linked the 60-minute war waged on the United States on 9/11 by his sister Kristine Marcy's colleagues in the

Senior Executive Service

to Jade Helm war game and bypass scripts developed by ICE, Inc., a BAE-mentored company in Sierra Vista, AZ, on

Serco

's 8(a) onion router (

Tor

) network.

McConnell notes that by January 2001, his sister, the then-Chief Operating Officer of the Small Business Administration, and her

SES

colleagues, had implemented a 60-minute loan-guarantee program over

Serco

's onion router network where SBA 8(a) companies such as Base One Technologies borrowed money to participate in the 9/11 war game but risked liquidation if they failed to execute 60-minutre tasks defined by

Serco

's drug-hub banker and shareholder HSBC.
Treasonous salute to Sister's

SES

Flag
Marcy's

SES

introduced 60 minute loan approval for 8(a) participants in the 9/11 war game!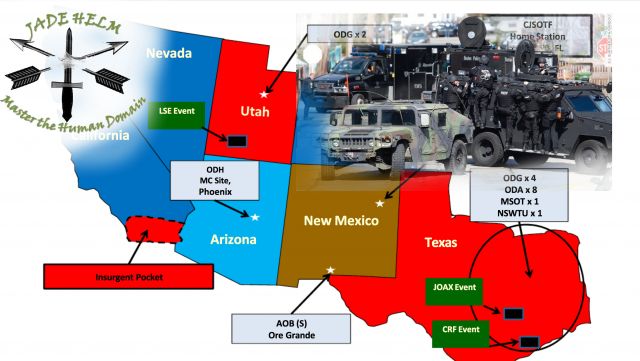 "Request to Conduct Realistic Military Training (RMT) JADE HELM 15 The Commander of United States Army Special Operation Command (USASOC) seeks a written invitation and approval from local officials to conduct Realistic Military Training (RMT) within their jurisdictions for joint military exercise, JADE HELM 15 (JH15) .. Mr. Thomas Mead JADE HELM Operations Planner/MSEL WK: 910-396-9831/6316 Cell: 910-391-1137 e-mail: thomas.m.mead.ctr@soc.mil Thomas.mead@

iceinc

.us.com Mr. Francisco Oquendo Jr

JADE

HELM Operations Planner WK: 910 396-9831/6316 Cell: 910 916-0821 e-mail: oquendo.francisco.ctr@soc.mil Francisco.oquendo@

iceinc

.us.com"
"Headquartered in Sierra Vista Arizona, Intelligence, Communictaions and Engineering Inc. (ICE, Inc.), began operation on 2 January 2007. ICE, Inc. provides services to government, commercial and non-profit entities. ICE, Inc. is a Certified Service Disabled Veteran Owned and SBA 8(a) company http://www.iceinc-ps.com/about-us.html ICE, Inc. provides operational and training support to Military and Law Enforcement entities. Our employees presently provide the following services: Intelligence Analysis, Modeling & Simulations, Doctrinal Development, Concept Development, Graphics Design and Development, Anti-Terrorism & Force Protection, and Critical Infrastructure Resource Management
ICE, Inc. has a team of Software Engineers that excels in systems architecture, systems administration, and software development. Our engineers support the Army's Future Force Experimentation & Concept Development program through the use of Modeling and Simulations. They are adept in the development and use of distributed simulations.

ICE Inc. has extensive experience in the areas of Developmental & Operational Testing. ICE, Inc. employees have supported the Army Test and Evaluation Command, as well as White Sands Missile Range. Services provided include:

Test Design and Planning, Data Reduction and Evaluation ICE, Inc. Intelligence, Communications and Engineering Inc.

Our offices
HQ: 1850 Paseo San Luis, Sierra Vista, AZ 85635
Phone: 520.458.4321 Fax: 520.458.1406
Florida: 4006 S. Macdill, Ave. Tampa, FL 33611
Phone: 813.868.3239
Nebraska: 1324 Galvin Road South, Bellevue, NE 68005
Phone: 402.261.2934
Georgia: 3218 Mesena Lane, Augusta, GA 30909
Phone: 706.513.9238

Contact Info
T: 520.458.4321
F: 520.458.1406
E: info@iceinc.us.com

Department of Defense - DOD
US Army
US Air Force
US Navy
Department of Homeland Security
Department of Interior (DOI)
Department of Veterans Affairs"

"The 8(a) Business Development Program assists in the development of small businesses owned and operated by individuals who are socially and economically disadvantaged, such as women and minorities. The following ethnic groups are classified as eligible: Black Americans; Hispanic Americans; Native Americans (American Indians, Eskimos, Aleuts, or Native Hawaiians); Asian Pacific Americans (persons with origins from Burma, Thailand, Malaysia, Indonesia, Singapore, Brunei, Japan, China (including Hong Kong), Taiwan, Laos, Cambodia (Kampuchea), Vietnam, Korea, The Philippines, U.S. Trust Territory of the Pacific Islands (Republic of Palau), Republic of the Marshall Islands, Federated States of Micronesia, the Commonwealth of the Northern Mariana Islands, Guam, Samoa, Macao, Fiji, Tonga, Kiribati, Tuvalu, or Nauru); Subcontinent Asian Americans (persons with origins from India, Pakistan, Bangladesh, Sri Lanka, Bhutan, the Maldives Islands or Nepal). In 2011, the SBA, along with the FBI and the IRS, uncovered a massive scheme to defraud this program. Civilian employees of the U.S. Army Corps of Engineers, working in concert with an employee of Alaska Native Corporation Eyak Technology LLCallegedly submitted fraudulent bills to the program, totaling over 20 million dollars, and kept the money for their own use.[26] It also alleged that the group planned to steer a further 780 million dollars towards their favored contractor.[27]"

"Loan Improvement Jan 31, 2001 SBA modernizes to help feed its growing programs
BY PATRICIA DAUKANTAS | GCN STAFF
Under a five-year plan for overhauling its information technology systems, the Small Business Administration recently acquired new software for financial and other administrative tasks. .. In the first phase of the modernization, the agency has upgraded systems for managing its extensive portfolio of guaranteed loans, chief operating officer Kristine Marcy

[Field McConnell's sister]

said. SBA processed its first electronic loan last November through its Sacramento, Calif., office and plans to add more private lenders during fiscal 2001. .. Marcy said. Banks had been asking SBA to make faster decisions on loan guarantees. The agency decided to aim for a [onion router] turnaround time of one hour. In the second phase of modernization, SBA is revamping its financial, human resources, procurement and travel systems with Web-enabled Oracle Corp. applications. .. The second-phase integrator, SRA International Inc. of Arlington, Va., has subcontracted with a number of small firms for things such as training and data conversion [Note

Serco

protégé Base One opened a document conversion center in the Bronx in 2006, presumably to deal with Obama's passport problems]. .. In the final phase of the modernization, SBA will upgrade the computers in its 8(a) Business Development Program, which assists small businesses in competing for government contracts, Marcy said. The agency wants to be able to improve its tracking of clients' successes and failures

[through to liquidation by the SBA's preferred lenders and sureties such as HSBC and Travelers Casualty and Surety Company of America - note merged with Citigroup and John Deutch's CIA friends!]

."
"COMPANIES

Serco

launches £550m rights issue after £1.5bn impairment A "bitter pill" indeed. Troubled outsourcing company

Serco

is planning a £550m rights issue after lowering its profit forecast for this year and next and identifying a whopping £1.5bn of impairments at a company currently valued at just £1.7bn and with reported assets of £2.8bn. Chief executive Rupert Soames didn't sugar-coat the challenges to investors .. The company also lowered its forecast for adjusted operating profit this year by £20m to £130m-140m and lowered its outlook for 2015. That will push the company into a breach of its debt-to-profit covenant on a private placement loan, so

Serco

plans to hold talks with its lenders to amend the conditions. The £550m rights issue is pencilled in for the first quarter of 2015, and is fully underwritten by Bank of America Merrill Lynch and JPMorgan.

[Instant 8(a) lenders for snuff-film scripts of 9/11]

"
McConnell is now inviting Marine Corps General, Joseph Dunford, Obama's nominee to be the 19th Chairman of the Joint Chiefs of Staff, to have the

Jade

Helm

exercise cancelled so that his (McConnell's) sister and her

SES

colleagues are not given an opportunity to wage a 60-minute war on the United States and complete what Serco 8(a) companies failed to complete on 9/11.

Prequel 1:

2346: Marine Links 8(a) Lender Lynch's

Tor

To

Serco

's

Black

-Hand Ammo And Jade Helm Script By ICE


Serco

... Would you like to know more?




SWISSLEAKS - "

HSBC

developed dangerous clients:

arms merchants, drug dealers, terrorism financers"




Copy of

SERCO

GROUP PLC: List of Subsidiaries AND Shareholders! (Mobile Playback Version) [

HSBC

is

Serco

's drug-hub Silk Road banker and a major shareholder with the 8(a) 9/11 instant lenders including Société Générale, Allianz, Her Majesty's Government and JPMorgan]

"

HOW TOR ENABLED SILK ROAD Central to the operation of Silk Road was a complex underground computer routing system known as Tor. Ulbricht allegedly used the system to hide the location of the computer servers that hosted the Silk Road website. But Tor is no secret, especially to the U.S. government. The U.S. Naval Research Lab developed onion routing, the concept behind Tor, as a way to protect naval communication so an enemy could not trace computer messages and detect a ship's position. Every computer on the Internet has an Internet Protocol, or IP, address that can be used to find its physical location. Tor ensures privacy by randomly routing computer messages through several places on the Internet, wrapped in layers of encryption, so no single point can link the source to the destination. ..

Tor

also hosts black markets, such as Sheep Marketplace and Black Market Reloaded, that deal in guns, drugs, stolen credit card numbers and child pornography. The United States seeks the extradition of Eric Marques, who was arrested in Ireland for allegedly hosting a website on the Tor network that allowed people to share child pornography. Silk Road created a private network through Tor by using software to build encrypted connections through relays on the network. The system is created so no single relay, or server, knew the complete path. A computer algorithm on Tor generates a complex Web address that ends in .onion and can be accessed only by downloading Tor software. … DEA agents learned of Silk Road within months after it went online. In June 2011, Sen. Charles Schumer, D-N.Y., called on federal agents to investigate it. Court papers indicate federal agents began making hundreds of undercover purchases from the site in November 2011."




"INTERNATIONAL FIRE TRAINING CENTRE CREW COMMANDER INCIDENT COMMAND INITIAL ACTIONS OF THE CREW COMMANDER Throughout this note he means he/she and his means his/hers. INTRODUCTION Although the Incident Commander will have overall control of the accident or incident ground, it can happen, on occasion, that a Crew Commander, the vehicle and its crew can be the first to arrive. Under these circumstances, it will then fall to the Crew Commander to initiate the first actions necessary to mitigate the incident. This training note is designed to stimulate thought and discussion on the subject of the actions that may need to be considered at an incident, initially under the control of a Crew Commander. .. IFTC/CM/05/119/08/CREW COMMANDER INCIDENT COMMAND INITIAL/TRAINING NOTE/ACTIONS OF THE CREW COMMANDER/Page 7 of 7/ISSUE 2/FEBRUARY 2015 G:\fire training global\AVIATION\CC Incident Command\Initial\Tng Notes\Actions of the CC Serco Internal"


"Base One Technologies .. Clients Banking, Finance and Insurance Oversee the integration of two separate networks, as well as business office operations Key participant in network architecture design for a network handling real time stock/bond trading world-wide. Provide interactive access to equity markets in the Americas, Europe, Asia, Middle East & Africa Engineer/implement architecture for client inter-entity links; Develop overall technical solutions including network components, physical and logical topologies, routing policies and disaster recovery schemes; Design ISDN solution for client network and provide contingency planning and disaster recovery design strategies …. Authored the IGRP to EIGRP plan for Data Highway which consist of over 1000 routers. .. Designed, deployed network architecture and disaster recovery solutions [on the onion router] that withstood 9/11/01 disaster without a single transaction failure despite carrier failure .. Design, implement,provision, procure new network solutions and fault tolerant architecture, architect contingency plan, site relocation cost analysis, Network Impact analysis, WAN bandwidth cost analysis, strategic business analysis, global project planning,enterprise router architecture; Consolidate and merge various technologies and equipment - routers,switches, Gigabit Ethernet,token ring,layer2 & 3 switching, IGRP, OSPF, BGP, (HRSP),DECnet Phase III & IV routing,DECnet, LAT bridging, SNA, DLSW+, SRB,SDLC Tunneling, Frame Relay, X.25, ISDN, ATM, VLAN, Point to Point Transport, SNMP, VAX, HP UNIX, EMS, VTAM"

"[Base One Technologies, Ltd. is a DOMESTIC BUSINESS CORPORATION, located in New York, NY and was formed on Feb 15, 1994.This file was obtained from the [Clinton] Secretary of State and has a file number of 1795583] .. Conducts IT Security and Risk Assessment in Federal government as well as security testing, implementing security for multiple platforms and operating systems

[onion router]

around the world ... Develops, implements and supports Information Security Counter measures such as

honey-pots

and evidence logging and incident documentation processes and solutions."


"Corporate Diversity We are a Government Certified Women-Owned Business We practice Diversity Recruitment and Staffing for IT positions Base One was founded in 1994 by a women engineer who had made a career in technology research for many years. Base One has been very successful in focusing on diversity recruiting and staffing for IT projects. It has been our experience that the greater the diversity mix, the more creative the solution. As in any field the more diverse the viewpoint the more thorough your analysis. Our engineers can think out of the box. Because of our affiliations we have access to pools of resources among more diverse groups & individuals. We work with a large pool of minority professionals who specialize in IT skills. We are able to have access to these resources through our status as a D/MWBD firm and our affiliations. These affiliations assist us in working with resources among more diverse groups & individuals. We are also partnered with firms that are 8A certified as Minority firms, Disabled Veteran firms [such as Metris the coordinator of Jade Helm, see below], Native American firms, Vietnam veteran firms, women owned firms."

"

Serco

's Office of Partner Relations (OPR) helps facilitate our

aggressive

small business utilization and growth strategies. Through the OPR, Serco [and its drug hub banker HSBC] mentors four local small businesses under formal Mentor Protégé Agreements: Three sponsored by DHS (Base One Technologies, TSymmetry, Inc., and HeiTech Services, Inc.,) and the fourth sponsored by GSA (DKW Communications, Inc.).

Serco

and HeiTech Services were awarded the 2007 DHS Mentor Protégé Team Award for exceeding our mentoring goals."

"City A.M. Outsourcing firm Serco has finally received some good news .. After being asked last year to conduct an investigation into whether Serco staff had been misleadingly recording [tagged] prisoners as ready for court when they were not, the Crown Prosecution Service has accepted the view of the City of London Police and put Serco in the clear."

"

Serco

farewell to NPL after 19 years of innovation 8 January 2015 .. During that period under

Serco

's management and leadership, NPL has delivered an extraordinary variety and breadth of accomplishments for the UK's economy and industry .. .. NPL's caesium fountain atomic clock is accurate to 1 second in 158 million years and NPL is playing a key role in introducing rigour to high frequency [hedge fund] trading in the City through NPLTime."

"The Bill, Hillary & Chelsea Clinton Foundation[2] (originally, the William J. Clinton Foundation) is a non-profit foundation [allegedly operating a pay-to-play instant-lender racket over the SBA 8(a) onion router network] established by former President of the United States Bill Clinton with the stated mission to "strengthen the capacity of people throughout the world to meet the challenges of global interdependence." The Foundation focuses on four critical areas: health security; economic empowerment; leadership development and citizen service; and racial, ethnic and religious reconciliation. ... They have offices located in New York City and Little Rock, Arkansas. Greater than $25,000,000[edit] Bill and Melinda Gates Foundation[12] The Children's Investment Fund Foundation UNITAID Centenary Group International Frank Giustra, chief executive officer, The Radcliffe Foundation.[12] $1,000,001 to $5,000,000[edit]

100 Women in Hedge Funds

… Citi Foundation (did not give in 2009[12]) Clinton Giustra Sustainable Growth Initiative – Canada .. Dubai Foundation (did not give in 2009[12]) .. Friends of Saudi Arabia Mala Gaonkar Haarmann .. Diana, Princess of Wales Memorial Fund The Al Nahyan Family of The United Arab Emirates .. State of Kuwait (did not give in 2009[12]) State of Qatar (did not give in 2009[12]) ..

Swiss Reinsurance Company

.. Rockefeller Foundation .. The Sultanate of Oman[12] The Wal-Mart Foundation"

"100 Women in Hedge Funds was formed in December 2001 when Dana Hall, Carol Kim, and Sarah Dyer decided to bring together 100 seasoned female industry leaders. Their initial goal was to form a professional community to teach women to better leverage their collective relationships

[with the pay-to-play Clinton Foundation]

and improve communication within the alternative investment industry .. organization's three pillars: education, professional leverage, and philanthropy. .. Today, 100WHF boasts more than 13,000 members in 19 locations across three continents. Members represent over 2,800 hedge funds, 1,000 fund of funds and 500 institutional buyers [allegedly investing with the Clinton Foundation in a pay-to-play instant-lender racket over the SBA 8(a) onion router network]. They also represent the various roles within financial organizations; 100WHF is proud to say that its membership includes over 1,600 portfolio managers and research analysts, as well as over 1,000 senior executives including CEOs, Presidents, COOs and CCOs."




Yours sincerely,

Field McConnell, United States Naval Academy, 1971; Forensic Economist; 30 year airline and 22 year military pilot; 23,000 hours of safety; Tel:

715 307 8222

David Hawkins Tel:

604 542-0891

Forensic Economist; former leader of oil-well blow-out teams; now sponsors Grand Juries in CSI Crime and Safety Investigation