Abel Danger
readers and our virtual network of global researchers are invited to make note of the following events that are quickly transpiring beginning with 1): Google
"Field McConnell's Jet"
and the following will appear: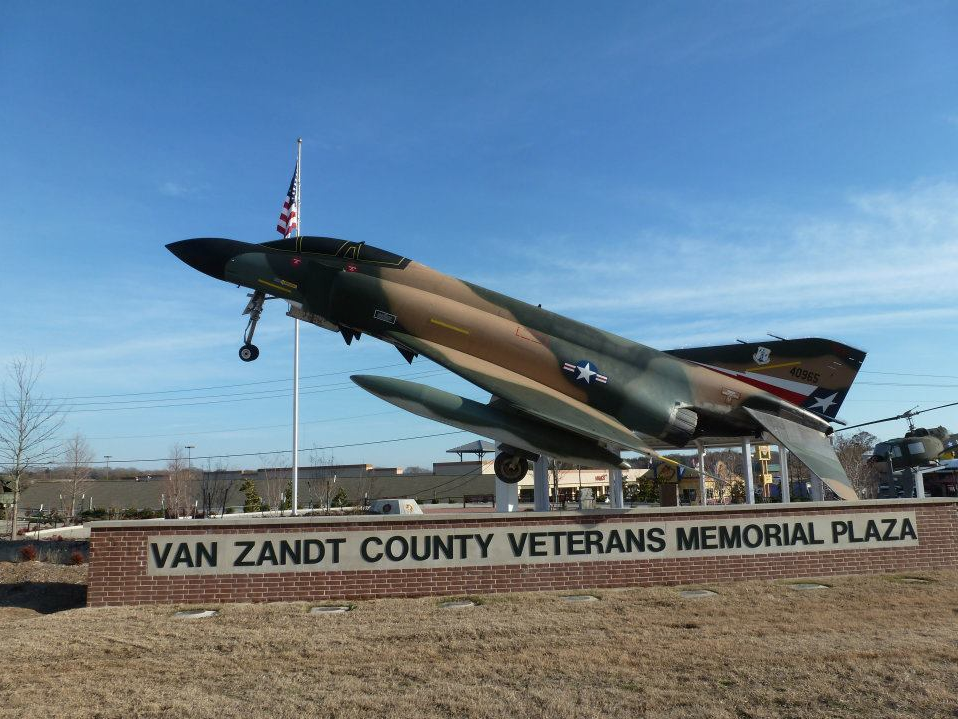 This F4 Phantom aircraft
#64-0965
is firmly anchored at this location:
vzcm.org
This F4 Phantom jet is a "
Sweet Talkin' Woman
" verified again by a doing a Google search using these terms:
[sweet talkin' woman + field McConnell + images]
2): The following is a video clip of the F4 Phantom jet/parade:
Field McConnell's Jet goes on display at the
Canton, Texas Veterans Memorial
The following video suggests Field McConnell might just be a "
PHANTOM WINGMAN
."
3) Here is a link to Cherokee Auto Group:
There are four Cadillacs, Jimmy Sabow's hearse is the 1996 hearse with 19,000 miles. This hearse will be in
Canton
, South Dakota for the trial. The car is in
Canton
, Georgia at the dealer. The F4 Phantom jet Tail #64-0965 that Field McConnell flew is in
Canton
, Texas.
Canton-Canton-Canton
, Ohio, the trial for AP's son, AP will be enshrined in
Canton
, Ohio at some future point.
4) Field McConnell was called to Malaysia to explain what happened concerning the flying events of MH370. The jet went missing on 8 March 2014. Notice the date on Field McConnell's Youtube: 9 March 2014. Malaysia was "stunned" at Field McConnell's speed. Actually, it was not
his
speed but let's go with the AD flow.
Boeing Honeywell Uninterruptible Autopilot
5) On March 24, 2015 the French AF shot down Andreas Lubitz
[for good reason]
. Three weeks later, Field McConnell was in Heidelberg, Germany exonerating Andreas Lubitz
[accurately]
.
Field McConnell: Germanwings 9525 shot down
Dr. David Sabow, we at
Abel Danger
sincerely hope and pray that Field McConnell being in
Canton
, South Dakota with the
SABOW 3 Hearse
can be a 'force multiplier' for the coming documentary on the murder and subsequent coverup of your brother USMC Colonel James Sabow.
Additionally Dr. David Sabow, the license plates are already on the hearse, the hearse will be in Wisconsin next week and it will be in
Canton
, South Dakota in September.
(August 5, 1935 - January 22, 1991
Death of Marine Col Jim Sabow
Readers are encouraged to review the following material on the complete background on the death of USMC Colonel James Sabow on January 22, 1991 on the El Toro Marine Air Station in California (El Toro was subsequently closed down turned into a toxic EPA super fund site.):
Commodity Backing US$: Drugs - The "War on Drugs" Continues - USMC Cocaine Delivery Services via US Military Aircraft - The Fourth Reich Embedded Deeply in America's Military - The New Semper Fi Code: Marine Colonel James Sabow Ambushed In His Backyard by IRT Team - Estimated Global Trade in Cocaine: US$88 Billion - Need Help Defending That Trade? - Call the Marines
Continued: Monopoly on Weapons (Munitions), Drugs and Sex Trade - United States Government/Military Contracting Out Transshipment of Drugs - Two Americans Lose Their Lives: James Sabow and Gary Webb - The Secret Team: Enforces The "National Security State" - America Imports 50% of World-Wide Cocaine Production - Interfere With This Operation and Meet a Certain Death
Continuation: Circumstances Surrounding the Death of Colonel James Sabow - Jockeying for Power Is a Ruthless Business - Oliver North Was a "Volatile and Dangerous Person" - GHWB's "Perfect Circle" - John Hull's Ranch in Costa Rica Ran Drugs and Weapons - Mobsters in Uniform - The Enterprise Takes Over - Dan Quayle Was GHWB's "Impeachment Insurance" - Flying In and Out With the Right Transponder Numbers
Continuation: Colonel James Sabow's Death on MCAS El Toro - Who Is Daniel Sheehan? - The Christic Institute - "The People's Advocate" - Elite Embrace of Drugs, Money Laundering, and Pedophilia - "The Shadow Government" - "DO NOT Write/Contact Mrs. Sabow" - "We are attacking reputation of a dead Col."
Continuation: World Renowned Pathologist's Findings Reversed - Orange County Coroner Over Naval Pathologist? - Communiqué Dated Nine Hours Prior to James Sabow's Death - Suicide Determined Without Knowledge of Crime Scene Evidence - IG Boil Plate Investigstation on El Toro - Marine Corps Officers In Criminal Conspiracy
Finally, Field McConnell does a 690mph
OODA loop Canton-Canton-Canton
"flyby" as the
Phantom Wingman
:
Field McConnell - Low Altitude (50-100 feet) Jet at 690mph