Briefing From United States Marine Field McConnell
Plum

City Online - (

AbelDanger.net

)
August 25, 2015
1. Hillary Clinton allegedly uses private servers to support a pay-to-play racket where her women in hedge-fund associates are forewarned of stock market routs (cf. 9/11) provided they share their insider/outsider trading profits with donations to the Clinton Foundation.
2. On 9/11,
Serco
8(a) protégé companies apparently used the E4B Nightwatch clock to trigger explosive devices in WTC Building 7 and vaporize evidence of insider trading by Clinton hedge funds and British banks in SEC files on Floors 11, 12 and 13.
3.
Serco
shareholders allegedly use the E4B clock to pump and dump stocks and appear to have placed James Comey – a former General Counsel of the Bridgewater hedge fund and a former director of the global drug-hub banker HSBC – as FBI director to help Clinton hedge fund (Avenue Capital Management) to steer Donald Trump through a pay-to-play bankruptcy and serial stock-market routs.
McConnell offers expert witness services to wrongful-death suits while exposing
Serco
's alleged use of E4B timing signals for online assassination betting in his e-book "
Shaking Hands With the Devil's Clocks
". (See
http://www.abeldanger.net/2010/01/field-mcconnell-bio.html
)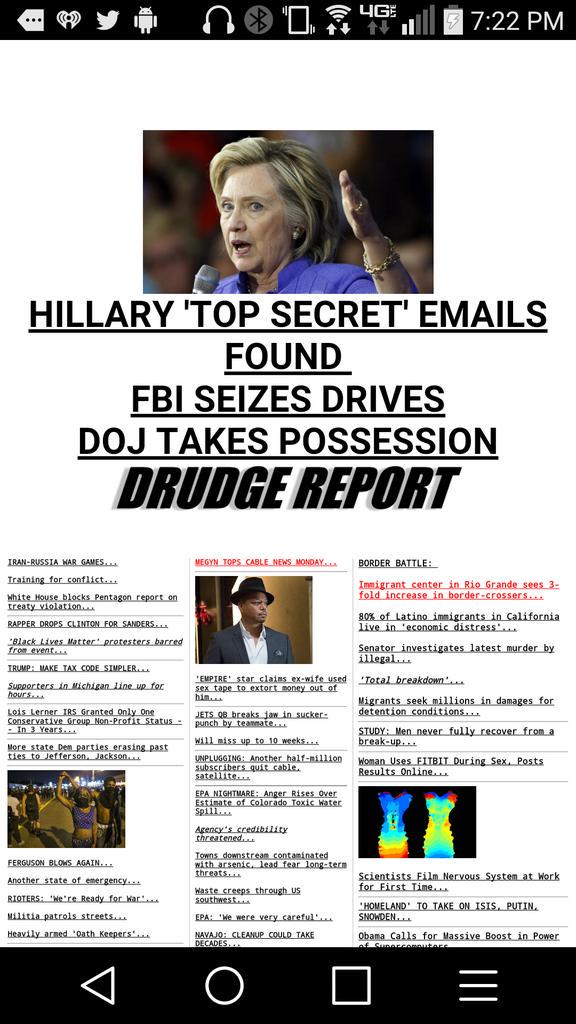 Steering Trump through bankruptcy with keys to the Nightwatch clock and tickets to the pay-to-play Clinton Foundation
"Emails May Be a Key to Addressing 'Pay-to-Play' Whispers at Clinton Foundation
There are not two Clinton controversies. There is one big, hairy deal.
BY RON FOURNIER March 8, 2015
"Follow the money." That apocryphal phrase, attributed to Watergate whistle-blower "Deep Throat," explains why the biggest threat to Hillary Rodham Clinton's presidential dreams is not her emails. It's her family foundation. That's where the money is: corporate money, foreign money, gobs of money sloshing around a vanity charity that could be renamed "Clinton Conflicts of Interest Foundation."
What about the emails? Hillary Clinton's secret communications cache is a bombshell deserving of full disclosure because of her assault on government transparency and electronic security. But its greatest relevancy is what the emails might reveal about any nexus between Clinton's work at State and donations to the Bill, Hillary & Chelsea Clinton Foundation from U.S. corporations and foreign nations.
Under fire, Bill Clinton said his namesake charity has "done a lot more good than harm"—hardly a ringing endorsement. One of his longest-serving advisers, a person who had worked directly for the foundation, told me the "longtime whispers of pay-to-play are going to become shouts."
This person, a Clinton loyalist and credible source, has no evidence of wrongdoing but said the media's suspicions are warranted. "The emails are a related but secondary scandal," the source said. "Follow the foundation money.""
"Avenue Capital's Plan Picked for Trump Casinos
By ALEXANDRA BERZON
Updated April 12, 2010 10:20 p.m. ET
A group of bondholders aligned with real-estate magnate Donald Trump won a victory over financier Carl Icahn Monday in a bid to control three casinos in Atlantic City that bear Mr. Trump's name.
The ruling, issued by U.S. Bankruptcy Court Judge Judith Wizmur in New Jersey, puts bondholders owed $1.2 billion in unsecured debt and led by Avenue Capital Management, in charge of steering Trump Entertainment Resorts Inc. out of bankruptcy protection. It also would ensure that the casinos will retain the Trump brand that Mr. Trump first established in the seaside casino resort in the 1980s.
The use of the name had turned into something of a spat between the two high-profile investors.
Mr. Trump aligned with private investment fund Avenue Capital, threatened to contest the use of his brand name if the victory had gone to Mr. Icahn. Mr. Trump boasted that the name on the casinos was worth at least $50 million and that overall his brand name was worth more than $3 billion.
Judge Wizmur wrote that while some aspects of the bondholder agreement was less favorable than Mr. Icahn's plan, the use of the name and likeness of Mr. Trump and his daughter Ivanka "tilt the balance in favor of approving the settlement as being in the paramount interest of the Reorganized Debtors." The plan will require some changes to the original plan that bondholders presented. But David Friedman, an attorney for Mr. Trump, said he expected all parties to agree to the terms.
Attorneys aligned with Mr. Icahn had argued that in Atlantic City, the value of Mr. Trump's name was diminished by previous bankruptcies and by delayed capital investment. Neither Mr. Icahn nor his attorneys could be reached for comment.
In an interview, Mr. Trump and Ms. Trump said they saw the victory over Mr. Icahn's plan as a confirmation of their brand value because the judge had written in an opinion that the bondholders' deal to use the brand name was a significant component of her decision. The Trumps will take an equity stake of up to 10% in the company, under the deal. "The name is the hottest name, period," Mr. Trump said.
In making her decision, Judge Wizmur also rejected Mr. Icahn's argument that the bondholder plan would leave the company too heavily in debt as it emerged from bankruptcy. With the loss in court, Mr. Icahn, who purchased the $480 million mortgage at a discount, will remain a creditor in the company. He will have 10 days to appeal the decision after a hearing Thursday, attorneys involved in the case said.
The decision comes amidst a period of instability in Atlantic City, where a number of properties are actively seeking buyers even as revenue has plummeted to its lowest point in a decade.
"I think Atlantic City has a great future," Mr. Trump said Monday.
Bondholders warned Mr. Icahn would cannibalize the Trump casinos to strengthen his Tropicana Casino & Resort in Atlantic City, which he acquired in another bankruptcy case.
Mr. Icahn denied the accusation, and said he wanted to get the three on sound financial footing and prevent their fourth return to bankruptcy. —Peg Brickley contributed to this article.
Write to Alexandra Berzon at alexandra.berzon@wsj.com"
"AUG 24, 2015 @ 12:01 AM 9,967 VIEWS
Market Rout Deepens As Deflation Jumps From Oil To Everything Else
Christopher Helman
FORBES STAFF
Be scared, or be bold? At $39 a barrel, oil is priced well below marginal cost, and giant oil companies now show dividend yields of 7%. Hope you have some dry powder.
In the early stages of a commodities downturn, lower prices help spur overall economic growth. Cheap inputs make manufactured goods cheaper, profits fatter and consumer costs lower. Cheap oil encourages everyone to drive more. Thus, until recently, global stock markets shrugged off the commodities slump and leapt to new highs.
But that's obviously over now, with the Shanghai composite down more than 8% on Monday and 40% since June. The S&P 500 is off more than 4% in early trading Monday, after a 6% fall last week. NYMEX crude is at $38.45.
The reality is this: it's not just that the world has too much oil and iron ore. We have too much of many things, especially manufacturing capacity. And especially in China. All of a sudden Chinese economic growth is looking far weaker than expected. Instead of spurring growth, the glut of oil and other commodities has helped to reinforce deflationary pressures – and has now become a symptom of malaise. Beijing's recent devaluation of the renminbi was done in part to make Chinese manufacturers more competitive with their rivals in Japan, where the Yen has been falling for months.
Now it will be a race to the bottom. China's devaluation will have the effect of exporting deflation to the rest of the world, in the form of cheaper goods. Other emerging markets will devalue their own currencies or risk losing market share. "Make no mistake, this is the start of something big, something ugly," predicted Albert Edwards, the perma-bear strategist at Societe Generale in his August 12 note. "We expect the acceleration of emerging market devaluations to send waves of deflation to the west to overwhelm already struggling corporate profitability and take us back into outright recession. As investors realise yet another recession beckons, without a normalisation of either interest rates or fiscal imbalances in this cycle, expect a financial market rout every bit as large as 2008."
Oil Goes Down, Bankruptcies Go Up - These 5 Frackers Could Be Next To Fall
The strong dollar has already been importing deflationary pressures into America, where the rate of inflation has averaged just 0.2% the past 12 months. China's devaluation will only speed the process. Why is deflation bad? It slows economic activity and kills growth. As Paul De Grauwe, professor at the London School of Economics, has explained it.
The risks that deflation engenders are well known. First, by creating expectations that prices will be lower next year it gives consumers incentives to postpone purchases. As a result, aggregate demand declines putting further downward pressure on prices. Second, since private and public debts are fixed nominally, declining prices increase the real burden of the debt. Put differently, as prices decline government and private revenues decline while the service of the debt remains unchanged. This forces the private and public sectors to spend an increasing proportion of revenues to service the debt, forcing them to cut back their spending on goods and services. This in turn increases the intensity of the deflationary process. This is probably the most important negative effect of deflation.
This has bad implications for manufacturers, for global stock markets, and particularly for oil prices. China's oil demand still looks strong, for now. Demand was 10.15 million barrels per day in July, up 540,000 bpd year-over-year. According to Socgen's oil analyst Michael Wittner, China was supposed to comprise a quarter of the world's expected 1.2 million bpd growth in oil demand this year. China's softening economic conditions make this look increasingly unlikely.
Meanwhile, the oil glut is not abating. In the U.S. total stocks of petroleum products are at record highs. U.S. crude oil stocks are at 460 million barrels, which is 100 million barrels higher than a year ago. U.S. refinery maintenance season is just getting underway, which means stocks will continue to build."
"Seven World Trade Center, building 7 of the World Trade Center in New York City, was completed in 1987 at a height of 185 m (610 ft).
According to The New York Times and CBS News, one of the federal agencies listed below was incorrect, as it was actually used as a front for CIA operations.[1]
Fl# Companies:
47 —
46 Salomon Smith Barney
45 Salomon Smith Barney
44 Salomon Smith Barney
43 Salomon Smith Barney
42 Salomon Smith Barney
41 Salomon Smith Barney
40 Salomon Smith Barney
39 Salomon Smith Barney
38 Salomon Smith Barney
37 Salomon Smith Barney
36 Salomon Smith Barney
35 Salomon Smith Barney
34 Salomon Smith Barney
33 Salomon Smith Barney
32 Salomon Smith Barney
31 Salomon Smith Barney
30 Salomon Smith Barney
29 Salomon Smith Barney
28 Salomon Smith Barney
27 Salomon Smith Barney, Standard Chartered Bank
26 Salomon Smith Barney, Standard Chartered Bank
25 Internal Revenue Service, Department of Defense, Central Intelligence Agency
24 Salomon Smith Barney, Internal Revenue Service Regional Council
23 Salomon Smith Barney, New York City Office of Emergency Management
22 Salomon Smith Barney, Federal Home Loan Bank
21 Salomon Smith Barney, First State Management Group, Inc, ITT Hartford Insurance Group
20 Salomon Smith Barney, ITT Hartford Insurance Group
19 Salomon Smith Barney, ITT Hartford Insurance Group, NAIC Securities
18 Salomon Smith Barney, Equal Employment Opportunity Commission
17 —
16 —
15 —
14 —
13 Salomon Smith Barney, Provident Financial Management, American Express Bank International, Securities & Exchange Commission, Standard Chartered Bank
["You fucking Americans. Who are you to tell us, the rest of the world, that we're not going to deal with Iranians."]
12 Securities & Exchange Commission
[Vaporized evidence of Clinton hedge fund fraud]
11 Securities & Exchange Commission
[Vaporized evidence of Clinton hedge fund fraud]
10 U.S. Secret Service, Standard Chartered Bank
9 U.S. Secret Service
8 American Express Bank International
7 American Express Bank International, Provident Financial Management
6 Salomon Smith Barney
5 Salomon Smith Barney
4 Salomon Smith Barney
3 Salomon Smith Barney
2 Salomon Smith Barney
1 Salomon Smith Barney" G Salomon Smith Barney
"James Brien Comey, Jr. (born December 14, 1960) is the seventh and current Director of the Federal Bureau of Investigation.
He was the United States Deputy Attorney General, serving in President George W. Bush's administration. As Deputy Attorney General, Comey was the second-highest-ranking official in the United States Department of Justice (DOJ) and ran the day-to-day operations of the Department, serving in that office from December 2003 through August 2005. He was U.S. Attorney for the Southern District of New York prior to becoming Deputy Attorney General.
In December 2003, as Deputy Attorney General, Comey appointed the U.S. Attorney in Chicago, close friend and former colleague Patrick Fitzgerald, as Special Counsel to head the CIA leak grand jury investigation after Attorney General John Ashcroft recused himself. In August 2005, Comey left the DOJ and he became General Counsel and Senior Vice President of Lockheed Martin. In 2010, he became General Counsel at Bridgewater Associates. In early 2013, he left Bridgewater to become Senior Research Scholar and Hertog Fellow on National Security Law at Columbia Law School. He also joined the London-based board of directors of HSBC Holdings."
"SEC & EEOC: Attack Delays Investigations
By Margaret Cronin Fisk
National Law Journal
September 17, 2001
Additional details emerged Friday about the effect of the collapse of 7 World Trade Center on investigations being conducted by the New York offices of the Securities and Exchange Commission and the Equal Employment Opportunity Commission, both of which were housed in the building.
The SEC has not quantified the number of active cases in which substantial files were destroyed. Reuters news service and the Los Angeles Times published reports estimating them at 3,000 to 4,000. They include the agency's major inquiry into the manner in which investment banks divvied up hot shares of initial public offerings during the high-tech boom.
The EEOC said documents from about 45 active cases were missing and could not be easily retrieved from any backup system. One of these cases was a sexual harassment charge filed on Sept. 10 against Morgan Stanley, one of the prime corporate victims of the World Trade Center disaster.
A statement from the commission said that "we are confident that we will not lose any significant investigation or case as a result of the loss of our building in New York. No one whom we have sued or whose conduct we have been investigating should doubt our resolve to continue our pursuit of justice in every such matters."
But the short-term problems will be immense, said Gregory Joseph of New York's Law Offices of Gregory Joseph.
"Court papers can largely be reconstituted, but work product has to be reconstructed," he said. "This will cause delays in court and will require significant reduplication of effort." Some data, he added, "won't be recreatable."
"Ongoing investigations at the New York SEC will be dramatically affected because so much of their work is paper-intensive," said Max Berger of New York's Bernstein Litowitz Berger & Grossmann. "This is a disaster for these cases."
"The SEC will have some difficulty, but the bounce-back will come relatively easily," predicts Harvey Goldschmid, Dwight professor of law at Columbia University and former general counsel of the SEC. "It will throw things off for a period of time, but most of what's important can be regained. They will have to reconstruct these documents. But most of this was backed up or in Washington. They've lost some transcripts but even they're available."
EEOC Records Destroyed
The EEOC's New York office, which was housed in 7 World Trade Center, sustained no loss of life. But all the agency's records were destroyed.
Many of the files are backed up in the computer system, but a substantial number of documents are simply gone, said Spencer Lewis, the EEOC district director. Depositions and notes were not scanned into computers and are lost. With depositions and interviews, the agency will be contacting court reporters "and hoping that they've got them so we can reconstruct files," Lewis said. This covers about 45 active cases, including a recent action against Morgan Stanley.
But employment litigators believe the effect here, too, will be transitory.
"The EEOC is decimated as far as office space goes," but any problems are "only short-term," said Michael Weber of the New York office of Littler Mendelson. "They will get back to business." The agencies will be seeking documents from the private law firms and defendants, Weber notes. "My sense is that we will cooperate," he noted. "Our goal is not to take advantage of this catastrophe."
"A lot of their records they'll have online, so they'll just reprint them out," adds Harkins. "The EEOC is in a better position than the SEC, because the SEC has a lot more confidential files."
Yours sincerely,
Field McConnell, United States Naval Academy, 1971; Forensic Economist; 30 year airline and 22 year military pilot; 23,000 hours of safety; Tel: 715 307 8222
David Hawkins Tel: 604 542-0891 Forensic Economist; former leader of oil-well blow-out teams; now sponsors Grand Juries in CSI Crime and Safety Investigation