by
United States Marine Field McConnell
Plum

City Online - (

AbelDanger.net

)
January 12, 2016
1.
Abel Danger
(
AD
) asserts that
HSBC
has offered a resilient money-laundering service to drug lords since 1865 and set up the
Serco
(formerly RCA GB 1929) MBO in 1987 to launder money through insurance frauds with news injects and media plays.
2.
AD
asserts that
Serco
has been using the Defense
Red
Switch Network to bypass the National Command Authority and allow Joaquin "El Chapo" Guzman and other drug lords to run their operations through illegally-modified Boeing aircraft such as the highly-customized 757 flying as Trump Force One.
3.
AD
asserts that
HSBC
used
Serco
extortionists and DLA Piper law firm to force the Boeing headquarters' move to Chicago and set up Boeing's resilient supply chains as a decoy for global drug trades operated
inter alia
by the Chicago Outfit.
United States Marine Field McConnell (
http://www.abeldanger.net/2010/01/field-mcconnell-bio.html
) offers to show Americans how to win a Resilience drug war.
It is now Earth Death Day + 41.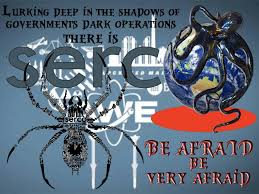 Drug Cartel Hitmen Training with Machineguns in Sinaloa (2014)
Bruce Springsteen - Atlantic City - YouTube

Serco

... Would you like to know more?
"Did The CIA Recruit Actor Sean Penn? Posted on January 11, 2016 by Sean Adl-Tabatabai in Entertainment // 0 Comments Twitter was set ablaze this week as rumours emerged that Hollywood actor Sean Penn might be a CIA spy.
The actor met with one of the world's most wanted drug lords, El Chapo, in the jungle shortly before he was apprehended by the Mexican military.
Dailymail.co.uk reports:
Supposedly the entire 'clandestine horror show' – as Penn put it – was part of a research project to develop a Netflix-style drama [

Serco

media play] about Guzmán and his prison break.
Though Penn insists he went to extreme lengths to hide the meeting from authorities, the details have sparked widespread speculation that he was in fact tapped by the CIA to locate the fugitive criminal – just as screenwriters were enlisted to make Argo to free US hostages in Iran in 1979."
"Secret Report: Mexican Drug Kingpin El Chapo Guzmán Used 747 Jets, Submarines, To Flood U.S. With Drugs Dolia Estevez CONTRIBUTOR I cover Mexico's billionaires, politics and U.S.-Mexico relations FOLLOW ON FORBES Opinions expressed by Forbes Contributors are their own.
Mexican drug lord Joaquín El Chapo Guzmán used his personal fleet of Boeing 747 jets, speedboats, amphibious vessels submarines, tractor trailers and freight trains to ship tons of illegal drugs from South America to Mexico and then to major U.S. cities, a secret testimony filed in U.S. District Court in Chicago early this month reveals.
The previously sealed statement by Chicago drug-dealing twin brothers Margarito and Pedro Flores gives the first inside look into El Chapo's extraordinary logistical capabilities and lucrative, well-organized network that adhered to strict operational rules set by Guzmán.
Before he was hunted down by a joint U.S-Mexico law enforcement operation in his home state of Sinaloa in February, Guzmán had successfully avoided being caught for 13 years by paying bribes and having a broad network of corrupt law enforcement officials on his payroll. Guzmán ran the Sinaloa Cartel, a multibillion-dollar criminal organization, which despite his incarceration continues to be the number one supplier of illegal drugs in the U.S.
According to the 20-page partially-redacted testimony by the brothers, key witnesses in the $1 billion drug conspiracy to bring narcotics to Chicago and other cities, Guzmán had "multiple 747 aircrafts" with all the seats removed that he used to transport cocaine from Central and South America to Mexico disguised as humanitarian aid.
"Chapo would arrange to have shipment of clothing sent to Central America as part of a humanitarian aid project. Once the planes landed in Central America, the clothing was offloaded and up to 13 tons of cocaine was loaded onto the plane for the return to Mexico," the document says."
"Sentencing today for twins who flipped on 'El Chapo' Jason MeisnerContact Reporter Chicago Tribune Two Chicago brothers whose dangerous undercover work helped bring down El Chapo to be sentenced For a couple of drug dealers from Chicago's West Side, twin brothers Pedro and Margarito Flores had hit the big time by November 2008, negotiating a heroin deal over the phone in Mexico with none other than Joaquin "El Chapo" Guzman, the notorious Sinaloa cartel boss who at the time was the most wanted man in the world.
Pedro did the talking, convincing Guzman to drop the price on a freshly delivered shipment of heroin and also arranging a new deal that would bring about 40 kilograms a month of the cartel's narcotics into the Chicago area, court records show. Half an hour later, Flores' cellphone rang again. El Chapo handed his phone to an underling who gave instructions on how and where to make the $1 million cash payment.
What Guzman couldn't have fathomed was that U.S. federal agents were listening in on the calls that night. The heroin had been picked up in Chicago by an undercover officer posing as a courier. The Flores brothers had flipped.
Six years after they became arguably the most important informants in the U.S. government's decades long war on drugs, Pedro and Margarito Flores will make their first court appearance Tuesday for their sentencing at the federal courthouse in Chicago amid heightened security.
Prosecutors plan to ask U.S. District Chief Judge Ruben Castillo for as little as 10 years behind bars for the twins, who pleaded guilty to drug conspiracy in 2012 and have been in the witness protection program. It's an extraordinary break from what almost certainly would have been a life sentence given the staggering amount of drugs and money the Flores brothers helped smuggle — at least 71 tons of cocaine and heroin and nearly $2 billion in cash, according to one government estimate.
Prosecutors said in court papers the light sentence was earned because of the danger the twins put themselves in through undercover work that eventually led to indictments against Guzman, his top Sinaloa cartel leaders, and dozens of other drug wholesalers and middlemen from Chicago to Mexico.
Sentencing day for Chicago twins who turned on Mexican cartel.
Born and raised in Chicago's Little Village neighborhood, the 34-year-old twins have been held in secret locations for more than six years. Their immediate family members were given new identities and set up with $300,000 to pay for living expenses for the foreseeable future. Even when they are released from custody, the brothers' lives will never be the same, prosecutors said.
"As two of the most well-known cooperating witnesses in the country, the Flores brothers (and their families) will live the rest of their lives in danger of being killed in retribution," prosecutors wrote. "The barbarism of the cartels is legend, with a special place reserved for those who cooperate."
The concerns over possible attempts at retribution extend to the brothers' Chicago attorney, whose identity has been kept secret for safety reasons in an extraordinary step. It's unclear whether the attorney will even be in court Tuesday for the sentencing. Extra metal detectors and bomb-sniffing dogs are expected to add another layer of security at the Dirksen U.S. Courthouse.
Prosecutors: Brothers' cooperation against cartels led to their dad's death
The Flores brothers' cooperation has already had real repercussions. Shortly after word got out that the brothers were in DEA custody, their father, Margarito Flores Sr., returned to Mexico against his sons' wishes and despite stern warnings from their government handlers, according to prosecutors.
Within days, the father was kidnapped and presumed to be murdered, the filing said. A note found at the scene of the kidnapping said his sons were next.
Some of the brothers' double-dealing was the stuff of movies. The Flores brothers met with cartel leaders in mountaintop compounds, captured conversations with Guzman's lieutenants with a voice recorder hidden in a coat pocket and even helped prosecutors by cutting deals with a rival faction of the cartel that would have meant certain death if discovered by either side, court records show.
"It was incredibly daring," said Joseph Lopez, a Chicago attorney who has represented many cartel clients. "These guys were allegedly able to get Chapo on tape talking about heroin. He trusted them that much."
The Flores brothers' sentencing marks the end of one of the more remarkable stories of Chicago's cut-throat drug underworld, where in a few short years the twins rose through the ranks of the Latin Kings street gang to eventually run a drug distribution ring that shipped thousands of pounds of narcotics to wholesale customers in New York, Washington, Cincinnati and other cities.
By the time they flipped in 2008 and agreed to dismantle their operation, the twins had reached "the highest echelons of the cartel world," prosecutors said.
They built their mini-empire using a system of couriers and henchmen whom they trusted to drive loads in vehicles outfitted with secret compartments and hydraulic trap doors, court records show. The drugs were often picked up in broad daylight, in supermarket parking lots and outside of South Loop dollar stores, and kept in innocuous-looking stash houses from Chicago to Aurora. Through it all, the Floreses kept a low profile. Their associates mostly had clean records, and they were not known for the rampant violence that many associate with street-level dealing.
Their main supplier was Guzman, whose vast operations included a fleet of 747 jets that had all the seats removed, the brothers said in sworn statements to a federal grand jury.
According to their statements, Guzman would load the planes with clothes and other goods and fly bogus "humanitarian" missions to South America. On the return trip to Mexico City, the brothers said, the planes would be packed with as much as 12,000 kilograms — about 14 tons — of cocaine that was unloaded and driven out of the airport with the help of corrupt officials.
The brothers said Guzman's various lieutenants helped the cartel coordinate shipments of cocaine from Colombia to Mexico using submarines, speedboats and amphibious vessels to avoid law enforcement at sea.
In 2007, the brothers agreed to invest $600,000 with Alfredo Vasquez-Hernandez, Guzman's boyhood friend, to open a furniture exporting company that would act as a front to ship cocaine by rail, with loads hidden behind false walls in the boxcars, according to the statements. Vasquez-Hernandez, a trusted lieutenant of El Chapo and one of the main contacts between the cartel and the Flores twins, pleaded guilty to drug conspiracy and was sentenced in November to 22 years in prison.
In all, the Flores twins pleaded guilty to distributing more than 64,500 kilograms of cocaine, an "almost incomprehensible quantity ... with resulting harm that is incalculable but without question horrific," prosecutors said. Their testimony led to sweeping indictments in 2009 against 54 defendants, including Guzman, who remained a fugitive until his sensational arrest in Mexico last February. It's unclear whether he'll ever be extradited to face charges in the U.S., where he is also under indictment in New York and Texas.
The Floreses' cooperation also led to the flipping of another key witness, Sinaloa underboss Vincente Zambada-Niebla, who in 2013 secretly pleaded guilty to acting as the key coordinator of a billion-dollar cocaine and heroin operation on behalf of a faction of the cartel run by his father, Ismael "El Mayo" Zambada. Zambada-Niebla is awaiting sentencing. At the same time they were cooperating against the cartel, the Flores twins also assisted in the dismantling of their organization in 2009, creating a highly unusual situation where the bosses were cooperating against underlings. The arrests occurred after the Floreses were flown back to the U.S. by the Drug Enforcement Administration and instructed to set up a series of phony transactions to catch the couriers in the act.
"They set up their own customers," Lopez said.
As those cases moved forward, many defense attorneys questioned why the government allowed the twins to continue to import massive amounts of narcotics into the U.S. while their cooperation was ongoing.
At least one shipment — a 276-kilogram load of cocaine that was part of a deal with Vasquez-Hernandez — made it to Chicago and was distributed on the streets without the knowledge of federal investigators. The brothers later told prosecutors they needed the proceeds from the sale to avoid falling behind on payments to the cartel, which would have made their continued cooperation impossible, court records show.
There were also questions of whether the feds were willing to look the other way on alleged violence committed by the Flores brothers, including two killings.
One involved the cartel-related slaying of Guadalupe Ledesma in Mexico. A cooperating witness had told investigators the Flores brothers were "directly responsible" for the killing, prosecutors said. That information was never verified, however, and several others were eventually convicted of murder in Mexico without implicating the brothers.
Meanwhile, there were accusations that the Flores twins were still accumulating wealth while they were cooperating. In court papers, prosecutors acknowledged that some of their flamboyant purchases were "wholly inappropriate" for informants living in protective custody, including a Bentley that was given to Pedro Flores' wife as a gift. There were rumors the brothers had buried millions of dollars in drug proceeds in backyards in Chicago and other locations.
In all, the government seized more than $4 million in drug proceeds from the Flores twins, and prosecutors wrote in a court filing that after an exhaustive investigation they do "not believe that the Flores brothers are hiding assets." jmeisner@tribpub.com Twitter @jmertr22b Copyright © 2016, Chicago Tribune"
"

HSBC

has form: remember Mexico and laundered drug money Sunday 15 February 2015 07.02 GMT Ed Vulliamy The discourse this weekend over

HSBC

is whether the bank and those its Swiss subsidiary aided to evade tax should be prosecuted, like any other citizen. Or whether there should be a repeat of what happened last time

HSBC

was in major trouble: the bank paid a fine equivalent to a pittance in its turnover; executives not only got off but were promoted to higher service; and the PR guff promised that all was now aright.
It is worth recalling exactly what

HSBC

was found to be – and admitted – doing on that last occasion, in 2012: laundering hundreds of millions of dollars for the world's biggest crime syndicate, the Sinaloa narco cartel of recently arrested "Chapo" Guzman.
Mexico's narco nightmare now counts 100,000 dead and some 20,000 missing; there is no overstating the misery of its export – hard drugs – around the world. Yet only one stepping stone connects

HSBC

to this carnage and misery: the bank acted as the cartel's financial services wing.
Much of the money swilling into

HSBC

from the cartel came through an apparently small exchange house, Casa de Cambio Puebla. The bank would later protest that it knew not whence the money came, but Puebla had been under investigation by Mexican and US Federal authorities for two years when

HSBC

was caught, for handling a staggering $376bn of suspect money for an American bank, Wachovia. Wachovia was punished with a "deferred prosecution" – a

yellow

card; none of its employees was arrested.


HSBC

carried on, however, through the same exchange house and other channels: a bank it had bought in Mexico, another in California and, it emerged, even through its own branches. When

HSBC

was caught out, the head of the US Justice Department's criminal division, Lanny Breuer, said that cartel operatives would arrive at the bank's branches and "deposit hundreds of thousands of dollars in cash, in a single day, into a single account, using boxes designed to fit the precise dimensions of the teller windows".

HSBC

asked no questions.
It was Breuer's task to weigh up the case on the basis of a Senate report into

HSBC

's shifting of Sinaloa money. It ended up at the Justice Department, where Breuer concluded that

HSBC

had been guilty of "stunning failures of oversight – and worse, that led the bank to permit narcotics traffickers and others to launder hundreds of millions of dollars through

HSBC

subsidiaries and to facilitate hundreds of millions more in transactions with sanctioned countries", including money banked for terrorist organisations in the Middle East.
The bank was fined more than Wachovia, a record $1.9bn. But this was less than five weeks' income for

HSBC

's American subsidiary. Breuer deemed that

HSBC

should not be prosecuted in the way that a back-street dope-dealer would be; there would be a five-year "deferred prosecution".
The bank announced that it would "partially defer bonus compensation for its most senior officials during the five-year period of the deferred prosecution agreement" – ergo they'd be renumerated with slightly less than usual. Ouch! But what

HSBC

did was not indictable.
And not just that: Paul Thurston, the man in charge of

HSBC

Mexico for some of the relevant period, was promoted to become head of global retail on a multi-million dollar salary. Stephen Green, the chief executive of the bank throughout its service to Chapo Guzman's cartel, was appointed to the British government.
Green's replacement as CEO, Stuart Gulliver, did what behemoth corporations always do in these situations: make a hollow statement to apologise for "past mistakes". He said: "We accept responsibility for our past mistakes. We have said we are profoundly sorry for them." He insisted

HSBC

was "a fundamentally different organisation" now. The bank said similar last week.
The reaction in Britain's financial media was astonishing: to side with the bank against treacherous Mexicans manipulating its good name: "Mexico," reported the Financial Times, "had become a compliance nightmare for

HSBC

." The New York Times not only got the idea, but articulated it clearly: "Federal and state authorities have chosen not to indict

HSBC

, the London-based bank, on charges of vast and prolonged money laundering, for fear that criminal prosecution would topple the bank and, in the process, endanger the financial system."
Referring to the Wachovia case, Robert Mazur, the US federal agent who infiltrated the BCCI bank, which was prosecuted for laundering money for Colombian drug lord Pablo Escobar, said something similar: "There were external circumstances that worked to Wachovia's benefit, not least that the US banking system was on the edge of collapse." Nevertheless, Mazur added cogently to this weekend's deliberations: "The only thing that will get the message to the banks and start to solve the problem is the rattle of handcuffs in the boardroom."


HSBC

's handling of Chapo Guzman's blood money had no impact on the bank: the last letters you see on the ramp boarding a plane from London to Mexico City are

HSBC

, and they are the first on the arrivals ramp when you get there, near a hangar recently revealed to belong to the Sinaloa cartel. Now, for the bank to get off with a wag of the finger for its disdain for those of us who pay our taxes would be a scandalous affirmation that we no longer understand any difference between crime and legality."
Deloitte LLP
2 New Street Square
London
EC4A 3BZ

Principal bankers

HSBC Bank PLC
8 Canada Square
London
E14 5HQ

T: +44 (0)20 7991 8888
www.hsbc.co.uk
(Please note: this link will open the page in a new browser window.)

Investment bankers

UBS Limited
1 Finsbury Avenue
London
EC2M 2PP"

T: +44 (0)20 7567 8000
www.ubs.com (Please note: this link will open the page in a new browser window.)

"Digital Fires Instructor

Serco

- Camp Pendleton, CA Posted 377 days ago Uses information derived from all military disciplines (e.g., aviation, ground combat, command and control, combat service support, intelligence, and opposing forces) to determine changes in enemy capabilities, vulnerabilities, and probable courses of action."
"The Telgraph .. Police drop investigation into

Serco

prisoner transport contract The outsourcing group said there was no evidence of individual or corporate wrongdoing
The City of London Police has closed an investigation into

Serco

's prisoner transport contract after more than a year of work, enabling the firm to continue with the contract until 2018.
The Ministry of Justice called in the police in August 2013 to examine whether

Serco

had misleadingly recorded prisoners as being ready for court when they were not, in order to meet the performance criteria of the contract.
However,

Serco

said on Friday that the probe into the Prisoner Escort and Custody Services (PECS) contract had been closed after the police found no evidence to support bringing charges against the outsourcing firm or its staff.
"The information obtained was also sufficient for the City of London Police to conclude there was no evidence of any corporate-wide conspiracy or an intention to falsify figures to meet the DRACT [designated ready and available for court time] contract requirement by senior

Serco

management or at the board level of the company," the firm said in a statement. The Ministry of Justice had said it would end the contract immediately if the firm's board was found to have done wrong." "Salvatore "Salvie" Testa (1956 - September 14, 1984), nicknamed The Crowned Prince of the Philadelphia Mob, was a Philadelphia gangster who served as a hitman for the Philadelphia crime family during a period of internal gang conflict. The son of former Philadelphia boss Philip, Testa was a rising star in the mob until he was killed on orders from Nicky Scarfo Sr. .. In March 1981, when Testa was twenty-five years old, his father Phil was killed by a nail bomb consisting of six sticks of TNT that was remotely detonated as he unlocked the front door of his house. The explosion was so powerful that it blew Testa's father through the front door of his home. After the murder of his father, Testa became a protege of Nicky Scarfo and was thought of as a son to Scarfo and a brother to Phil Leonetti. Testa "inherited" most of his father's business, including a loan-sharking operation in South Philadelphia. He also developed a lucrative financial arrangement with several local drug dealers including the Black Mafia that supplied parts of North Philadelphia and West Philadelphia. Testa maintained a residence at the shore near Atlantic City and kept a boat in Ventnor, New Jersey. His legitimate and illegitimate businesses made him a millionaire. Testa's father had left him an estate worth $800,000 that included a run-down bar in Ducktown, Atlantic City on a site where casino developer Donald Trump decided to build the Trump Plaza (Atlantic City) in 1984 at 2500 Boardwalk. Trump paid Testa $1.1 million -- "twice the market value"[1] -- for the right to tear the bar down."
"East End Godfather's links with the Mob; THE MAFIA. At his trial Charlie Kray tried to con the jury into believing he was a harmless old man who was just a small-time crook.

But Kray had forged links with several of America's most feared Mafia families.

Four years ago he wrote a book explaining how he and his brothers had played a major part in setting up links with some of America's most powerful underworld chiefs.

In Doing The Business he tells how they first met Angelo Bruno, head of the Philadelphia Mafia, at the Hilton Hotel in Park Lane, London.

The two organisations struck a fifty-fifty deal to launder stolen bearer bonds worth $2 million. Later Charlie became friendly with Frank Sinatra's mafia-linked bodyguard Eddie Pucci.

They became so close that when Sinatra's son Frank junior was released after being kidnapped, Pucci brought him to London to be looked after by Charlie.

The Krays opened a another line of contact with the Mafia after meeting Tony 'Ducks' Corello of the New York Lucchese clan. Charlie later travelled to New York to meet members of the Colombo crime family. COPYRIGHT 1997 MGN LTD No portion of this article can be reproduced without the express written permission from the copyright holder. Copyright 1997 Gale, Cengage Learning. All rights reserved." "How Close Was Donald Trump To The Mob?
If Donald Trump wants to be a serious candidate for president, we deserve to know more about his business with mass murderers whose plunder of public and private funds added up to billions.
By David Marcus
JULY 28, 2015
Donald Trump is running for president. Many believed or hoped that the Donald's latest foray into national politics was nothing more than a public-relations move, not a serious attempt to reside at 1600 Pennsylvania Avenue.

But now that Trump holds the lead in national polls, as well as polls in Iowa and New Hampshire, it's time to take his campaign seriously. Media outlets like Huffington Post and the Wall Street Journal, which are covering Trump's run as an entertainment story, not a news story, are making a mistake. If Trump wants to be a serious candidate for president, and has the numbers to back it up, he must be vetted like a serious candidate for president. A good place to start is to take a hard look at Trump's ties to Philadelphia and New York organized-crime families.

Donald Trump's Connections to Organized Crime

Trump was building his eponymous empire of hotels, casinos, and high rises in the early 1980s in New York City and Atlantic City. In both places, the construction industry was firmly under the thumb of the mafia. And in both places there are literally concrete connections between La Cosa Nostra and Trump's lavish projects. Pulitzer Prize-winning journalist David Cay Johnston, who has covered Trump for decades, has written a very useful list of questions for Trump. Many focus on his ties to the mob. In addition in his 1992 book, "Trump, The Deals and the Downfall," author Wayne Barrett lays out a slew of suspicious dealings and associations.

The Atlantic City story starts with Trump's purchase of a bar, at twice its market value, from Salvatore Testa, a made man in the Philadelphia mafia and son of Philip "Chicken Man" Testa, who was briefly head of the Philly mob after Angelo Bruno's 1980 killing. Harrah's casino, half owned by Trump, would be built on that land, and Trump would quickly buy out his partner, Harrah's Entertainment, and rename the casino Trump Plaza.

Author Wayne Barrett lays out a slew of suspicious dealings and associations.

Trump Plaza's connection to the mob didn't end with the land purchase from Testa. Nicademo "Little Nicky" Scarfo (who became boss after the elder Testa was blown up) and his nephew Phillip "crazy Phil" Leonetti controlled two of the major construction and concrete companies in Atlantic City. Both companies, Scarf, Inc. and Nat Nat, did work on the construction of Harrah's, according the State of New Jersey Commission of Investigation's 1986 report on organized crime. In addition, Scarfo, whose reign as head of the Philly mob was one of the bloodiest in history, controlled the bartenders union, which represented Trump's workers in Atlantic City, according to George Anastasia's book, "Blood and Honor."

One more link to organized crime lurks in Trump's past Atlantic City dealings. He had a close association with Kenny Shapiro, an investment banker for Scarfo. According to secret recordings of then Scarfo attorney Robert F. Simone, Shapiro was intimately involved with bribing Atlantic City Mayor Michael J. Matthews, whose term would end in 1984 with a conviction on extortion charges. On the tapes, in 1983, Simone, talking about Leonetti, states: "He's a nice-looking boy…Nicky's nephew, he can sit with the…mayor. Ah, and Kenny's (Shapiro) got the mayor through this kid Phillip."

The Connections Don't End in Atlantic City

Trump's association and business dealings with known mafia figures was not limited to his Atlantic City projects. In New York City, several of his buildings were built by S&A Concrete Co., a concern partly owned by Anthony "Fat Tony" Salerno, the boss of the Genovese crime family. In addition to this business relationship, Trump and Salerno were both represented by high-power attorney Roy Cohn. In his book, Barrett cites an anonymous source who confirms that on at least one occasion Trump and Salerno had a sit-down in Cohn's apartment. Trump has denied this claim in the past.

How can the candidate who promises to secure the border and bring good jobs back to America explain having farmed out good-paying jobs to a bunch of illegal immigrants?

Is it reasonable to assume that Trump had no idea that S&A was run by Salerno's Genovese borgata when Trump's own attorney was so closely linked to that organization? After all, if Trump (who likes to point out that he has "one of the highest IQs") is as smart as he would have everyone believe, how could he have been so naive?

Another issue that needs to be addressed in Trump's New York operations is the use of undocumented Polish workers to demolish the Bonwit Teller building, which made way for the Trump Tower. Only a handful of union workers from Housewreckers Local 95 were employed on the site, the vast majority were illegal Polish alien workers, toiling under inhumane conditions, and wildly underpaid. Trump and his associates were found guilty in 1991 of conspiring to avoid paying pension and welfare fund contributions.

Two questions arise from this. First, how did Trump get away with using such obvious scab labor without raising the ire of local 95? More importantly, how can the candidate who promises to secure the border and bring good jobs back to America explain having farmed out good-paying jobs, legally entitled to American workers, instead to a bunch of illegal immigrants? When the rubber hit the road Donald Trump didn't walk the walk, he lined his pockets and sold out American workers.

Is it possible that Trump was simply involved in an industry which in the early 1980s was so infiltrated by the mafia that he couldn't help but have tangential ties? Could this myriad of associations, points of contact, and shared affiliations with known mobsters just be the price of doing business in that business at that time? Sure. And if Trump were just a private citizen, businessman, and reality TV star, he would be under no obligation to explain any of this. But he isn't. He is the frontrunner for the Republican nomination for president of the United States.

"

Serco

's Enterprise Architecture Center of Excellence is based in Colorado Springs, CO. The team provides a variety of services in support of Boeing's business units as well as research and development efforts.

Serco

's architecture employs object-oriented (OO)/Unified Modeling Language (UML) to define, design and satisfy defense agencies' mission-critical requirements, including Command, Control, Communications, Computers and Intelligence (C4I). This approach improves system developer's understanding of operational requirements and how best to integrate enterprise operations and systems for the optimal fulfillment of C4I and other operational needs."

"Super

Serco

bulldozes ahead
By DAILY MAIL REPORTER
UPDATED: 23:00 GMT, 1 September 2004


SERCO

has come a long way since the 1960s when it ran

[Resilience exercises and]

the 'four-minute warning' system to alert the nation to a ballistic missile attack.

Today its £10.3bn order book is bigger than many countries' defence budgets. It is bidding for a further £8bn worth of contracts and sees £16bn of 'opportunities'.

Profit growth is less ballistic. The first-half pre-tax surplus rose 4% to £28.1m, net profits just 1% to £18m. Stripping out goodwill, the rise was 17%, with dividends up 12.5% to 0.81p.



Serco

runs the Docklands Light Railway, five UK prisons, airport radar and forest bulldozers in Florida.

Chairman Kevin Beeston said: 'We have virtually no debt and more than 600 contracts.'

The shares, 672p four years ago, rose 8 1/4p to 207 1/4p, valuing

Serco

at £880m or nearly 17 times earnings.

Michael Morris, at broker Arbuthnot, says they are 'a play on UK government spend' which is rising fast."

"The Washington Post Highlights How Trump Injected Right-Wing Fringe News Into Mainstream Coverage
Blog ››› December 11, 2015 9:51 PM EST ››› DAYANITA RAMESH

Once a small fringe, this "alternative" information ecosystem now includes websites, talk-radio programs, newsletters, conferences and "citizen journalists" who promote, debate and inflate such questionable causes as vaccine denial, climate-change skepticism , and the supposedly imminent imposition of sharia law in America. The fringe nowadays often injects its ideas into the mainstream by gaining the attention of sources broadly popular among conservatives, such as Fox News and the Drudge Report, which devoted attention to rumors that the Operation Jade Helm military exercises last summer in the southwest U.S. were a prelude to a crackdown on civil liberties.

"There's an information-age tsunami out there that just keeps getting bigger and bigger," said Steve Smith, a veteran newspaper editor who now teaches journalism at the University of Idaho. "When you combine this digital tsunami with the loss of quality and quantity in American journalism [due to cutbacks and economic woes] over the years . . . journalists just don't have the ability to keep up once a false narrative gains speed."

At the same time, Trump has been the most aggressive in the Republican field in denouncing the mainstream media, the erstwhile arbiter of fact. Many of his condemnations of mainstream reporters have been echoed by Trump's army of Twitter followers and supportive websites, such as the conservative Breitbart.com.

Trump, in turn, cites his Twitter followers as the source for some of his own non-facts, such as his recent claim that African Americans killed 81 percent of white homicide victims (the actual number is closer to 15 percent, according to Factcheck.org). He defended his position of not allowing Muslims to enter the United States by citing a poll conducted by Center for Security Policy, a think tank known for a variety of conspiracy theories, such as that members of the Muslim Brotherhood have infiltrated the Obama administration. The result is a kind of self-reinforcing information loop in which Trump introduces some inaccurate statement, is called on it by the news media, which is then denounced by Trump for its supposed bias against him.

Trump's most famously false contention, of course, was his long, pre-campaign embrace of "birtherism," the notion that President Obama wasn't born on American soil and is therefore ineligible to be president. Despite ample evidence to the contrary, including a birth certificate issued in Hawaii and a contemporaneous newspaper birth announcement, birther sites -- from Birthers.org to Obamabirthbook.com -- are strewn across the Internet, actively promoting a debunked thesis."

"CASE STUDY
24th Air Force Cyber Operations Support
The 24th Air Force (24 AF) is the operational warfighting organization that establishes, operates, maintains and defends Air Force networks and conducts full-spectrum operations in cyberspace. It establishes, operates and defends Air Force networks to ensure warfighters can maintain the information advantage as they fulfill military operations. The unit is responsible to conduct a full range of cyber operations.

The new 24 AF Headquarters (HQ) facility in San Antonio was outfitted to provide the infrastructure and technological resources needed to continue operating this important mission.

Serco

developed a comprehensive IT solution guided by three points:

* Develop a holistic solution to integrate and standardize the IT architecture across multiple networks and functions.
* Utilize the latest technology in virtualization and remote desktops to reduce clutter, maintenance requirements and power/cooling requirements.
* Ensure the technology provides the performance and mobility needed to perform the 24 AF mission and facilitate reliable collaboration among mission critical planning cells and throughout the wider enterprise.
Serco

designed and implemented server-based computing systems that utilize Virtual Desktop Infrastructure (VDI) to deliver a major advancement in remote desktop performance over what had previously been possible with standard thin client systems. The architecture consists of zero client devices at the desktop that employ Personal Computer over Internet Protocol (PCoIP), which is capable of delivering high volume data or real time audio and video without jitter or delay. Zero client refers to ultrathin clients that deliver services with no software and minimal hardware requirements.

The zero clients connect to virtual desktops on a server for excellent performance meeting 99% of the 24 AF mission needs. For the remaining 1%, those users needing graphics-intensive computing, the same zero client can also connect to a blade-based graphics workstation via login options derived from user credentials and permissions.



Serco

also integrated voice, video teleconferencing capabilities and situational awareness displays, along with the VDI, into the facility's network distribution system across multiple networks. The result is an integrated IP-based total capability that is centrally managed and consistent across all platforms.

Serco

also implemented Defense

Red

Switch Network (DRSN), completed a structured fiber optic and Category 6 cabling system, and participated in the construction design working group to ensure supporting systems (e.g. Power and HVAC) were able to support the 24 AF's IT needs.

As a result of

Serco

's support, 24th Air Force enjoys a true state-of-the-art environment that has delivers the high level of performance and security requires to continue fulfilling the important missions protecting the nation's security."

"

Serco

Combined Resilience Exercising
http://www.epcollege.com/EPC/media/MediaLibrary/Downloads/Gold-Standard.pdf

Types of Exercise Workshop Exercises These are structured discussion events where participants can explore issues in a less pressurized environment.

They are an ideal way of developing solutions, procedures and plans rather than the focus being on decision making. Table Top Exercises These involve a realistic scenario and will follow a time line, either in real-time or with time jumps to concentrate on the more important areas. The participants would be expected to be familiar with the plans and procedures that are being used although the exercise tempo and complexity can be adjusted to suit the current state of training and readiness. Simulation and media play can be used to support the exercise. Table-top exercises help develop teamwork and allow participants to gain a better understanding of their roles and that of other agencies and organisations.

Command/Control Post Exercises These are designed primarily to exercise the senior leadership and support staff in collective planning and decision making within a strategic grouping. Ideally such exercises would be run from the real command and control locations and using their communications and information systems. This could include a mix of locations and varying levels of technical simulation support. The Gold Standard system is flexible to allow the tempo and intensity to be adjusted to ensure maximum training benefit, or to fully test and evaluate the most important aspects of a plan. Such exercises also test information flow, communications, equipment, procedures, decision making and coordination.

Simulation and Media Support The method of delivering an exercise is flexible and will be designed with the client to meet their requirements with options ranging from simple paper-based delivery through to full use of their real communications systems [

Red

Switch Network and Hawkeye onion router surveillance aircraft] and advance computer simulation

[In Trump's death pool and war room suites]

. In addition, media play can also be added in the form of news injects and the provision of experienced journalists and television crews to help test procedures and also assist in training key staff.

Gold Standard Emergency Planning College
The Hawkhills, Easingwold, York North Yorkshire, YO61 3EG +44(0) 1347 821406
enquiries@emergencyplanningcollege.com www.epcollege.com"

"

Serco

farewell to NPL after 19 years of innovation

[outsourced by David Cameron at Treasury]

… 8 January 2015

Serco

said goodbye to the National Physical Laboratory (NPL) at the end of December 2014 after 19 years of extraordinary innovation and science that has seen the establishment build a world-leading reputation and deliver billions of pounds of benefit for the UK economy. It has been estimated that work carried out by the Centre of Carbon Measurement at NPL will save eight million tonnes of carbon emissions reductions (2% of UK footprint) and over half a billion pounds in economic benefit [bullshit] over the next decade. .. · NPL's caesium fountain atomic clock is accurate to 1 second in 158 million years and NPL is playing a key role in introducing rigour to high frequency

[Hawkeye death-pool]

trading in the City through NPLTime."
"[

HSBC

and

Serco

's] 8(a) Business Development Program[edit] The 8(a) Business Development Program [controlled through

Serco

protégée Base One Technologies and Clinton Nine Eyes servers] assists in the development of small businesses owned and operated by individuals who are socially and economically disadvantaged, such as women and minorities. The following ethnic groups are classified as eligible: Black Americans; Hispanic Americans; Native Americans (American Indians, Eskimos, Aleuts, or Native Hawaiians); Asian Pacific Americans (persons with origins from Burma, Thailand, Malaysia, Indonesia, Singapore, Brunei, Japan

[Mineta interned in WWII]

, China (including Hong Kong), Taiwan, Laos, Cambodia (Kampuchea), Vietnam, Korea, The Philippines,U.S. Trust Territory of the Pacific Islands (Republic of Palau), Republic of the Marshall Islands, Federated States of Micronesia, the Commonwealth of the Northern Mariana Islands, Guam, Samoa, Macao, Fiji, Tonga, Kiribati, Tuvalu, or Nauru); Subcontinent Asian Americans (persons with origins from India, Pakistan, Bangladesh, Sri Lanka, Bhutan, the Maldives Islands or Nepal). In 2011, the SBA, along with the FBI and the IRS, uncovered a massive scheme to defraud this program. Civilian employees of the U.S. Army Corps of Engineers, working in concert with an employee of Alaska Native Corporation Eyak Technology LLC allegedly submitted fraudulent bills to the program, totaling over 20 million dollars, and kept the money for their own use.[26] It also alleged that the group planned to steer a further 780 million dollars towards their favored contractor.[27]"

Yours sincerely,

Field McConnell, United States Naval Academy, 1971; Forensic Economist; 30 year airline and 22 year military pilot; 23,000 hours of safety; Tel: 715 307 8222

David Hawkins Tel: 604 542-0891 Forensic Economist; former leader of oil-well blow-out teams; now sponsors Grand Juries in CSI Crime and Safety Investigation