by
United States Marine Field McConnell
Plum

City Online - (

AbelDanger.net

)
February 23, 2016
1.
Abel Danger
(
AD
) asserts that
Serco
shareholders and associated loan sharks are paying TV crisis actors to sabotage the election campaign of candidates such as Dr. Ben Carson who, if he became president, might threaten the SBA's multi-billion dollar diversity racket.
2.
AD
asserts that
Serco
shareholder JP Morgan Chase funded a honey trap which blacked out the roles of 8(a) protégé company Base One Technologies in the FAA Contract Towers and Pentagon Renovation programs and the crisis actor Jane Standley in
BBC 9/11
.
3. AD asserts that
Serco
'Wag the Dog' productions are directed by Armstrong Williams – the former boss of EEOC diversity rackets and largest black owner of television stations in the U.S. – who is allegedly deploying 8(a) actors to sabotage Dr. Carson's campaign.
United States Marine Field McConnell (
http://www.abeldanger.net/2010/01/field-mcconnell-bio.html
) offers to show citizens how to win a war with
Serco
loan sharks and 8(a) crisis actors.
Copy of

SERCO

GROUP PLC: List of Subsidiaries AND

[Loan Shark]

Shareholders!

(Mobile Playback Version)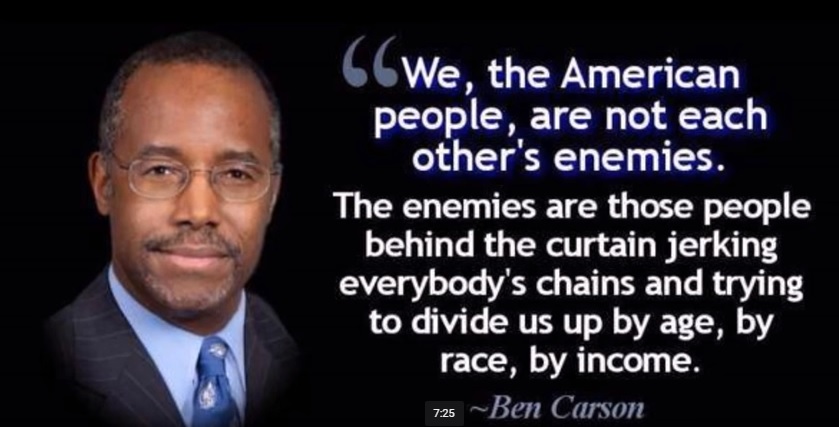 Chris Cuomo vs Armstrong Williams HEATED Interview On Ben Carson Muslim Comments - CNN
Serco

's National Visa Center
Jane Standley of BBC World - Early Clip at Famous Window



WAG THE DOG - Trailer - (1997) - HQ




FOX 5 WTC 7 collapse foreknowledge?

[

Serco

's] Defense Ammunition Center

Serco

... Would you like to know more?

"Meet Armstrong Williams — the shady grifter who's running Ben Carson's bizarro campaign TOM BOGGIONI 06 NOV 2015 AT 10:27 ET With each outrageous pronouncement followed by an even more confusing explanation, questions are being asked whether newly-minted GOP presidential front runner Ben Carson is sincerely running for president or using the primary process to market himself and his books — thereby putting money in his pocket.
In a GOP campaign season where wild and unsupported pronouncements by political outsiders have resulted in jumps in the polls over more measured comments by career politicians, Carson's almost daily headline-grabbing comments seemed timed to assist his recently completed book tour to promote his latest offering, "A More Perfect Union." To explain the quixotic decision to stay out of the early primary states and cash-in on his celebrity by selling books instead, one need only look to Carson's business manager and unofficial campaign manager, political commentator Armstrong Williams.
Williams was a public relations executive who came to Washington and worked as an aide to Supreme Court Justice Clarence Thomas when he was the chairman of the U.S. Equal Employment Opportunity Commission. After a few other stops in the Beltway he fashioned himself into a popular conservative political commentator appearing on television, hosting a radio show and writing a syndicated column.
In 2005, Williams' career as a commentator took a hit when USA Today revealed he had secretly accepted $240,000 from President George W. Bush's administration to promote Bush's signature No Child Left Behind act by mentioning it favorably in his columns and in his media appearances. As a result, Williams was dropped by his syndicator, Tribune Media Services.
Further investigations into William's business practices revealed that the political commentator had previously allowed his syndicated radio show, "The Right Side," to be used by a front group representing the tobacco industry.
Despite these revelations — or maybe because of them — Williams has maintained a very lucrative career (he is the largest black owner of television stations in the U.S.) and he serves as CEO of the Graham Williams Group, an international marketing public relations firm where he represents Carson as his business manager.
With a relationship that goes back over 20 years, Williams has guided Carson's career from neurosurgeon to author of multiple best sellers and the subject of a television movie — helping to launch his political career as a conservative gadfly and potential presidential material.
In an interview with the Daily Beast, Williams claims that he does not benefit financially from the Carson presidential campaign — although he is one of the Carson's staunchest defenders and continues to use his syndicated column and appearances to promote the candidate.
Recently, Williams admitted that he helped negotiate Carson's relationship with troubled medical supplement company Mannatech, although in January of this year he told National Review Online : "I don't know that he's ever had a compensated relationship with Mannatech."
As noted by Jonathan Chait at New York Magazine, Carson's campaign has all the trappings of a direct mail business operation; plowing an extraordinarily high rate of donations back into seeking even more donations while building up a potentially lucrative mailing list.
As Chait writes, "Spending most of your money to raise more money is not a good way to get elected president, but it is a good way to build a massive list of supporters that can later be monetized. Perhaps it is a giveaway that the official title for Armstrong Williams, the figure running the Carson 'campaign,' is 'business manager,' as opposed to 'campaign manager.' It does suggests that Carson is engaged in a for-profit venture."
"EEOC Remembers September 11, 2001[An alleged joint venture with Armstrong Williams, SBA 8(a) crisis actors and

Serco

's loan shark bankers] Chair Berrien's Message to EEOC Staff on the 10th Anniversary of 9/11
In the aftermath of the September 11, 2001, terrorist attacks, the U.S. Equal Employment Opportunity Commission (EEOC) determined that special measures were needed to combat a backlash of employment discrimination against those perceived – based on their ethnicity, religion or national origin – to resemble the attackers. Ten years later, the issues that caused the backlash continue, and EEOC remains vigilant.
The Sept. 11 attacks also hit the EEOC directly. In addition to bringing down the Twin Towers, the assault destroyed a nearby office building that housed the EEOC's New York District Office – though all EEOC employees were safely evacuated.
In the days immediately following September 11, when feelings were still raw, then-EEOC Chair Cari Dominguez issued a public statement that highlighted the need for tolerance in the workplace. Chair Dominguez said that we must "not allow our anger about . . . [these] heinous events . . . to be misdirected against innocent individuals because of their religion, ethnicity, or country of origin." The Chair urged employers to call attention to their policies against discrimination and harassment, and to be especially vigilant about the possibility of backlash against Middle Eastern or Muslim employees.
In addition, the EEOC intensified its outreach, created fact sheets on immigrant employee rights (http://www.eeoc.gov/eeoc/publications/immigrants-facts.cfm) and discrimination based on religion, ethnicity or country of origin (http://www.eeoc.gov/laws/types/fs-relig_ethnic.cfm), translated the fact sheets into Farsi, Hindi, Punjabi, Urdu and Arabic and distributed the material on wallet cards and in other user-friendly formats.
EEOC staff also conducted vigorous outreach and education, to employers and workers alike, about discrimination based on race, ethnicity, and country of origin. Staff met with employers, civil rights organizations and members of religious groups, and attended community forums, to discuss how to prevent religious and national origin discrimination as a result of September11. For example:
The EEOC's Cleveland office, in a joint venture with the Ohio Civil Rights Commission, met with members of the Muslim, Sikh, Middle Eastern and Arab-American communities to discuss backlash concerns in five Ohio cities.
The Houston office met with Islamic student groups and held a town meeting in a local mosque, which was attended by members of six other mosques. EEOC staff went to mosques, churches and community centers across the country to provide counseling and take charges. The Commission created a special code to track charges related to September 11 from people who were – or were perceived to be – Muslim, Arab, Afghani, Middle Eastern or South Asian, or those alleging retaliation related to September 11.
To focus further attention on the issues surrounding backlash discrimination and to educate employers and the public, the Commission held a public meeting (http://www.eeoc.gov/eeoc/meetings/archive/12-11-01.html) in December 2001, featuring representatives of community and business groups discussing problems facing employees as well as employer best practices to prevent and address post-9/11 backlash in the workplace.
In the initial months after the terrorist attack, the EEOC saw a 250% increase in the number of religion-based discrimination charges involving Muslims. Over the past ten years:
The EEOC received 1,036 charges using the special code, out of more than 750,000 charges filed since the attacks; Of the charges filed under the special code, discharge was an issue in 614 charges and harassment in 440 charges; 84 (8.2%) charges resulted in settlements, 30 (2.9%) in withdrawals with benefits, 25 (2.4%) in successful conciliations (settlement after an EEOC finding reasonable cause to believe discrimination occurred);
Charges were filed in 38 states and the District of Columbia, including 169 charges in California, 140 in Texas, 67 in Florida and 63 in Illinois.
Since September 11, the Commission has filed more than 80 lawsuits alleging backlash discrimination, many of which concerned harassment involving national origin and ethnicity. The alleged harassment included taunts such as "Saddam Hussein," "camel eater," and "terrorist." During the same period, the Commission filed more than 3,200 lawsuits alleging discrimination based on all statutes enforced.
The EEOC's fight against backlash discrimination in the days immediately after the September 11 attacks grew from urgent and extreme circumstances. Perhaps of even greater concern, in addition to those charges with a direct link to the September 11 backlash, the Commission continues to see more charges involving religious discrimination against Muslims and alleging national origin discrimination against Muslims or those with a Middle Eastern background. As a result, in addition to outreach efforts to ensure that the Nation's laws prohibiting employment discrimination on the basis of religion and national origin are vigorously enforced, the EEOC has continued to work with the communities most impacted by backlash discrimination to ensure that both employees and employers are aware of their rights and responsibilities under the law."
"Armstrong Williams to Buy Two TV Stations Wednesday, February 27, 2013 Armstrong Williams, the conservative commentator and entrepreneur, is buying two television stations newly acquired by Sinclair Broadcast Group, Inc., the parties announced Thursday. The transaction would instantly multiply the tiny number of commercial television stations owned by African Americans.
African American ownership dropped from 12 stations in 2009 to 10 stations in 2011, or less than 1 percent of the nation's 1,348 full-power television stations, the Federal Communications Commission said in November.
Williams plans to acquire WEYI-TV, an NBC affiliate in the Flint/Saginaw/Bay City/Midland, Mich., market, ranked no. 67, and WWMB-TV, a CW affiliate in market 103 in the Myrtle Beach/Florence, S.C., market, near Williams' hometown of Marion, S.C.
No purchase price was disclosed. The transaction is part of a larger deal in which Sinclair agreed to purchase the broadcast assets of 18 television stations owned by Barrington Broadcasting Group, LLC for $370 million and entered into agreements to operate or provide sales services to another six stations. The deal is subject to approval by the FCC and antitrust clearance. Williams said he was financing the purchase through J.P. Morgan Chase."
"Loan Improvement Jan 31, 2001 SBA modernizes to help feed its growing programs BY PATRICIA DAUKANTAS | GCN STAFF Under a five-year plan for overhauling its information technology systems, the Small Business Administration recently acquired new software for financial and other administrative tasks.
By the time SBA celebrates its 50th anniversary in 2003, agency officials want all their programs up and running around the clock, chief financial officer Joseph Loddo said.
In the first phase of the modernization, the agency has upgraded systems for managing its extensive portfolio of guaranteed loans, chief operating officer Kristine Marcy said.
SBA processed its first electronic loan last November through its Sacramento, Calif., office and plans to add more private lenders during fiscal 2001

[ready for the 9/11 attack]

.


The agency's staffing level has dropped 22 percent over the past eight years, which is another reason to improve IT, Marcy said. Over the past decade, SBA's portfolio of loans to small and disadvantaged businesses has more than doubled to $50 billion.
'We're a small agency with a huge portfolio,' Marcy said. SBA supplies more than half of the U.S. venture capital available each year.
Seventy percent to 80 percent of the loans are booked through a preferred lender program, which involves nearly 7,000 banks, Marcy said. SBA guarantees the loans, just as the government backs student and housing loans.
'The financial and IT businesses were changing so rapidly, we had to make some changes to stay current with the private sector,' Marcy said. Banks had been asking SBA to make faster decisions on loan guarantees. The agency decided to aim for a turnaround time of one hour.
In the second phase of modernization, SBA is revamping its financial, human resources, procurement and travel systems with Web-enabled Oracle Corp. applications.
Online in October
The financial system will use Oracle's U.S. Federal Financials 3.3, which meets the requirements of the Joint Financial Management Improvement Program.
SBA announced the $1.5 million Oracle contract late last year and plans to bring the software online by Oct. 1, Loddo said.
'We need to make sure we are appropriately sensitive to small businesses' and have small-business partners, not just Oracle, Marcy said.
The second-phase integrator, SRA International Inc. of Arlington, Va., has subcontracted with a number of small firms for things such as training and data conversion.
Also, a core team of senior SBA employees has been transferred away from day-to-day tasks to help with the modernization, Loddo said.
In the final phase of the modernization, SBA will upgrade the computers in its 8(a) Business Development Program, which assists small businesses in competing for government contracts, Marcy said. The agency wants to be able to improve its tracking of clients' successes and failures."
"Our Commitment to Supplier Diversity At JPMorgan Chase we are committed to cultivating business relationships with firms owned and operated by minorities, women and other historically underutilized groups. We're challenging the way business is done by demonstrating market leadership in Supplier Diversity.
Since 1994, we've spent over $7 Billion with diverse suppliers. We believe that by helping to build a strong and vibrant business community that is reflective of all segments of society, we create mutual gain with the communities we serve."
"Need cash?: Try these top Main Street lenders Elaine Pofeldt, Special to CNBC.com Thursday, 13 Mar 2014 | 8:00 AM ETCNBC.com Despite heightened enthusiasm for small-business lending in the banking sector, it's not easy for mom-and-pop firms to get a U.S. Small Business Administration–backed loan. And it's not just because small-business loans require a lot of paperwork. Banks tend to favor larger deals, which are more profitable for them. So if you're a small-business owner hunting for a lender, it helps to know which banks aren't just talking the talk but are walking the walk when it comes to making small-business loans.
There are some surprises. While big banks still top the list when it comes to issuing greatest dollar volume of loans backed by the SBA and in the sheer number of loans made, some smaller banks are aggressively going after Main Street entrepreneurs.
Of the top lenders signing SBA-backed loans of $150,000 and under are Wall Street banks JPMorgan Chase (No. 1 on the list) and Wells Fargo, as well as some smaller players, including Celtic Bank and Zions First National Bank, according to SBA data for the 12-month period ended Jan. 31, 2014."
"In 1896, Adolph Simon Ochs owned the Chattanooga Times, and he secured financing from Morgan to purchase the financially struggling New York Times. The New York Times became the standard for American journalism by investing in news gathering and insisting on the highest quality of writing and reporting.[13] "Behind the Sordid World of Online Assassination Betting Jamie Bartlett 6/01/15 11:35am Filed to: BIBLIOTECH I have heard rumors about this website, but I still cannot quite believe that it exists. I am looking at what I think is a hit list.
There are photographs of people I recognize—prominent politicians, mostly—and, next to each, an amount of money. The site's creator, who uses the pseudonym Kuwabatake Sanjuro, thinks that if you could pay to have someone murdered with no chance—I mean absolutely zero chance—of being caught, you would.
That's one of the reasons why he has created the Assassination Market. There are four simple instructions listed on its front page: Add a name to the list Add money to the pot in the person's name Predict when that person will die Correct predictions get the pot
The Assassination Market can't be found with a Google search. It sits on a hidden, encrypted part of the internet that, until recently, could only be accessed with a browser called The Onion Router, or

Tor

.

Tor

began life as a U.S. Naval Research Laboratory project, but today exists as a not-for-profit organization, partly funded by

[Clinton pay to play aides in the]

U.S. government and various civil liberties groups, allowing millions of people around the world to browse the internet anonymously and securely."
"Base One Technologies – Corporate Strategy – We are a Government Certified Women-Owned Business We practice Diversity Recruitment and Staffing for IT positions
Base One was founded in 1994 by a women engineer who had made a career in technology research for many years. Base One has been very successful in focusing on diversity recruiting and staffing for IT projects. It has been our experience that the greater the diversity mix, the more creative the solution. As in any field the more diverse the viewpoint the more thorough your analysis. Our engineers can think out of the box.
Because of our affiliations we have access to pools of resources among more diverse groups & individuals. We work with a large pool of minority professionals who specialize in IT skills. We are able to have access to these resources through our status as a D/MWBD firm and our affiliations. These affiliations assist us in working with resources among more diverse groups & individuals.
We are also partnered with firms that are 8A certified as Minority firms, Disabled Veteran firms, Native American firms, Vietnam veteran firms, women owned firms.
Our hub zone location keeps us close to the professional organizations of great diversity. We are active in recruiting from and networking with these community organizations of local IT professionals. This has given us access to a large pool of diversity talent.
Base One's staff of engineers are a diverse group of professionals. This diverse network of engineers helps us to branch out to other engineers and creates an even larger network of resources for us to work with.
The greater the diversity the more complete & thorough the analysis. The broader the spectrum of points of view the broader the scope of the analysis. We feel that a diverse team gives us a greater advantage in creating cutting edge solutions. To that end we will continue to nurture these relationships to further extend our talent pool.
The greater the diversity mix, the more creative the solution.
The more diverse the viewpoint, the more thorough the analysis.
The more diverse our team, the more our engineers can think out of the box.
This is why Base One Technologies concentrates on diversity recruitment in the belief that a diverse team gives us a greater advantage in creating cutting edge solutions."
Information Security Planning is the process whereby an organization seeks to protect its operations and assets from data theft or computer hackers that seek to obtain unauthorized information or sabotage business operations. Key Clients Benefiting From Our Information Security Expertise: Pentagon Renovation Program, FAA,

Citigroup

, MCI.
Base One technologies
Expertly researches, designs, and develops information security policies that protect your data and manage your firm's information technology risk at levels acceptable to your business.
Performs architectural assessments and conducts both internal and external penetration testing. The results of these efforts culminate in an extensive risk analysis and vulnerabilities report.
Develops, implements and supports Information Security Counter measures such as honey-pots and evidence logging and incident documentation processes and solutions."
"

Serco

do a bunch more that didn't even make our story: As well as thanking God for his success, CEO Chris Hyman is a Pentecostal Christian who has released a gospel album in America and fasts every Tuesday. Amazingly, he was also in the World Trade Centre on 9/11, on the 47th floor addressing

[death pool]

shareholders.

Serco

run navy patrol boats for the ADF, as well as search and salvage operations through their partnership with P&O which form Defence Maritime Services.

Serco

run two Australian jails already, Acacia in WA and Borallon in Queensland. They're one of the biggest companies In the UK for running electronic tagging of offenders under house arrest or parole."
"https://www.gpo.gov/fdsys/pkg/GAOREPORTS-OSI-95-15/html/GAOREPORTS-OSI-95-15.htm Small Business Administration: 8(a) Is Vulnerable to Program and Contractor Abuse (Letter Report, 09/07/95, GAO/OSI-95-15). The Small Business Administration's (SBA) 8(a) program is intended to develop and promote businesses that are owned and controlled by socially and economically disadvantaged persons. Members of Congress have raised concerns that weaknesses in program management and administration may make the 8(a) program vulnerable to exploitation by individuals or corporations that have used illegal or improper means to participate in and benefit from the program. To develop case studies, GAO initially selected four firms for investigation on the basis of indicators, or "

red

flags," of potential regulatory violations and criminal misconduct. Due to time constraints and the

destruction of records resulting from the Oklahoma City bombing

, this report focuses on the following two firms: I-NET, Inc. of Bethesda, Maryland, and Technical and Management Services Corporation of Calverton, Maryland." "

Serco

Combined Resilience Exercising http://www.epcollege.com/EPC/media/MediaLibrary/Downloads/Gold-Standard.pdf
Types of Exercise Workshop Exercises These are structured discussion events where participants can explore issues in a less pressurized environment.
They are an ideal way of developing solutions, procedures and plans rather than the focus being on decision making. Table Top Exercises These involve a realistic scenario and will follow a time line, either in real-time or with time jumps to concentrate on the more important areas. The participants would be expected to be familiar with the plans and procedures that are being used although the exercise tempo and complexity can be adjusted to suit the current state of training and readiness. Simulation and media play can be used to support the exercise. Table-top exercises help develop teamwork and allow participants to gain a better understanding of their roles and that of other agencies and organisations.
Command/Control Post Exercises These are designed primarily to exercise the senior leadership and support staff in collective planning and decision making within a strategic grouping. Ideally such exercises would be run from the real command and control locations and using their communications and information systems. This could include a mix of locations and varying levels of technical simulation support. The Gold Standard system is flexible to allow the tempo and intensity to be adjusted to ensure maximum training benefit, or to fully test and evaluate the most important aspects of a plan. Such exercises also test information flow, communications, equipment, procedures, decision making and coordination.
Simulation and Media Support The method of delivering an exercise is flexible and will be designed with the client to meet their requirements with options ranging from simple paper-based delivery through to full use of their real communications systems [

Red

Switch Network and Hawkeye onion router surveillance aircraft] and advance computer simulation

[In Trump's death pool and war room suites]

. In addition, media play can also be added in the form of news injects and the provision of experienced journalists and television crews to help test procedures and also assist in training key staff. Gold Standard Emergency Planning College The Hawkhills, Easingwold, York North Yorkshire, YO61 3EG +44(0) 1347 821406 enquiries@emergencyplanningcollege.com www.epcollege.com"
"

Serco

Awarded $95 Million Patent Classification Contract with the U.S. Patent and Trademark Office November 30, 2015 RESTON, VA – November 30, 2015 –

Serco

Inc., a provider of professional, technology, and management services, announced today the Company has been awarded a patent classification services contract with the United States Patent and Trademark Office (USPTO).

Serco

will provide initial patent classification and reclassification services to support USPTO's core mission of examining, granting, and disseminating patents and trademarks. The recompete contract has a one-year base period with four one-year option periods, and is valued at $95 million over the five-year period, if all options and award terms are exercised.


Serco

's highly trained Scientists and Engineers are responsible for reviewing, analyzing, and applying classification symbols to newly submitted patent applications to assist with the USPTO examination process. Throughout the classification process, our team performs comprehensive performance management; quality assurance; information security; training; knowledge management; and IT support, engineering, and development of custom software.


Serco

has supported the USPTO under this program since its inception in 2006, and currently processes approximately 1,600 applications a day, and over 400,000 applications annually. Under the contract, Serco has been instrumental in assisting the USPTO as it transitioned to a new international classification standard called Cooperative Patent Classification (CPC) and will continue to provide services within CPC that enables the USPTO to align and lead within the global intellectual property environment. Work on this program will continue to take place in Harrisonburg, Virginia.
"We are extremely honored to have been selected to continue to deliver patent classification services to the U.S. Patent and Trademark Office," said Dan Allen, Chairman and CEO of

Serco

Inc. "Our team continues our focus on operational excellence and incorporating innovative solutions, for classification services, in the most economic and efficient manner."
About

Serco

Inc.:

Serco

Inc. is a leading provider of professional, technology, and management services. We advise, design, integrate, and deliver solutions that transform how clients achieve their missions. Our customer-first approach, robust portfolio of services, and global experience enable us to respond with solutions that achieve outcomes with value. Headquartered in Reston, Virginia,

Serco

Inc. has approximately 10,000 employees and an annual revenue of $1.2 billion.

Serco

Inc. is a wholly-owned subsidiary of

Serco

Group plc, a $5.9 billion international business that helps transform government and public services around the world. More information about

Serco

Inc. can be found at www.serco-na.com."
"Opened in 1994 as the successor to the Transitional Immigrant Visa Processing Center in Rosslyn, Va., the NVC centralizes all immigrant visa preprocessing and appointment scheduling for overseas posts. The NVC collects paperwork and fees before forwarding a case, ready for adjudication, to the responsible post. The center also handles immigrant and fiancé visa petitions, and while it does not adjudicate visa applications, it provides technical assistance and support to visa-adjudicating consular officials overseas. Only two Foreign Service officers, the director and deputy director, work at the center, along with just five Civil Service employees. They work with almost 500 contract employees doing preprocessing of visas, making the center one of the largest employers in the Portsmouth area. The

[al-Qaeda sleeper cell]

contractor,

Serco

, Inc., has worked with the NVC since its inception and with the Department for almost 18 years."
"The Telgraph .. Police drop investigation into

Serco

prisoner

[extortionist]

transport contract The outsourcing group said there was no evidence of individual or corporate wrongdoing The

[Vampire]

City of London Police has closed an investigation into

Serco

's prisoner transport contract after more than a year of work, enabling the firm to continue with the contract until 2018. The Ministry of Justice called in the police in August 2013 to examine whether

Serco

had misleadingly recorded prisoners as being ready for court when they were not, in order to meet the performance criteria of the contract."
"Super

Serco

bulldozes ahead By DAILY MAIL REPORTER UPDATED: 23:00 GMT, 1 September 2004 SERCO has come a long way since the 1960s when it ran

[Resilience exercises and]

the 'four-minute warning' system to alert the nation to a ballistic missile attack."
"

Serco

farewell to NPL after 19 years of innovation

[outsourced by David Cameron at Treasury]

… 8 January 2015

Serco

said goodbye to the National Physical Laboratory (NPL) at the end of December 2014 after 19 years of extraordinary innovation and science that has seen the establishment build a world-leading reputation and deliver billions of pounds of benefit for the UK economy. It has been estimated that work carried out by the Centre of Carbon Measurement at NPL will save eight million tonnes of carbon emissions reductions (2% of UK footprint) and over half a billion pounds in economic benefit

[bullshit]

over the next decade. .. · NPL's caesium fountain atomic clock is accurate to 1 second in 158 million years and NPL is playing a key role in introducing rigour to high frequency

[Death-pool]

trading in the City through NPLTime."

Yours sincerely,

Field McConnell, United States Naval Academy, 1971; Forensic Economist; 30 year airline and 22 year military pilot; 23,000 hours of safety; Tel: 715 307 8222

David Hawkins Tel: 604 542-0891 Forensic Economist; former leader of oil-well blow-out teams; now sponsors Grand Juries in CSI Crime and Safety Investigation