by
United States Marine Field McConnell
Plum

City Online - (

AbelDanger.net

)
February 27, 2016
1.
Abel Danger
(
AD
) asserts that Donald Trump paid off his Trump Shuttle creditors with loan for drone swaps where his agents allegedly modified repossessed Boeing aircraft for use as drones in the
Unconventional Threat
exercise of June 1-2, 2001 and
Live Fire Hijacking
on 9/11.
2.
AD
asserts that on July 16, 2001,
Serco
used the Navy's patented Onion Router (
Tor
) devices to set up a Twin Towers cat bond so 8(a) lenders including Trump Shuttle creditor Citibank, could file a
double occurrence
claim for the controlled demolitions of the Twin Towers on 9/11.
3.
AD
asserts that
Serco
's 8(a) lenders conspired with the Canada Commercial Corporation to finance Ottawa-based Air Navigation Data's development of Final Approach software allegedly used to guide the Trump drones on 9/11 and pay off his loans with a Twin Towers cat bond.
United States Marine Field McConnell (
http://www.abeldanger.net/2010/01/field-mcconnell-bio.html
) can show citizens how to track Trump Shuttle passenger planes from 1991 through a partly Canadian-sponsored Final Approach to
Serco
drone attacks of 9/11 and cat-bond claims for $4.55 billion.
Donald Trump Funny Moments - Ultimate Compilation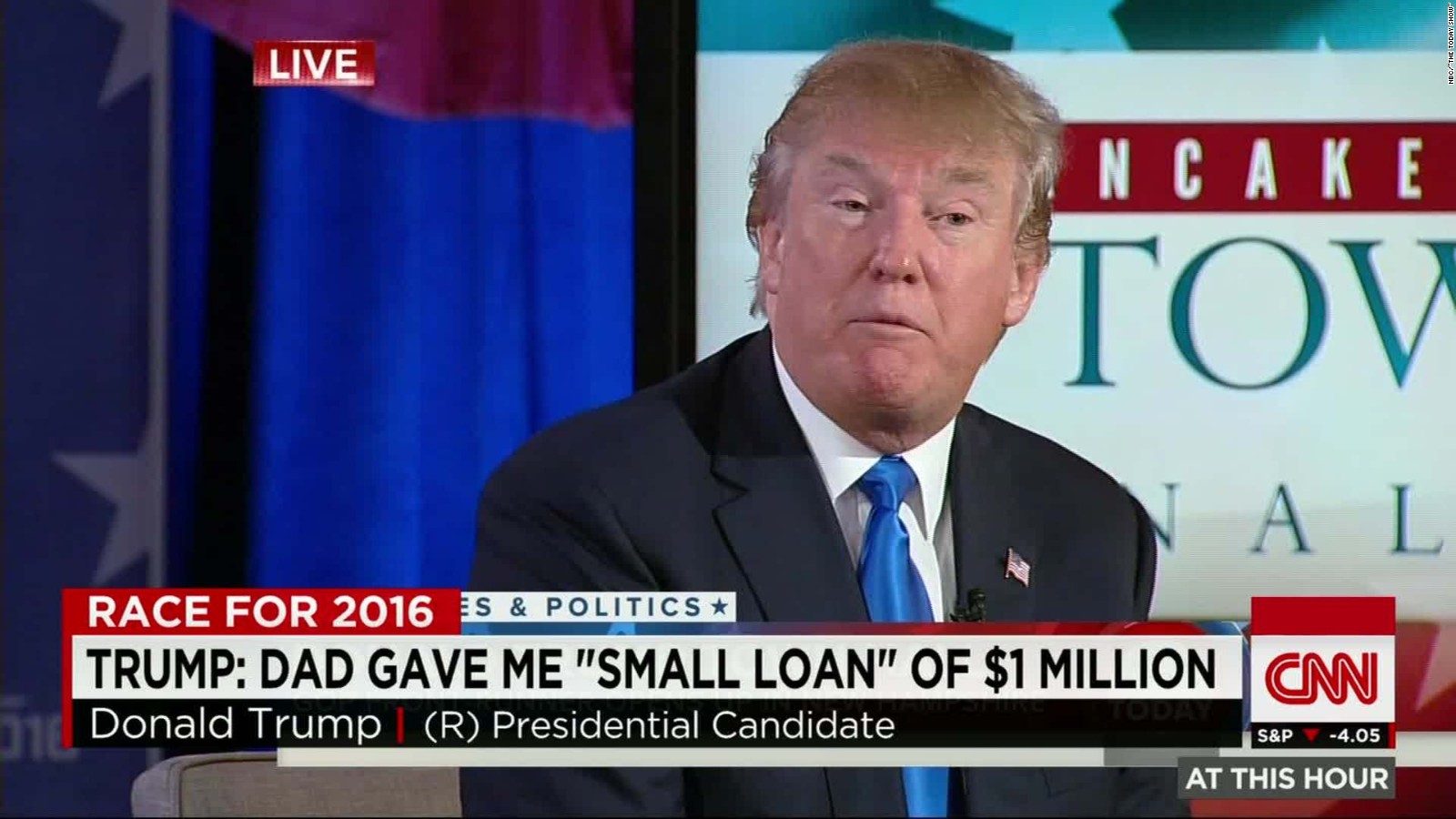 Most of the money was paid to

Serco

shareholders including the WTC cat-bond sponsors Bank of America, N.A., JPMorgan Chase Bank, N.A., Wells Fargo Bank, N.A., Bank of New York/Mellon,

HSBC

Bank and Citibank, N.A.

Copy of

SERCO

GROUP PLC: List of Subsidiaries AND

[Loan Shark]

Shareholders!
(Mobile Playback Version)
Serco

's National Visa Center

FOX 5 WTC 7 collapse foreknowledge?

[

Serco

's] Defense Ammunition Center

Serco

... Would you like to know more?

"NEWS & POLITICS Trump's 'Art of the Deal' Is a Total Fraud There's been little discussion of how Trump might be influenced by the billionaire backing him: himself. By Nomi Prins / TomDispatch October 1, 2015 To stay on top of important articles like these, sign up to receive the latest updates from TomDispatch.com here.
The 2016 election campaign is certainly a billionaire's playground when it comes to "establishment candidates" like Hillary Clinton and Jeb Bush who cater to mega-donors and use their money to try to rally party bases. The only genuine exception to the rule this time around has been Bernie Sanders, who has built a solid grassroots following and funding machine, while shunning what he calls "the billionaire class" that fuels the super PACs.
Donald Trump, like Ross Perot back in the 1992 and 1996 elections, has played quite a different trick on the money-saturated American political system. He has removed the billionaire as middleman between citizen plebeians and political elites, and created a true .00001% candidate, because he's... well, a financial elite unto himself, however conveniently posed as the country's straight-talking "everyman." ..
The Donald has long perfected two proven strategies for winning: attack and deflect. On both counts, he is a TV veteran. Appearing on NBC's Late Night with David Letterman in 1987 to promote The Art of the Deal, his skill in deflecting attention from aspects of his life that might otherwise diminish his aura was already on full display. When Letterman probed the particulars of Trump's personal wealth multiple times, he dodged effectively, insisting, "You'll never get it out of me." He also deflected his host's question about the degree to which his father's money contributed to his success. "He was a solid guy and a bright guy, I learned a lot" was about all Letterman could dig out of him on Fred Trump.
.. Trump's Bankruptcies As Carly Fiorina made crystal clear to almost 23 million Americans in the second Republican debate (the topic had been broached in the first one), Trump's companies have officially gone bankrupt four times since 1991, or as Trump spun it, "I used the law four times and made a tremendous thing. I'm in business. I did a very good job."
While that's a small number of bankruptcies relative to the hundreds of companies that comprise his empire, they represented a fair amount of debt. There was the Trump Taj Mahal (with $1 billion in debt) in Atlantic City in 1991 and the Trump Plaza Hotel in Atlantic City in 1992 (with $550 million in debt). Trump Hotels and Casino Resorts, the company created from the post-bankruptcy ashes of the Taj Mahal, the Trump Plaza, and also Trump Marina in Atlantic City filed for Chapter 11 bankruptcy protection (with $1.8 billion of debt) in 2004. Bankruptcy number four, Trump Entertainment Resorts (the post-bankruptcy company created to take over the remains of Trump Hotels and Casino Resorts) filed for Chapter 11 bankruptcy protection (with $1.74 billion of debt) in February 2009. ..
In 1989, for instance, Trump purchased the Eastern Air Shuttle, connecting New York, Boston, and Washington, D.C. with hourly flights, for roughly $365 million. But the Trump name didn't carry the day and passengers didn't pony up for the line's fancier seats and gold lavatory fixtures. Instead, in 1990 Trump defaulted on the loans he had taken out to finance the company, and its ownership reverted to its creditors, led by Citibank. The Trump Shuttle was then merged into a new corporation, Shuttle Inc., and in April 1992, its routes were assumed by USAir Shuttle, which is one way the rich make problems disappear.
.. Unfortunately, we are used to politicians saying whatever they think they need to say to be elected president, and falling way short of their campaign promises on the job. Even scarier would be the notion of selling America to the craftiest bidder. The election may be more than a year away, but isn't it time to dig beneath the carefully crafted persona that is Trump and unearth the person and the full spectrum of his business dealings? To see the real Donald Trump is to plunge into all the conflicts of interest he denies, the financial tricks he dispenses, the crucial details he obfuscates, and the flimflam he offers up day in, day out.
Nomi Prins is the author of All the President' Bankers: The Hidden Alliances that Drive American Power (Nation Books)." "Two World Trade Center SECOND AMENDED AND RESTATED AGREEMENT OF LEASE DATED AS OF JULY 16, 2001 THE PORT AUTHORITY OF NEW YORK AND NEW JERSEY AND 2 WORLD TRADE CENTER LLC PROPERTY: 2 World Trade Center New York, New York …..
24.8.2 the Lessee (or Transferor) places into escrow, with a Depository mutually acceptable to the Port Authority and the Lessee (or Transferor), an amount equal to the disputed amount to be held in escrow by the Depository until the Security Release Date and thereupon the Depository shall disburse the escrowed amount in accordance with the joint direction of the parties or the direction of the arbitrator as described in Section 24.7.2 above, or, as security on the payment of the disputed amount, delivers to the Port Authority (and maintains or renews in successive one (I) year periods, in a manmer satisfactory to the Port Authority, until no earlier than the date which is thirty (30) days after the Security Release Date) an irrevocable, unconditional letter of credit in form and substance reasonably satisfactory to the Port Authority in an amount equal to the sum of (a) the disputed amount and (b) interest thereon (at the Prime Rate) for an initial period of one (I) year, payable to the Port Authority and issued by [

Serco

shareholders] Bank of America, N.A., JPMorgan Chase Bank, N.A., Wells Fargo Bank, N.A., Bank of New York/Mellon,

HSBC

Bank, Citibank, N.A., or any successor in interest to any of the foregoing, or a bank which is a member of the New York Clearing House Association or is a non-member bank reasonably acceptable to the Port Authority, is domiciled in the United States, has an office in New York City at which a letter of credit issued by such bank may be presented for payment, whose most recent issue of long term debt is rated AA or better by Standard & Poor's NY 73085178v4 Corporation (or any successor thereto) or rated Aa2 or better by Moody's Investors Service, Inc. (or any successor thereto), or if neither of such Persons nor their Successors is then in the business of rating such debt, a comparable rating from any other rating organization reasonably satisfactory to the Port Authority, and otherwise satisfies the requirements of an Institutional Investor. Any interest earned on funds escrowed by the Lessee or Transferor shall be allocated between the Port Authority and the Lessee or Transferor in the same proportion as the ultimate payment and/or reimbursement (as the case may be) to the Port Authority or the Lessee (or Transferor) of the escrowed amount (but no such interest paid to the Port Authority shall constitute a Transaction Payment)"
"MDA Wins Key U.S. Aviation Contract Press Release Source: MacDonald, Dettwiler and Associates Ltd. Posted Thursday, May 3, 2001 Richmond, B.C. - MacDonald, Dettwiler and Associates Ltd. (TSE: MDA) announced today the company has been awarded a contract by the United States Air Force to develop a system to be used by specialists at Air Force bases to design Instrument Approach Procedures (IAPs). IAPs are published instructions to pilots specifying a series of aircraft maneuvers that must be executed for the aircraft to transition safely from an en route airway to a runway final approach when flying by instruments. MDA's system ingests digital terrain and elevation data, air navigation data (such as the locations of navigation aids, runways, buildings and towers) to build and display a virtual model of the physical environment surrounding an airport. It then develops the complex surfaces that define a safe approach corridor for any of the dozens of IAP variants, and determines whether any of the defined surfaces are penetrated by terrain or man-made obstacles. It flags these incursions to the operator, who can quickly modify the approach procedure through a drag-and-drop user interface.
This initial award, valued at $2.9 million (CDN), consists of a fixed price element to develop, integrate, and test the system. The next phase will include installation, government testing, and operator training. The contract includes an option for the U.S. Federal Aviation Administration (FAA) to adapt the system for their needs. The U.S. Air Force also has options to field the successful system at up to 108 air bases around the world, and to award T&M support contracts for up to 8 years. MDA plans to team up with Air Navigation Data (AND) of Ottawa to offer a custom solution, based on AND's "Final Approach" product.
MDA President and CEO Daniel Friedmann said: "This is a significant project for MDA that has the potential to improve the safety of air transportation for many other air forces and civil aviation authorities world wide."
Related web sites: www.mda.ca www.usaf.com For more information, please contact: Ted Schellenberg Media Relations MacDonald Dettwiler Telephone: (604) 231-2215 E-mail: teds@mda.ca" "Catastrophe bonds (also known as cat bonds) are risk-linked securities that transfer a specified set of risks from a sponsor to investors. They were created and first used in the mid-1990s in the aftermath of Hurricane Andrew and the Northridge earthquake.
Catastrophe bonds emerged from a need by insurance companies to alleviate some of the risks they would face if a major catastrophe occurred, which would incur damages that they could not cover by the premiums, and returns from investments using the premiums, that they received.[citation needed] An insurance company issues bonds through an investment bank, which are then sold to investors. These bonds are inherently risky, generally BB,[1] and usually have maturities less than 3 years. If no catastrophe occurred, the insurance company would pay a coupon to the investors, who made a healthy return. On the contrary, if a catastrophe did occur, then the principal would be forgiven and the insurance company would use this money to pay their claim-holders. Investors include hedge funds, catastrophe-oriented funds, and asset managers. They are often structured as floating-rate bonds whose principal is lost if specified trigger conditions are met. If triggered the principal is paid to the sponsor. The triggers are linked to major natural catastrophes. Catastrophe bonds are typically used by insurers as an alternative to traditional catastrophe reinsurance.
For example, if an insurer has built up a portfolio of risks by insuring properties in Florida, then it might wish to pass some of this risk on so that it can remain solvent after a large hurricane. It could simply purchase traditional catastrophe reinsurance, which would pass the risk on to reinsurers. Or it could sponsor a cat bond, which would pass the risk on to investors. In consultation with an investment bank, it would create a special purpose entity that would issue the cat bond. Investors would buy the bond, which might pay them a coupon of LIBOR plus a spread, generally (but not always) between 3 and 20%. If no hurricane hit Florida, then the investors would make a healthy return on their investment. But if a hurricane were to hit Florida and trigger the cat bond, then the principal initially contributed by the investors would be transferred to the sponsor to pay its claims to policyholders. The bond would technically be in default and be a loss to investors.[2]
Michael Moriarty, Deputy Superintendent of the New York State Insurance Department, has been at the forefront of state regulatory efforts to have U.S. regulators encourage the development of insurance securitizations through cat bonds in the United States instead of off-shore, through encouraging two different methods—protected cells and special purpose reinsurance vehicles.[3] In August 2007 Michael Lewis, the author of Liar's Poker and Moneyball, wrote an article about catastrophe bonds that appeared in The New York Times Magazine, entitled "In Nature's Casino."[4]" "Cantor Fitzgerald's corporate headquarters and New York City office,[7][8]on the 101st–105th floors of One World Trade Center in Lower Manhattan(2–6 floors above the impact zone of a hijacked airliner), were destroyed during the September 11, 2001 attacks. At 8:46:46 A.M., six seconds after Cantor's tower was struck by the plane, a Goldman Sachs server issued an alert saying that its trading system had gone offline because it wasn't able to connect with a Cantor server.[9][10][11] Cantor Fitzgerald lost over two-thirds of its workforce, considerably more than any of the other World Trade Center tenants or the New York City Police Department, the Port Authority of New York and New Jersey Police Department, the New York City Fire Department, and the United States Department of Defense." "

Serco

do a bunch more that didn't even make our story: As well as thanking God for his success, CEO Chris Hyman is a Pentecostal Christian who has released a gospel album in America and fasts every Tuesday. Amazingly, he was also in the World Trade Centre on 9/11, on the 47th floor addressing shareholders

[such as Wells Fargo with an insured interest in the leveraged lease on the WTC Twin Towers]

.

Serco

run navy patrol boats for the ADF, as well as search and salvage operations through their partnership with P&O which form Defence Maritime Services.

Serco

run two Australian jails already, Acacia in WA and Borallon in Queensland. They're one of the biggest companies In the UK for running electronic tagging of offenders under house arrest or parole."

Yours sincerely,

Field McConnell, United States Naval Academy, 1971; Forensic Economist; 30 year airline and 22 year military pilot; 23,000 hours of safety; Tel: 715 307 8222

David Hawkins Tel: 604 542-0891 Forensic Economist; former leader of oil-well blow-out teams; now sponsors Grand Juries in CSI Crime and Safety Investigation