Source:
KATEHON
George Soros And Big Agriculture Move The

Marijuana

Movement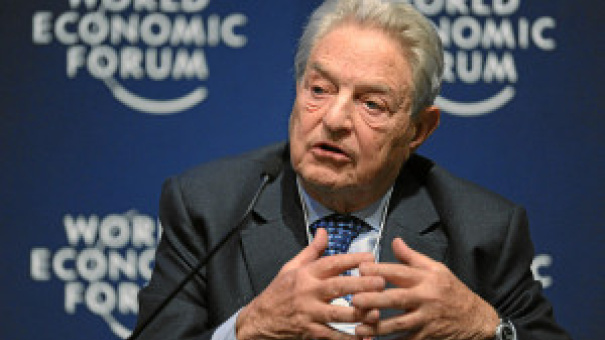 by Jennifer Long
Billionaire George Soros was the main supporter behind the legalization efforts in Uruguay. The Philanthropist and one of the wealthiest in the legalization movement, has quite a vested interest in Monsanto. On his 2013 NASDAQ Top Ten stocks, it showed 0.62% of his portfolio are shares of Monsanto. Soros currently owns over 632,000 shares of Monsanto, valued at over $75,000,000. Since 1984, Soros put in over $80 Million of his own money, funneled through the Drug Policy Alliance and his network of other nonprofits, towards marijuana legalization efforts. Monsanto was the first biotech firm to establish offices in Uruguay after legalization of marijuana. Monsanto denies any involvement in the area of GMO marijuana research on their
website
, yet there are rumors that Monsanto has already patented medical marijuana, or are attempting to do so in Uruguay. In the US, George Soros has been behind almost every state initiative and legalization effort in the last year with his organizations and donations, as seen in a
Washington Times article
.
A German Researcher, William Engdahl, states that Monsanto is already underway with patenting in Uruguay. Since a plant cannot be patented, major pharmaceutical companies in 1990 began discussing the need to look further into genetic modification. Bayer and other pharmaceutical agencies, including Monsanto, all agreed to sharing access to each other's data technology. Engdahl concluded that, to secure profitable patents, genetic engineering would be required. The collusion of the bio-techs and pharmaceutical firms supports this conclusion.
The Daily Bell Reported:
Now the cycle has apparently turned. Monsanto, under attack regarding its GMO seeds, may need a new market to re-establish credibility and even popularity – as marijuana will surely prove a more welcome crop than soy in the public mind. Monsanto's efforts as regards marijuana in Uruguay may be helped by the overwhelming government involvement in the cultivation, sales and marketing of marijuana. With its talent at bending smaller governments to its will, Monsanto may find a significant opportunity in Uruguay to establish an even more aggressive business beachhead. There is no doubt that the Uruguayan government will dominate marijuana production, at least in the short term.
The US holds a patent on medical marijuana, raising debate as to the restrictions on use as well as its legality. But, an individual inventor is about to add a medical marijuana patent. From the Denver Post: A self taught man, scientist, engineer and seed breeder is working on a strain and will potentially hold the first patent on a cannabis strain, named Otto II. It uses low THC and high CBD. His video can be viewed in the above
article link
.
In addition to Monsanto and its possible future projects here and abroad, a subsidiary of another chemical corporation, Scott, by the name of Hawthorne Gardening Company, just bought two very large marijuana distribution centers in Santa Rosa, California. General Hydroponics is the leading provider, if not the largest provider, of marijuana for Colorado. According to a Scott's spokesperson, the estimated sale price was around $130 Million, making the acquisition the biggest deal for the company in 16 years. It was stated that the exact terms were not disclosed, but the acquisition should position the company in the growing marijuana market. Scott's is best known for Miracle Grow, which has licensed product variations that include Monsanto's Roundup. Scott's also has a sordid history of pesticide violations, and has been found guilty in US courts with a 'record violation" with mislabeling products with carcinogens.
It looks like the tide is turning in many business ventures and endeavors. Opening up wider to bio-agricultural corporations. Big money, business, pharmaceuticals and big agricultural business interests are pointing in the direction of something that should and could be beneficial, and making it into yet another profit venture.
A recent state Medical Marijuana issue failed last year in Florida's election to place medical marijuana in the State Constitution. Amendment 2 failed by 2%. George Soros and Millionaire Attorney John Morgan put forth 80% of the money through Morgan's United For Care- People United For Medical Marijuana Campaign- for the legalization and regulation of medical marijuana. From the petition:
(1) The medical use of marijuana by a qualifying patient or caregiver in compliance with this section is not subject to criminal or civil liability or sanctions under Florida law. (2) A physician shall not be subject to criminal or civil liability or sanctions under Florida law solely for issuing a physician certification with reasonable care to a person diagnosed with a debilitating medical condition in compliance with this section. (3) Actions and conduct by a Medical Marijuana Treatment Center registered with the Department, or its agents or employees, and in compliance with this section and Department regulations, shall not be subject to criminal or civil liability or sanctions under Florida law.
Granting immunity and not being "subject to criminal or civil liability or sanctions" should be concerning as to who would be held accountable possibly due to bad regulation, such as a caregiver or home health company. Many home bound, disabled and elderly had expressed concern over not having total access to medicine on their terms under strict regulations.
We can not allow protecting Monsanto, or any other organizations, doctors, or treatment centers to be exempt from any litigation, harm, or liability against its products or services. Each and every state must resist any overreach by the government in regulating marijuana. If you cannot cultivate your own, it is not legal; it is regulated, controlled and manufactured by the government or corporations with questionable records. People should be given the option of which they choose to use and buy as medicine, as well as how often. Organic or not, you should be able to have that choice. States and countries that are considering true legalization (or repeal of prohibition as a better term) should be for home cultivation, less government regulation, and maintaining their rights as a citizen to hold someone accountable, should they be harmed by any who grow, distribute or regulate it.
________
Source:
RT
Bayer reportedly interested in buying Monsanto
May 13, 2016
An activist wearing a gas mask sprays in front of the chancellery with a device reading "Government, Bayer, Monsanto, BASF and co" during an action on the International Day for Biological Diversity in Berlin. © Jörg Carstensen / AFP
German pharmaceutical giant Bayer is considering making a bid to buy American agrochemical company Monsanto, Bloomberg reports. With Monsanto's $40 billion market cap, the combined enterprise would become the largest supplier of farm chemicals and seeds.
The deal is likely to raise many questions from competitors and authorities.
Read more:

Global Justice Now Monsanto weedkiller relabeled by activists to expose alleged cancer-causing properties
"
Trying to do this merger is like going sailing in a tsunami. This is going to raise real significant concerns at the Justice Department
," a former departmental lawyer who has worked on behalf of farmers, David Balto,
told
the Financial Times.
The possible merger comes after Monsanto failed to acquire its rival, Switzerland's Syngenta for about $46.2 billion last August. Syngenta was bought by ChemChina for reported $44 billion.
According to the FT sources, Monsanto held informal talks with two German chemicals companies – Bayer and BASF about the industry future, but no agreement on consolidating forces has been reached.
However, Monsanto doesn't want to become a branch of a German company.
"
Monsanto has no interest in being swallowed by a German group, it wants to remain American
," a person close to company management told the FT.
Another merger in the industry, the $130 billion deal joining Dow and DuPont, has made Monsanto's position weaker in the market, paving the way for its negotiations with the German chemical producers.
Monsanto shares gained as much as 12 percent on Thursday on news of the potential merger.
________
Source:
encog.org
The Connection Between The Legalization Of Marijuana In Uruguay, Monsanto And George Soros
March 2, 2014
By William Engdahl
This year, Uruguay, after a vote by the Parliament became the first country in the world to legalize the cultivation, sale and consumption of marijuana. Cannabis users can buy a maximum of 40 grams per month, provided they are Uruguayan citizens of at least 18 years old and registered in a public database. Their consumption is monitored by means of the quantity they buy per month in specially licensed pharmacies. Less well known is what the seed and genetic engineering giant Monsanto is doing to develop patented cannabis plants, and what has been the role of billionaire speculator George Soros.
Citizens of Uruguay may in the future every year grow six marijuana plants in their garden or in their home. These plants yield approximately 480 grams. They can also become a member of clubs, which may grow up to 99 plants per year. The step of the President goes back to the billionaire speculator George Soros. Less is known that Monsanto is already quietly at work to patent a genetically modified cannabis plant in Uruguay.
The role of George Soros
The U.S. billionaire speculator George Soros and the non-governmental organization whose board he belongs to, have played a pivotal role in that marijuana has been legalized in Uruguay. Apparently it's part of a much larger global project. Soros sits on the board of the New York-based Drug Policy Alliance [DPA Drug Policy Alliance], the world's most influential organization for legalization. His Open Society Foundation is listed as a major financial supporter. In the most recent Annual Report of 2013, the chairman of the Drug Policy Alliance boasted : "In Uruguay we played a crucial role, as we helped a public education campaign to coordinate. There was a close collaboration with government officials, activists, journalists and others, including President José Mujica whom I met with personally. "
In fact, the President had privately in New York met with Soros, just before he was able to win the senate for approval of the legalization law proposed by him. Soros and the DPA are active in Uruguay and other Latin American countries.
His Open Society invested $34 million last year, of which nearly $3.5 million for the legalization of marijuana. In Uruguay, they funded the organization Regulación Responsable or "Responsible Control" that advertised with a nationwide campaign on television. Needless to say they were successfull.
Soros is also an important shareholder of Monsanto, the world's largest producer of genetically modified seeds. And here it gets interesting.
Monsanto and Gencannabis?
Studies show that Monsanto without much fanfare conducts research projects on the active ingredient in marijuana, namely THC (tetrahydrocannabinol), in order to genetically manipulate the plant. David Watson of the Dutch company Hortapharm has since 1990 created the world's largest collection of Cannabis seed varieties. In 1998, the British firm GW Pharmaceuticals signed an agreement with Hortapharm that gives GW Pharma the rights to use the Hortapharm cannabis for their research.
In 2003 the German Bayer AG then signed an agreement with GW Pharmaceuticals for joint research on a cannabis-based extract. In 2007, Bayer AG agreed to an exchange of technology with … Monsanto, both according to exchange the results of their research. Thus Monsanto has discreet access to the work of the cannabis plant and its genetic modification. In 2009, GW Pharmaceuticals announced that it had succeeded in genetically altering a cannabis plant and patented a new breed of cannabis.
Since the cultivation of cannabis plants in Uruguay is allowed, one can easily imagine that Monsanto sees a huge new market that the Group is able to control just with patented cannabis seeds such as today is happening on the market for soybeans. Uruguay's President Mujica has made it clear he wants a unique genetic code for cannabis in his country in order to
"
keep the black market under control."
Genetically modified cannabis seeds from Monsanto would grant such control. For decades Monsanto has been growing gene-soybean and GM maize in Uruguay too. George Soros is co-owner of agribusinesses Adecoagro, that planted genetically modified soybeans and sunflowers for biofuel.
Apparently for the powerful interests behind the legalization of marijuana in Uruguay it is about far more than they let us know.
________
"So shit dude, what do you think of this George Soros-funded Monsanto-created and patented Bayer-owned transgenic

weed

man?"
'Monster

Marijuana

' to Become Reality As Monsanto Patents GMO Pot
Would You Smoke GMO Pot?
Genetically Modified
Marijuana
________
And now the bees...
Manufacturers of neonicotinoids: Syngenta; Dow Agrosciences; Bayer CropScience; Monsanto seeds treated with neonicotinoids.
Monsanto's GM soybeans coated with bee-toxic neonicotinoids
Who is winning the PR battle over neonicotinoids?
What we do to the honeybees, we do to ourselves - biologist RT America